Deputy President Ruto applauds Innovativeness at Nshaara ranch
Kenya Deputy President Dr William Ruto is a renowned livestock enthusiast and owns one of the biggest farms in his country. But just like any other commercial farmer, learning never stops since new innovations prop up on a regular basis. Last week, he took time off his busy schedule to visit Uganda on an expedition to explore farming opportunities, among others.
Top on his agenda was to share and borrow ideas about the famed Ankole long-horned cattle, whose careful conservation in Uganda has boosted the country's beef and dairy industries. It is worth noting that whereas Kenya has a bigger livestock sub-sector, Uganda's is growing at a faster pace as indicated by the 63 per cent rise in dairy exports over the past three years, according to the Dairy Development Authority (DDA). It is perhaps on this background that Dr Ruto set out to pick tips on improving his farm as well as the Kenyan livestock sub-sector.
On July 7, Hon Frank Tumwebaze, the Minister of Agriculture, Animal Industry and Fisheries (MAAIF) accompanied by Dr. Peter Beine, Ag. Executive Director NAGRC&DB, hosted Dr. Ruto at Nshaara government ranch in Kiruhura district. Nshaara, which has a capacity of 3,000 livestock units, is at the heart of the milk sheds of Masaka, Kiruhura, Bushenyi and Mbarara and its main mandate is to benefit farmers through provision of improved stock raised on the ranch. Here, Dr Ruto witnessed firsthand how the long-horned cattle is conserved to stay in top shape and its cross-breeding with exotic breeds for increased milk and meat productivity. This programme has immensely contributed to an increase in dairy and beef output in the country.
During the tour, Hon Tumwebaze also showed Dr Ruto how the ministry is spearheading the cross-breeding of local indigenous goats with South African boar goats to improve meat productivity.
With Nshaara in the midst of Lake Kakyera and Lake Mburo national game park, Dr Ruto witnessed the stunning co-existence of agro-tourism and wildlife. In this borderline area between the ranch and the game park, wild animals such as zebras, impalas and buffaloes peacefully graze with cattle.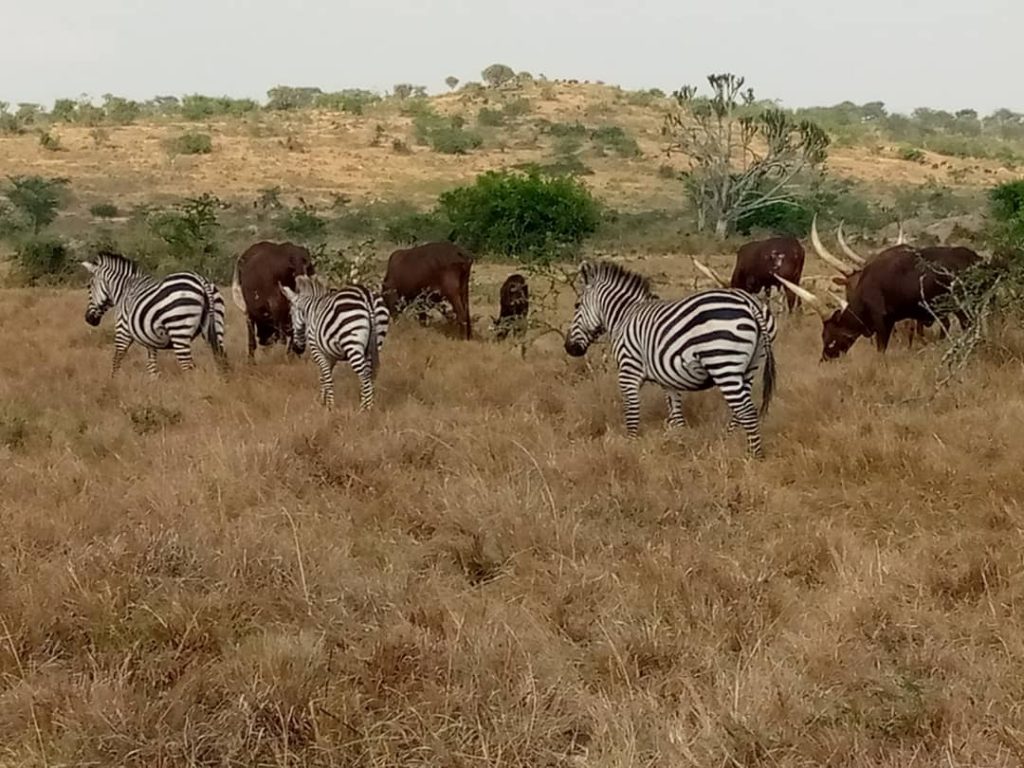 On a lighter note, Hon Tumwebaze introduced Dr Ruto to wildlife sport-hunting at the game park.
Sport-hunting refers to the regulated hunting of animals with special features like large horns and is partly aimed at controlling the number of wildlife. Revenue from the programme is not taxed in order to fund the other sub-sector activities