The National Oil Palm Project
Project Area
Geographical hub approach.
The project will be implemented in the mainland areas located in a narrow belt (25-30 km) along Lake Victoria and surrounding the two island districts of Kalangala and Buvuma, but also areas in the western (Bundibugyo, Masindi) and north-western (Arua) parts of the country.
The Project will work in geographical hubs, where a hub is defined as "an agro- climatically suitable area (not an administrative district), within a radius of 30 km around a planned or actual CPO mill, and in which a minimum of 3,000 ha of OP production can be assured."
It is this radial area that marks the limits of financial viability for the producers, who may be smallholders only or, in the case of Buvuma and Kalangala, smallholders plus nucleus estate.
Drawing on this model, NOPP will concentrate its activities on smallholder Oil Palm development on the following hubs:
Buvuma Island
Mayuge
Masaka/Rakai
Kalangala (Bugala and outlying islands, where it will consolidate the investments to date, but will not support an expansion in the area under OP production)
Around Kiryandongo or in Buikwe (to be confirmed from studies)
Project investment in any of these, or other hubs, will be dependent on confirmation of the agro-ecological suitability of the area, the identification of smallholder producers with 3,000 ha to dedicate to Oil Palm production within the 30km radius; and a firm commitment by the private sector to invest in the CPO mill to serve the local supply.
Target Beneficiaries
The first target group are the prospective smallholder OP producers in the four new hubs, who may currently be practicing subsistence cropping and/or fishing, having up to 2ha of land suitable for oil palm development. These households will benefit from Project support with development financing to enable them to establish up to 2 ha of oil palm while keeping some land for food crops.
Table 1: Summary of direct NOPP beneficiaries
| | | | | | |
| --- | --- | --- | --- | --- | --- |
| Hub | Smallholder OP growers (households) | Alternative economic opportunities | Mitigation of social risks | Total beneficiary households b/ | Total beneficiaries |
| Kalangala | 1,810 a/ | 3,892 | 1 482 | 5 215 | 26 075 |
| Buvuma | 1,923 | 4,135 | 1 560 | 5 526 | 27 630 |
| Mayuge | 2,692 | 5,788 | 1 851 | 7 404 | 37 019 |
| Masaka | 2,308 | 4,962 | 1 587 | 6 346 | 31 731 |
| Hub 4 | 2,308 | 4,962 | 1 587 | 6 346 | 31 731 |
| Total NOPP | 11,041 | 23,738 | 8 066 | 30 837 | 154 186 |
/a: Already growing OP; this group will benefit from improved technical support services, institution building and, for farmers who will not have achieved the commercial phase by completion of VODP2, support for oil palm maintenance /b: total beneficiary households is not the sum of the three sets of activities, as it is assumed that a significant number of households will participate in more than one activity.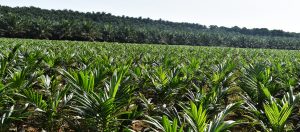 In Mayuge, Masaka/Rakai and Hub 4 a minority of these households will have more than 2 ha to dedicate to OP production (an assumed 20% of households, with an average of 4 ha additional land, beyond the 2 ha): this group will be supported with NOPP financing up to the 2 ha threshold; beyond this area, they will be expected to either access commercial financing or draw on their own resources to meet the establishment costs.
The Project will link these producers to financial institutions and provide them with technical support services. In Kalangala, the Project will support those smallholders already growing oil palm, to increase the productivity of their existing plantations; but it will not support an expansion in the area under production.
A second target group will be poor families in targeted communities where oil palm investment will take place, who will be assisted to respond to the increased economic opportunities in a dynamic local economy. Smallholder OP growers will also be targeted by this intervention to diversify their incomes and strengthen their food security.
Specific targets will be set to reach out to women and youth (at least 50%), and gender sensitive approaches will be used in all stages of the Project. Overall, the alternative socio-economic activities will allow to more than double the number of beneficiaries and to deepen sustainable livelihood development in the OP-growing communities.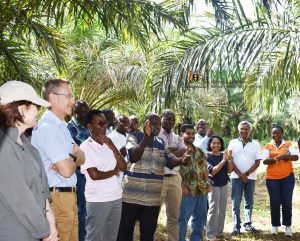 Poor and vulnerable households will be directly targeted by NOPP investments in oil palm production (Component 1) and in alternative economic opportunities and mitigation of social risks (Component 2). Overall, an estimated 30,800 households will directly benefit from these NOPP activities, without considering the sensitization activities aimed at whole communities.
On the basis of an average household size of 5, these figures translate to 154,000 individuals.
Of these, over 11,000 households will benefit as smallholder OP growers; and a total of 23,700 households are expected to benefit from the Alternative Economic Livelihoods activities, out of which 19,300 will be additional, non- OP growing households.
A total of almost 8,100 households will benefit from the mitigation of social risk (household mentoring) activities: these will include not only OP growers and non-OP growers, but also an estimated 475workers in the nucleus estates (of Kalangala and Buvuma).
Beyond the direct target group many more people are expected to benefit indirectly as a result of the employment opportunities created by the smallholder OP growers and the nucleus estate in Buvuma.
Finally, the communities within the targeted area for smallholder oil palm development will indirectly benefit from the broader spill-over economic and social benefits resulting from Project interventions targeting the communities in which OP growers live, together with the improvements in infrastructure and social services that will accompany the core oil palm investment. As the spill over effect of oil palm increases, socio-economic activities and services will further develop.