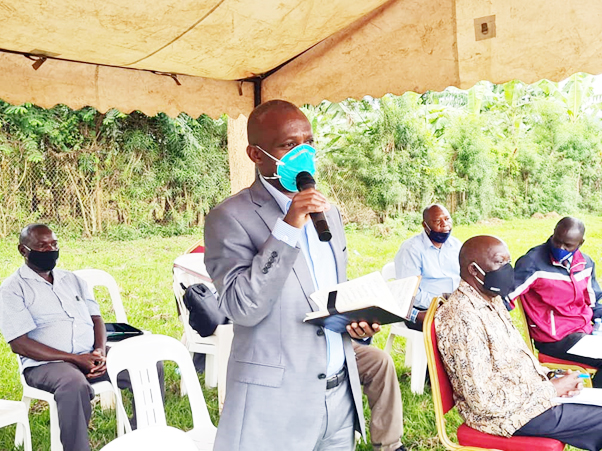 MAAIF undersecretary rallies farmers to join development projects
MAAIF undersecretary rallies farmers to join development projects
Farmers in rural areas need to be informed about the availability of grants and other micro projects under the Agriculture Cluster Development Project (ACDP) in order to move from subsistence to commercial farming.
Mr Ronald Ssegawa Gyagenda the undersecretary in the Ministry of Agriculture, Animal Industry and Fisheries (MAAIF), said this during a three-day high-level supervisory mission to selected districts of Kalungu, Masaka and Kyotera.
During the tour, Mr Ssegawa advised farmers to shift their mindset from farming for "the stomach" to farming for "the pocket." He also noted that although ACDP funds have been disbursed to community farmer organizations for the implementation of matching grants in all the 12 clusters, there is still limited knowledge about these grants and the micro-projects among the rural communities. While the project target is to reach 450,000 households, to date only 270,000 households have been enrolled into the e-Voucher system.
Therefore, he urged all stakeholders to provide information to equip the farming communities with ACDP benefits.
The bigger objective of the project is to increase production and productivity and farmers have to be assisted to address the productivity aspect of farming.
According to Ssegawa, there is now way a farmer can realize the economic impact of agriculture depending on the average yield per plant of coffee.
"If a plant is averaging just 4kg annually, it translates into 1,800kg per acre and at Shs 2,000 per kilogram of kiboko coffee, a farmer gets a mere Shs 3.6m annually from one acre of coffee," he said.
"However, some farmers who are doing the right things in the gardens are getting up to 10kg per plant of coffee, meaning these farmers are earning Shs 9m annually from one acre of coffee. In Brazil, for example, a farmer gets more than 20kg from one plant of coffee annually; so, this is the real assignment we have as government and technical team."
Given that 90 per cent of Uganda's coffee is consumed and sold in the international market, where these same giants such as Brazil also send their coffee, it is very difficult for Ugandan coffee to be competitive at the international level.
So, Ssegawa opines that if government strengthens agricultural extension services, farmers' organisation and education will deepen, leading to fewer complaints about low coffee price largely arising out of low productivity which further leads to poor and miserable yields and poor earnings at farm level.
During the session, participants viewed a recorded video explaining the good agricultural practices within their respective sub-counties and it was concluded that it is possible to attain maximum production from their gardens.
Later, Ssegawa and team, which included Mr. Vincent Kityamuwesi Musubire, the deputy Principle Private Secretary in the office of the Vice President, engaged key project stakeholders on how the ACDP project is being implemented, identified challenges and shared ideas on possible solutions to improve the project performance.
How ACDP works
According to the project design, a farmer is supposed to participate in the subsidy program for three seasons. In the first cycle government contributes 67% and the farmer 33%; in the second cycle government contributes 50% and the farmer 50% and the third cycle government contribution is 33 % and the farmer 67%.
However, farmers informed Ssegawa that they are finding it challenging to transit from one cycle to the next due to limited information on the best practices of the ACDP project. This slow transition affects the attainment of the project development objective.
In Kalungu district, community engagements were held at Bukulula sub-county, in Kyotera district at Kyanamukaka sub-county and in Kyotera district at Lwankoni sub-county.