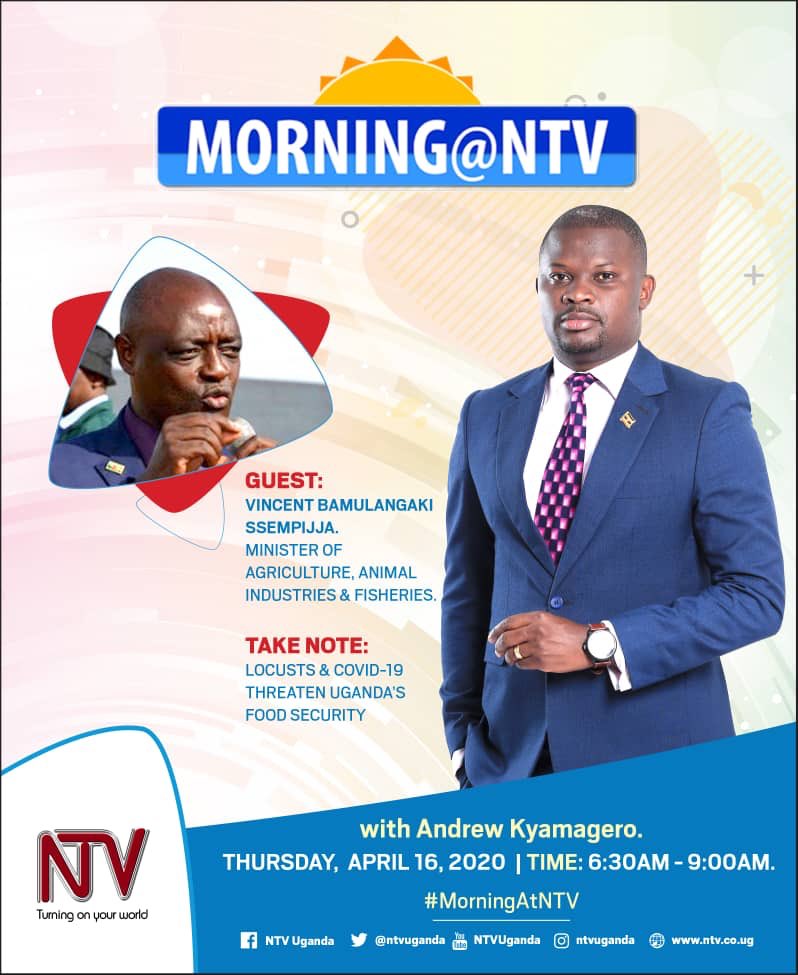 COVID-19 and the Desert Locust Invasion: Brief from NTV Interview with Hon. Vincent Bamulangaki Ssempijja the Minister for Agriculture Animal Industry and Fisheries
Show Host: Mr. Andrew Kyamagero
Topic: Desert Locust invasion and COVID-19 as threats to Food Security, opportunities and solutions.
Summary from Hon. Minister's submissions:
Agriculture is among the lucky sectors in the world, as market for agricultural produce is shooting up in the face of the deadly covid-19 which has crippled almost all other sectors in the world!
Vegetables are selling at almost double the prices on the world market and also on high demand locally! Luckily they are fast growing crops! Take advantage, grow vegetables and make some money during these hard times!
Uganda is the country in the East African Region with the biggest capacity to grow food for both the region and market outside the region! Please grow as much food for our own food basket but also there's a hungry market waiting to give you money. Some of the farmers even during this period are selling their food to the outside market, they sit at their farms and money finds them there because market for Uganda's food is very high!
I can authoritatively state that it is a safe shift for traders who have been dealing in other businesses that are crippled now, to try agriculture as a plan b or back up income! Let them in invest in agricultural trade especially of food, vegetables and coffee! Those have a rocket speed kind of market! Agriculture can help mitigate the situation for different traders! When the national and international economy stabilizes they could then fully get back to their long term businesses!
The Ministry of Agriculture is distributing improved seed varieties and our farmers continue to produce good quality produce for example the new white bean which is already in markets, bigger in kilos and nutrition, more profitable for the farmer and more nutritious and delicious for the consumer.
We are giving out improved vaccines and pesticides for the animal industry and most of the areas that were experiencing animal quarantines have been assisted and the quarantines are gradually being lifted.
Extension workers, district production officers and district agricultural officers have been empowered to assist farmers during this covid 19 quarantine and lock down period. You can contact the DPOs, DAOs and Extension workers in your area to check on your farm and animals for you during this lock down; to deliver pesticides or vaccines to your farm for use accordingly! Do not let your animals or chicken or crops die while you are silent. Help is available! As Government we have empowered those entities to save you from losses! Their contacts are to be made public through media and social media!
Those who have made severe agricultural losses in terms crops or animals due to the covid lock down or quarantine, could put together evidence and write to my office or to NAADS. We can consider assisting them with some inputs and training at least later this year to mitigate the losses they incurred especially if the lost animals or crops were their sole source of income.
Proper vaccination for animals is going on throughout the country and the public should be rest assured that all the meat products being sold on the market are safe for consumption.
As the Ministry of Agriculture we bargained for markets selling agricultural produce to remain open. But the market vendors and customers should not abuse this permission. Please continue to maintain social distancing, washing your hands, using masks and other precautionary measures to avoid the spread of the deadly covid-19!
There are new swarms of locusts but the Locusts fighting task force is on ground doing a great job! The Army/ Uganda People's Defense Forces (UPDF) are part of the operations commanded by Major General Samuel Kavuma and have killed a sizable number of the pests so far. World Food Program is on ground working; United Nations is on ground; Food and Agricultural Organization is on ground working with us to fight these deadly locusts! Many other macro and micro volunteers are with us and as Government we shall continue to protect the affected communities and country at large!
A lof of crops were destroyed by the locusts but we have given the affected communities fast growing crops to replace their lost produce. We also give out some relief food aid to those who completely lost all food and crops because the locusts in millions per swarm, eat everything at at the fastest rate!
The teams use protective gear to protect themselves against the effect of the strong pesticides on their health. Unfortunately some of the protective gear used in covid 19 operations is what we too need in spraying the locusts, for example masks, gloves, overalls, glasses, etc so there is a shortage in this gear because most of it has to be at the same time, used by officers in the covid 19 operations.
People who believe that the locusts are non existent and a scam think about the fact that UPDF, FAO, United Nations, World Food Program and many more macro or big organizations are physically on ground with the Ministry of Agriculture to fight these locusts! Can all those entities gather somewhere for over four months now, to court a scam or a lie? Let's learn to follow reliable sources of information. Let's pray to God to save our country from such natural calamities as we give Government a chance to do it's job. The soldiers, drivers, work men, cooks, doctors, etc in this operation, have been in the field for months without seeing their families, let's respect their effort.
During the international lock down where planes were not moving all over the world, it was hard for us as Government to access pesticides and more from Japan to spray these locusts but World Food Program and FAO quickly made a special arrangement and we were able to get these materials and the spraying is going on.
It is hard to predict the locusts because they come and go whenever they please but our researchers tell us that with time the swarms change course when they sense continued resistance in a given area so with time the country will permanently survive them.
Of the funding we first requested for, we received 13 billion but as a country we had a debt of about 10 years totaling to 11billion Ug shs, with the Desert Locusts Control Organisation of East Africa! So they demanded that we first pay their old debt which we could not dodge because it is the only entity that offers the services we needed for this operation. After paying off the debt we remained with only 2 billion Ug shs, in a real deficit regarding we had planned all the activities in the 13 billion budget yet 11billion went to arrears first! Therefore with the deficit and the new swarms it leaves the Ministry of Agriculture in need of 16 billion Uganda shillings for these operations, which are clear for all to see and the communities, leaders on ground and those who have had a chance to visit the ground do understand this need.
Many people have been approaching us requesting to volunteer with the on ground teams. We have been working with these volunteers mainly the locals and leaders in the affected areas but now with the covid-19 pandemic, the teams on ground are mainly the technical workers. We encourage volunteers to wait till the country is safe from covid-19!
The country has enough food, there is no emergency in Uganda called "hunger or food scarcity"! Communities that the President identified as in need of food relief are receiving food. Those who have not yet received food, you will receive. No body will die of hunger in Uganda. In case you have a food surplus I encourage you to share with your neighbor but do not gather crowds because you will be breaking the law. If it's too much food surplus, give it to your district task force or the LC1 Chairman to help those in need.
Let's continue to stay home and follow all the precautionary measures to save our country from the spread of covid-19.