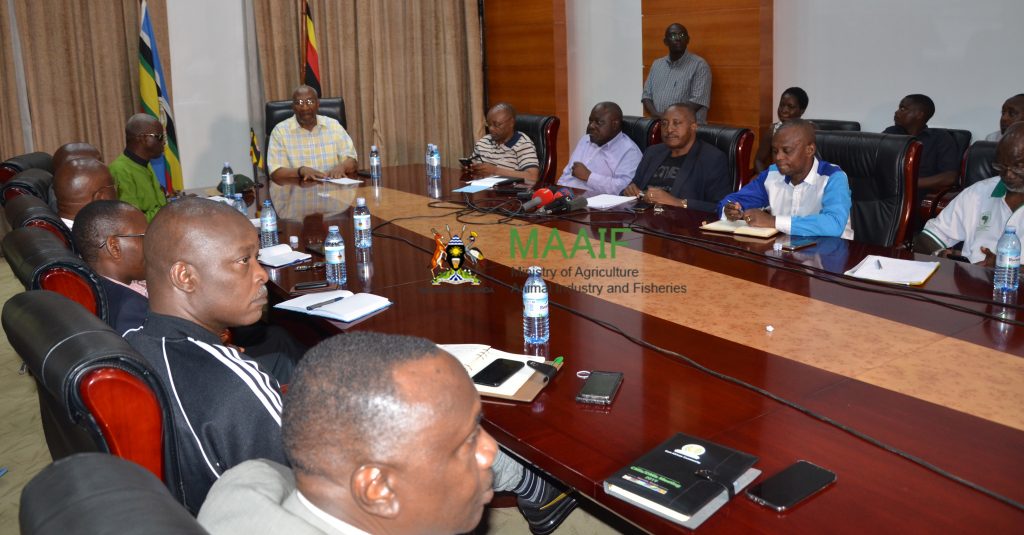 Public Advisory Regarding Regional Desert Locust Invasion
Kampala, 9th February 2020. With the Desert Locusts invasion now within the boundaries of Uganda, the National Task Force coordinated by the Office of the Prime Minister was convened for an emergency meeting at 7pm today to communicate the roll out of the contingency plan that was communicated here ( https://www.agriculture.go.ug/uganda-free-from-locust-attack/ ).
Rt. Hon Ruhakana Rugunda the Prime Minister chaired this Meeting where media practitioners also participated to relay information to the public.
Below is a brief about steps already taken by the Task Force from Ministries and Agencies of Government led by the Ministry of Agriculture Animal Industry and Fisheries and Coordinated by the Office of the Prime Minister.
(1) The Uganda People's Defense Forces have assembled a team to assist the Ministry of Agriculture Animal Industry and Fisheries on ground spraying. The team is on standby at Olilim Baracks.
(2) The Disaster Department of the Office of the Prime Minister has delivered to Olilim Baracks the following to facilitate the spray teams: food (15 tons of rice, 15 tons of Maize flour); Other logistics (tents, sleeping mats, water containers, cooking and utensils)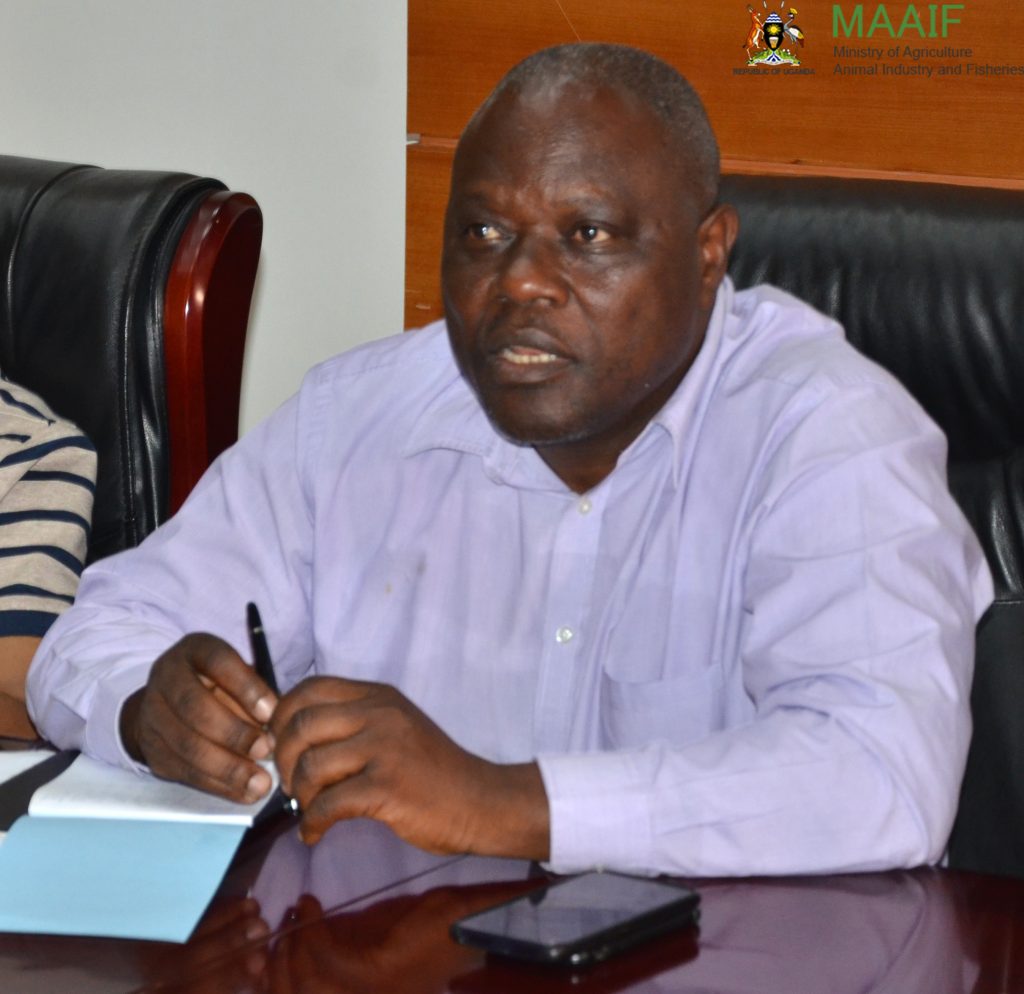 (3) The Uganda Wildlife Authority has assembled 85 personnel ready for deployment
(4) The Ministry of Agriculture Animal Industry and Fisheries has deployed surveillance teams in Moroto and Amudat
(5) MAAIF is rapidly delivering to Karamoja 100 backheld motorised spray pumps and 200 manual hand spray pumps as more pumps get procured
(6) MAAIF the lead institution has processed funds for procurement of other logistics and other foods (beans, meat, vegetables etc), protective gears etc.
(7) Two hired air spray planes will be in Moroto as soon as possible.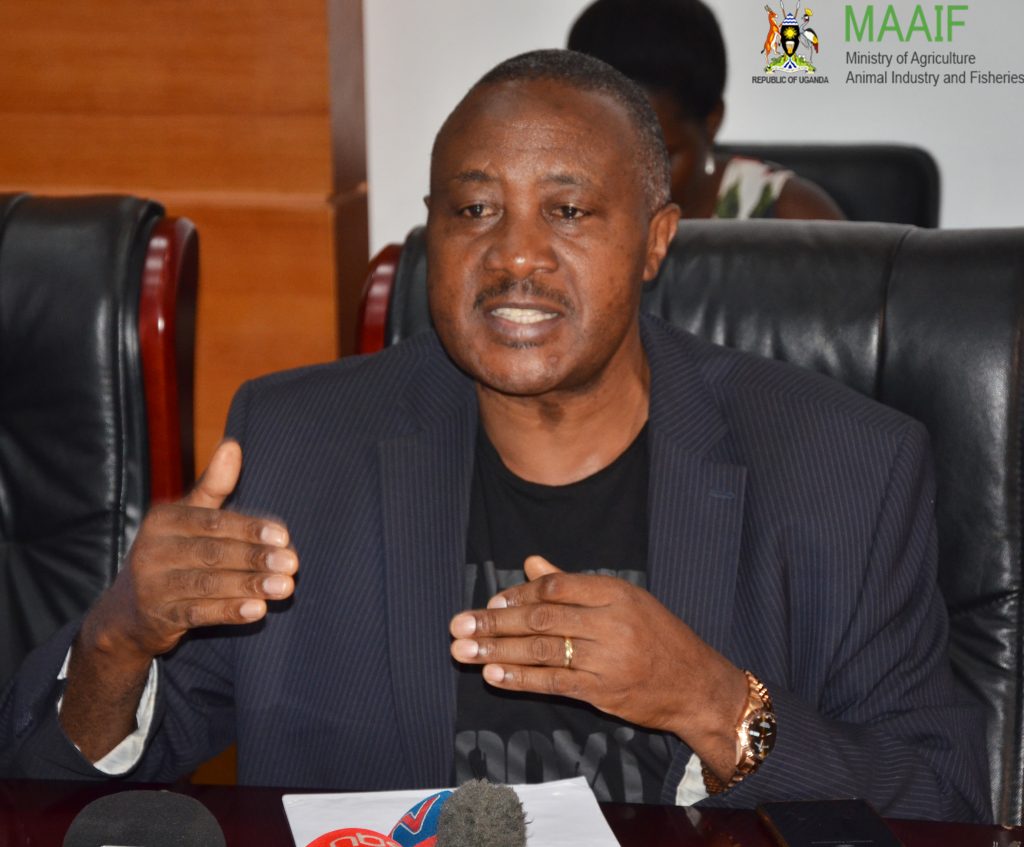 (8) The Hon Minister MAAIF, Hon Minister for East African Community Affairs and Hon Minister for Disaster Preparedness today Sunday 9th traveled to meet their Kenya counter parts in Nairobi on cross border spraying agreements
(9) motorized sprayers mounted on pickups and tractors are being mobilized to moved to Karamoja Sub-region.
Notes for editors
About the Ministry of Agriculture, Animal Industry and Fisheries (MAAIF)
The Ministry of Agriculture, Animal Industry and Fisheries is a Ministry in the Government of Uganda charged with creating an enabling environment in the Agricultural Sector.
The Ministry formulates, reviews and implement national policies, plans, strategies, regulations and standards and enforce laws, regulations and standards along the value chain of crops, livestock and fisheries.
Vision: A competitive, profitable and sustainable agricultural sector.
Mission: To transform subsistence farming to commercial agriculture.
Strategic Objectives
To initiate the formulation and review of the policy and legal framework for the sector
To establish and implement systems for service provision in the sector
To strengthen and implement strategies, regulatory framework, standards, institutional structures and infrastructure for quality assurance and increased quantities of agricultural products to access and sustain local, regional and export markets
To design and implement sustainable capacity building programmes for stakeholders in the agricultural sector through training, re-tooling, infrastructure, provision of logistics and ICT
To develop strategies for sustainable food security
To develop appropriate agricultural technologies for improved agricultural production, productivity and value addition through research
To develop effective collaborative mechanisms with affiliated institutions and
To take lead and establish a system and institutional framework for agricultural data collection, analyses, storage and dissemination to stakeholders including Uganda Bureau of Statistics.
The Ministry of Agriculture, Animal Industry and Fisheries (MAAIF) is made up of four Directorates including the Directorate of Crop Resources, Directorate of Animal Resources, Directorate of Agricultural Extension Services and the Directorate of Fisheries Resources each with Departments, Divisions and Partnership Projects.
The Departments of the Ministry which do not fall directly in the above include the Department of Agricultural Planning and Development, the Human Resource Department, the Department of Finance and Administration and the Department of Agricultural Infrastructure, Mechanisation and Water for Agricultural Production.
The Ministry is also made up of seven Agencies including the National Agricultural Research Organisation (NARO), the National Agricultural Advisory Services (NAADS), Cotton Development Organisation (CDO), Dairy Development Authority (DDA), Uganda Coffee Development Authority (UCDA) and Coordinating Office for the Control of Trypanosomiasis in Uganda (COCTU) and the National Animal Genetic Resources Centre and Databank (NAGRC&DB).