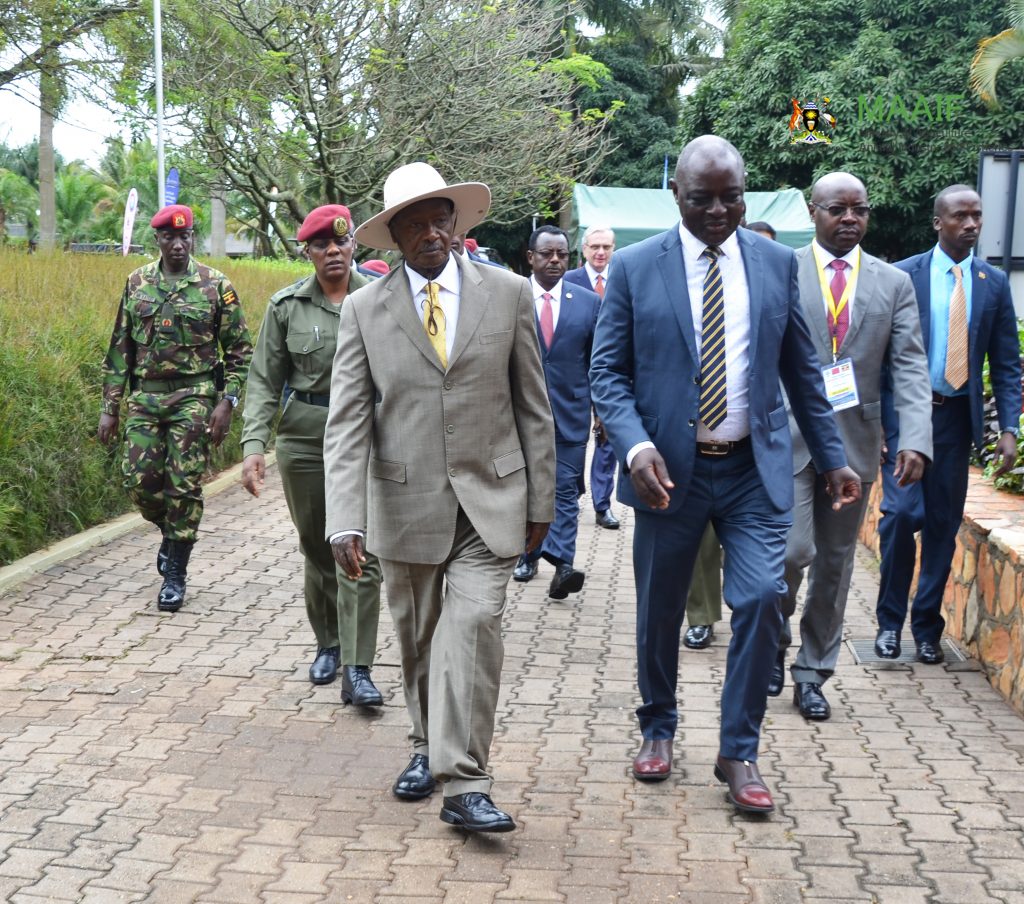 President Museveni to Officially Launch Post-Harvest Facilities and Equipment for ACDP Farmer Organizations
Entebbe, 6th October 2020. His Excellency President Yoweri Museveni will, on the 10th of October 2020 officially commission Post-Harvest Facilities and Equipment for Farmer Organizations supported through the Agriculture Cluster Development Project (ACDP).
During the event which will take place at the Referral Agricultural Mechanization Centre in Namalere, Wakiso District, selected participants from the Farmer Organizations will receive the consignments of large scale Coffee Hullers, Rice and Maize Milling machines, Threshers, Dryers, Generators and Bean cleaning machines.
These are additions to the facilities that have been set up in project districts across Uganda (as will be highlighted in the next release).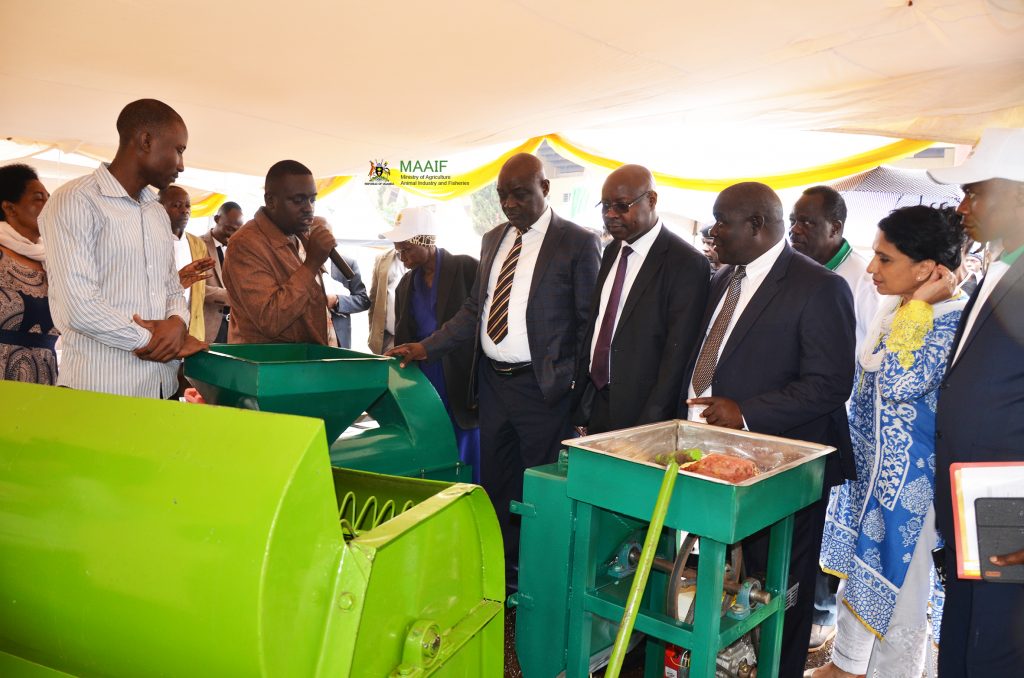 His Excellency the President will be hosted by the Honourable Vincent Bamulangaki Ssempijja the Minister for Agriculture, Animal Industry and Fisheries, MAAIF Permanent Secretary Mr. Pius Wakabi Kasajja, representatives of the World Bank Group who are the lead partners supporting the ACDP led by the Country Manager Mr. Anthony Thompson, Local and Central Government Representatives, leading Equipment Suppliers and the media.
The Process of Selection of the Farmer Organisations for Matching Grants
The Agriculture Cluster Development Project (ACDP) is a project supported by the World Bank with the overall objective of raising on-farm productivity, production and marketable volumes of 5 crops which are Maize, Beans, Rice, Cassava and Coffee in 57 Districts categorized in 12 Geographical Clusters (Grouping of Districts by commodity).
One of the approaches used to increase value addition, bulking, proper storage and collective marketing (post-harvest processes) is through Matching Grant support.
Status of the Matching Grants provided to Farmer Organizations
To date, a total of 193 Grant Agreements have been signed with 118 from the first batch and 75 from the second batch of applicants.
First Batch of Matching Grant Beneficiaries
Under the first batch, 118 grant agreements have been signed with a total grant amount of UGX 34.8 Billion. Government Contribution is UGX 23.5 billion and of this, UGX 21.7 billion has been disbursed to one hundred and eleven grantees as of September 30, 2020.
Over 90 construction sites for storage and machinery shelter have also been completed.
About 50 sets of Farm equipment (coffee hullers, rice/ maize milling machines, threshers, dryers, generators, bean cleaners) have been completed and are ready for delivery.
The second Batch of Matching Grant Beneficiaries
Under the second batch, 75 grant agreements have been signed with total grant value of UGX 28 billion, where Government will contribute UGX 18.1 billion and beneficiaries will contribute UGX 9.2 billion. The disbursement to these beneficiaries will commence in the month of October 2020.
The Third Batch of Matching Grant Beneficiaries
Under the third batch, the Grants Management Committee has approved over 378 business plans. These are currently being assessed by the Ministry and grant award of about UGX 42 billion will be award to selected beneficiaries.
Notes for editors
About the Agriculture Cluster Development Project
About the Ministry of Agriculture, Animal Industry and Fisheries (MAAIF)
The Ministry of Agriculture, Animal Industry and Fisheries is a Ministry in the Government of Uganda charged with creating an enabling environment in the Agricultural Sector.
The Ministry formulates, reviews and implement national policies, plans, strategies, regulations and standards and enforce laws, regulations and standards along the value chain of crops, livestock and fisheries.
Vision: A competitive, profitable and sustainable agricultural sector.
Mission: To transform subsistence farming to commercial agriculture.
Strategic Objectives
To initiate the formulation and review of the policy and legal framework for the sector
To establish and implement systems for service provision in the sector
To strengthen and implement strategies, regulatory framework, standards, institutional structures and infrastructure for quality assurance and increased quantities of agricultural products to access and sustain local, regional and export markets
To design and implement sustainable capacity building programmes for stakeholders in the agricultural sector through training, re-tooling, infrastructure, provision of logistics and ICT
To develop strategies for sustainable food security
To develop appropriate agricultural technologies for improved agricultural production, productivity and value addition through research
To develop effective collaborative mechanisms with affiliated institutions and
To take lead and establish a system and institutional framework for agricultural data collection, analyses, storage and dissemination to stakeholders including Uganda Bureau of Statistics.
The Ministry of Agriculture, Animal Industry and Fisheries (MAAIF) is made up of four Directorates including the Directorate of Crop Resources, Directorate of Animal Resources, Directorate of Agricultural Extension Services and the Directorate of Fisheries Resources each with Departments, Divisions and Partnership Projects.
The Departments of the Ministry which do not fall directly in the above include the Department of Agricultural Planning and Development, the Human Resource Department, the Department of Finance and Administration and the Department of Agricultural Infrastructure, Mechanisation and Water for Agricultural Production.
The Ministry is also made up of seven Agencies including the National Agricultural Research Organisation (NARO), the National Agricultural Advisory Services (NAADS), Cotton Development Organisation (CDO), Dairy Development Authority (DDA), Uganda Coffee Development Authority (UCDA) and Coordinating Office for the Control of Trypanosomiasis in Uganda (COCTU) and the National Animal Genetic Resources Centre and Databank (NAGRC&DB).