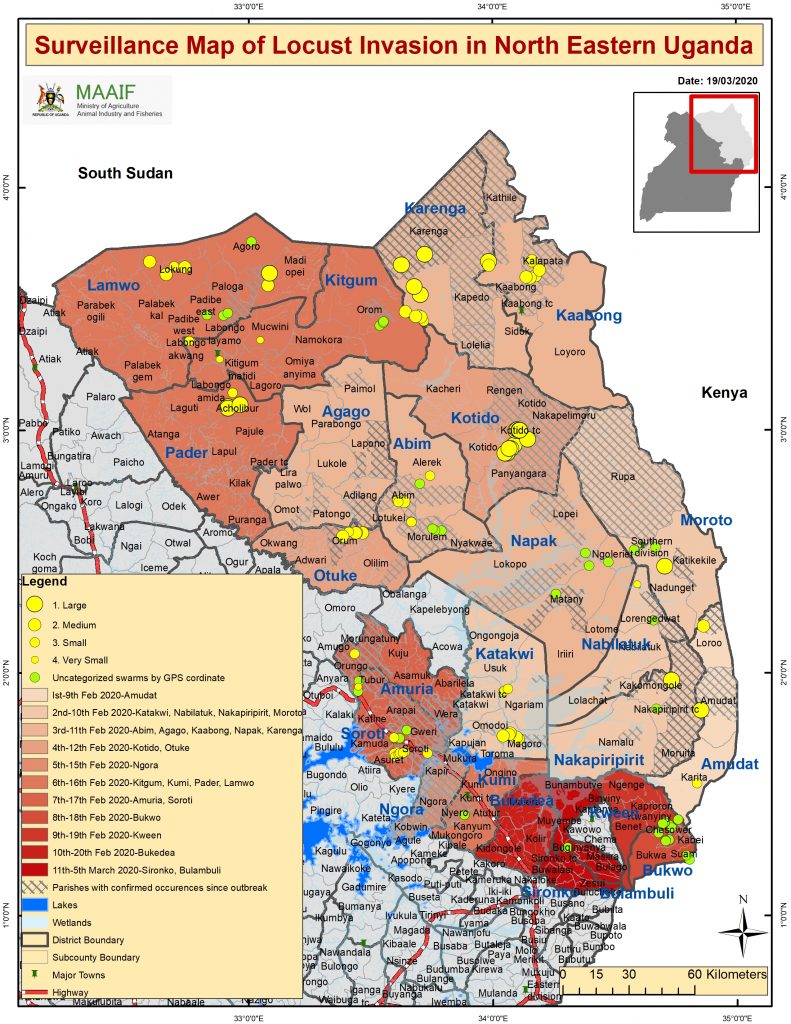 Notice of new Desert Locust Invasion through the East
Moroto, 3rd April 2020. Ground surveillance teams have recorded the entry of a new swarm of Desert Locusts from the East into the country today.
However, as operations commence to handle the invasion basing on lessons from the first phase, the Ministry of Agriculture Animal Industry and Fisheries advises the general public, media and local leaders to avoid false alarms and interference with operations.
The following summary indicates the capacity build so far from collaboration with partners including the Food and Agriculture Organisation of the United Nations, the World Food Programme and the Desert Locust Control Organisation for Eastern Africa.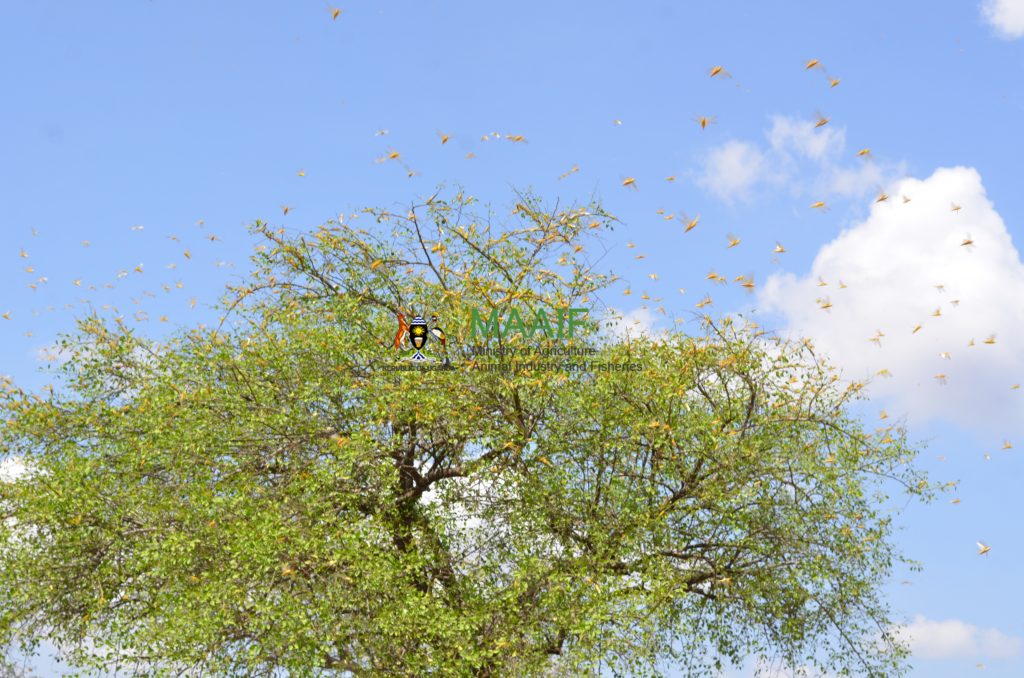 Development Partner Support
The Ministry has received support from both UN agencies and other Development Partners during implementation of the Desert Locust control interventions.
Under the tenets of a Technical Cooperation Project, FAO is supporting Desert Locust Control activities to the tune of US$500,000 and through regional efforts will further enhance this support. FAO continues to provide expertise helpful in Desert Locust control activities. In addition, FAO has donated 4 double cabin vehicles with vehicle mounted spray equipment, 10 motorized sprayers, 10 knapsack sprayers, 100 assorted protective gear including; helmets, overalls, safety googles, gumboots all for demonstration purposes.

World Food program provided 5 (five) fully serviced trucks which are being used for logistics in the control operations. They have also provided a number of mobile stores for the equipment in the field.
The Government of Bulgaria has offered His Excellency the President of the Republic of Uganda an Air craft to support aerial control activities through spraying. The Government of Uganda will be responsible for the supply of chemicals, fuel and accommodation for the crew. It is currently being configured to locust spraying before it is brought in the Country.
Others Partners include African Development Bank, World Bank, Bill Gates and Melinda Foundation who have equally promised support. Details of the exact figures from each of these partners will be provided when the requisite approvals and disbursements have been approved.
The Ministry of Agriculture, Animal Industry and Fisheries will take necessary steps to procure moreSpecialised pesticide formulation for aerial spraying (Fenitrothion 96% ULV) which is a challenge to obtain due to the current wave of desert locust outbreak in the Horn of Africa, Middle East and the Eastern Africa Region.