Infrastructure for Livestock Farmers Improved through Resilience Project
Over the course of last week, the following categories of infrastructure were commissioned by Hon. Vincent Ssempijja the Minister for Agriculture Animal Industry and Fisheries and Hon. Bright Rwamirama the Minister of State for Animal Industry.
This was undertaken through the Regional Pastoral Livelihoods Resilience Project represented by the Coordinator Dr. Stephen Kajura.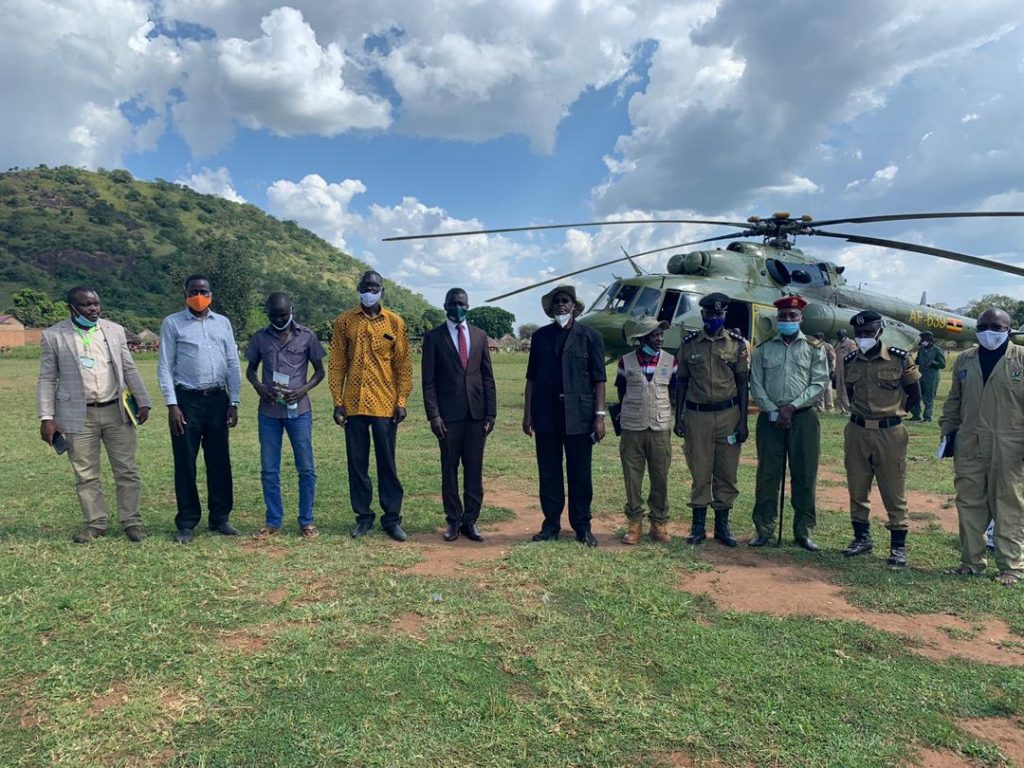 The infrastructure include:
9 Livestock Markets each having ; a Vet Office, Cattle Crush,VIP Latrine,Loading/Offloading Ramp,Water Troughs and Weighing Scale4 Animal Holding Grounds each having; A Vet Office, Loading/Offloading Ramp,Vet Residence ,Water Troughs,Staff Quarters, Spray Race,Tyre and Foot wash, Standard Septic Tank for Residential House,Cattle Crush and VIP Latrines
43 Standalone Cattle Crushes each having;a Cattle Crush and VIP Latrine
9 Slaughter Sheds each having; A Town Slaughter Shed,Offloading Ramp, VIP Latrine, Water Troughs,Solid, Grease and Fat trap for Slaughter Shed Waste disposal,Skin Cleaning Dome ,Weighing Scale, Condemned Parts Pit ,Manure Pit
4 Quarantine Stations each having;A Vet Office,Vet Residence, Staff Quarters ,Tyre and Foot wash,Cattle Crush,VIP Latrine, Loading/Offloading Ramp,Water Troughs, Spray Race and Standard Septic Tank for Residential House
2 Border Check points each having; A Vet Office,Tyre and Foot wash and VIP Latrines
These, as will be shown in a project Map are in the districts of Kaabong, Amudat, Kween, Moroto, Nakapiripirit, Kotido, Abim,Napak, Katakwi, Bukedea, Kumi and Amuria.
Notes for editors
About the Regional Livelihoods Resilience Project
Visit website: http://rplrpuganda.org/about.php
About the Ministry of Agriculture, Animal Industry and Fisheries (MAAIF)
The Ministry of Agriculture, Animal Industry and Fisheries is a Ministry in the Government of Uganda charged with creating an enabling environment in the Agricultural Sector.
The Ministry formulates, reviews and implement national policies, plans, strategies, regulations and standards and enforce laws, regulations and standards along the value chain of crops, livestock and fisheries.
Vision: A competitive, profitable and sustainable agricultural sector.
Mission: To transform subsistence farming to commercial agriculture.
Strategic Objectives
To initiate the formulation and review of the policy and legal framework for the sector
To establish and implement systems for service provision in the sector
To strengthen and implement strategies, regulatory framework, standards, institutional structures and infrastructure for quality assurance and increased quantities of agricultural products to access and sustain local, regional and export markets
To design and implement sustainable capacity building programmes for stakeholders in the agricultural sector through training, re-tooling, infrastructure, provision of logistics and ICT
To develop strategies for sustainable food security
To develop appropriate agricultural technologies for improved agricultural production, productivity and value addition through research
To develop effective collaborative mechanisms with affiliated institutions and
To take lead and establish a system and institutional framework for agricultural data collection, analyses, storage and dissemination to stakeholders including Uganda Bureau of Statistics.
The Ministry of Agriculture, Animal Industry and Fisheries (MAAIF) is made up of four Directorates including the Directorate of Crop Resources, Directorate of Animal Resources, Directorate of Agricultural Extension Services and the Directorate of Fisheries Resources each with Departments, Divisions and Partnership Projects.
The Departments of the Ministry which do not fall directly in the above include the Department of Agricultural Planning and Development, the Human Resource Department, the Department of Finance and Administration and the Department of Agricultural Infrastructure, Mechanisation and Water for Agricultural Production.
The Ministry is also made up of seven Agencies including the National Agricultural Research Organisation (NARO), the National Agricultural Advisory Services (NAADS), Cotton Development Organisation (CDO), Dairy Development Authority (DDA), Uganda Coffee Development Authority (UCDA) and Coordinating Office for the Control of Trypanosomiasis in Uganda (COCTU) and the National Animal Genetic Resources Centre and Databank (NAGRC&DB).