Agriculture Performance Review for 2019/20 Officially Opened in Kampala
Kampala, 20th October 2020. The Agriculture Performance Review for Financial Year 2019/20 has been officially opened in Kampala by the Honourable Vincent Bamulangaki Ssempijja the Minister for Agriculture, Animal Industry and Fisheries.
The following is an excerpt of the Hon. Minister's speech.
I am happy and honoured to be with you today to officiate the opening of the Agriculture Performance Review for FY 2019/20, which was previously called JASAR but Government has now adopted the Programme approach as by the NDP3 202O/21-2024/25.
Unlike in the past, this review has been organized under very trying times of the COVID 19 pandemic. There are few participants here, but the majority of our stakeholders are participating virtually through zoom.
The Ministry undertakings over the period since 2016 have been guided by the NRM manifesto under theme "Taking Uganda to Modernity through job creation and inclusive Development."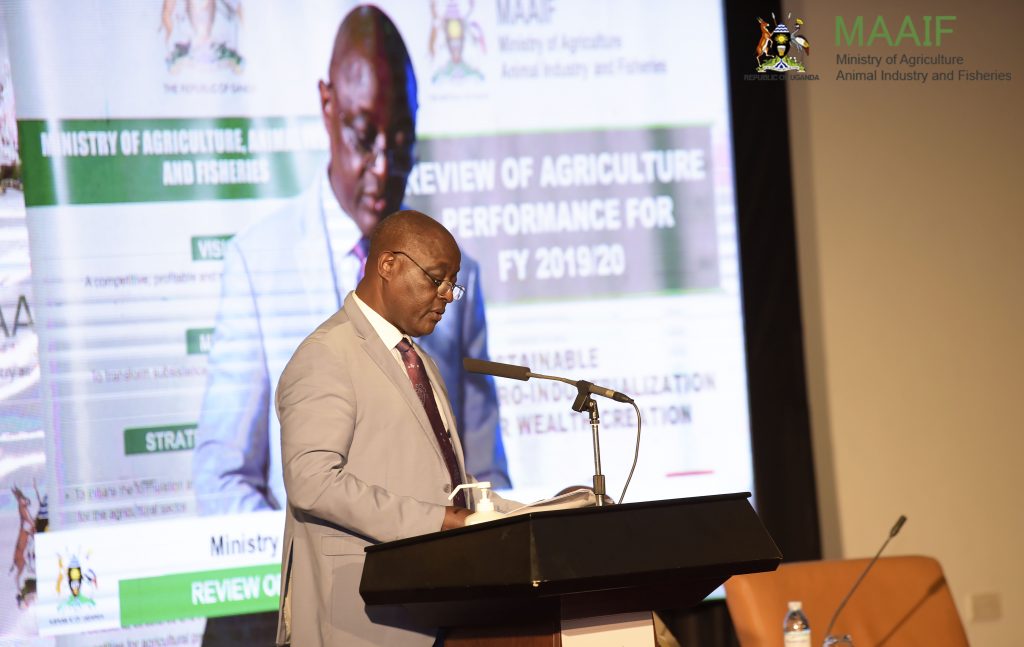 In line with the NRM Manifesto, the Ministry committed itself to address the issues that among other included :mobilizing and supporting small scale farmers along the four-acre model concept; increasing exports of specific commodities; Support to individuals and companies for seed production , planting and breeding materials; Promoting use of fertilizers and appropriate irrigation technology to beat climate change challenges; mechanization, Investments in Research and pest/disease control; Regulation and surveillance, Value addition and revival of the fish industry.
Many of you may be aware that Uganda has been one of the fastest growing economies in Africa; and agricultural growth is key in helping the country progress towards middle income status; and to the second Sustainable Development Goal of ending hunger and all forms of malnutrition by 2030.
Despite this sustained economic and agriculture sector growth, Uganda still suffers from the hardships associated with poverty, hunger and malnutrition.
A Cost of Hunger in Africa study by the African Union in 2013 indicated that up to 5% of the annual GDP in Uganda is lost due to malnutrition. Stunting, an indicator of chronic undernutrition is still moderately high at 29% in children under 5 years of age, while anaemia is a serious public health concern affecting 53% of children and 32% of women of reproductive age.
Under nutrition is therefore, widespread with 36 percent of the children chronically undernourished or stunted. This cannot be allowed to continue.
Uganda has the potential to become the food basket for sub Saharan Africa. But this opportunity is still far from being actualized. Agriculture – comprising the crop, fisheries and livestock is neither efficient as desired nor resilient, and is vulnerable to climate shocks and disasters.
Low production and productivity is directly linked to access to quality inputs, resources for women and youth across the value chains, financial services, extension services, market information and markets among others.
I am happy that this review brings together actors from a wide spectrum of both public and private sectors as well as the international actors to deliberate on issues affecting performance of agriculture.
The period under review was characterized by natural disasters such as the COVID 19, Desert Locusts invasion and the flooding of rivers and lakes that caused disruptions in production and productivity.
The COVID-19 and the associated control measures presented a wide range of challenges on agriculture and food systems. The widespread disruptions to agricultural production and market access resulted in distortions in agricultural supply chains and reduced farmers' incomes.
Measures were implemented at scale during the peak of the planting season A, while the country was still grappling with the threats of desert locust invasion and raising water levels.
Smallholder farmers in most parts of the country were unable to access planting and stocking materials due to reduced economic and physical access.
Input dealers reported a reduction in sales by more than 40% while medium to large scale producers and food processing companies were challenged with limited access to labour. Of great concern is the fact that the demand for high-value and nutritious commodities, such as eggs, vegetables and fruits went down due to reduced purchasing power, raising issues of nutrition deficiencies. The COVID-19 outbreak and its mitigation measures, therefore, posed a significant threat to national agricultural production, food security and nutrition.
The COVID 19 lockdown however, did demonstrate that the agricultural sector was resilient and able to provide food self-sufficiency for the country.
The issues of food quality assurance emerged and this forum should among others deliberate on actions required to improve food quality. To address food quality requires concerted efforts by both the public and private sector.
The National Development Plan (NDPIII) puts the Agro-industrialization Programme at the centre of the industrialization agenda. This is in spite of the fact that close to 69% of Uganda households are still subsistence. Agriculture, therefore, deserves special attention within a broader approach to expand productive capacity for sustainable development, poverty reduction and building resilience.
Whereas, the public sector plays a critical role to protect citizens' rights through the establishment of regulatory frameworks to guide markets and support equitable economic growth across society, the private sector on the other hand, through its inherent profit-driven model plays a critical role in driving growth through constructive analysis of market demands at local levels. The two roles have to complement each other if we are to realise food quality in the agri-food systems and the issue of self-regulation is also critical.
The design of the interventions considered both the agricultural sector specific support and the businesses development support to spur growth across the different agricultural value chains.
The Ministry is working closely with Ministry of Finance to support agricultural related private businesses particularly the stressed SMEs to extend loans and loan guarantees and credit lines through Development Banks and Micro Finance Support Centre.
The Public-Private-Partnership frameworks are being strengthened to support growth of agricultural value chains and capacity to negotiate both at national and international levels. The strategy is to ensure that MAAIF has developed sufficient human, technical and managerial capacity to coordinate the multidisciplinary and multi-sectoral approach to the interventions.
Significant investments shall be directed to support producer/farmer organizations to ensure organized production; and to effectively participate the agricultural value chains.
I am pleased to report that on the whole, in spite of the challenges the sector faces including persistent underfunding, significant achievements have been registered and these will shortly be reported on by the Permanent Secretary.
Nevertheless, more needs to be done to address the challenges earlier highlighted and each of us the stakeholders have a role to play.
To build on the achievements registered, government will continue to undertake strategic investments in the commodities as identified under NDPIII in a more programmatic approach as by Agro-industrialization program; one of the 18 programs in the NDP3 that is specifically led by my Ministry and implemented jointly with Ministry of Trade, Industry and Cooperatives and other supportive MDAs-Water and Environment, Energy and Mineral Development
I wish to conclude by re-assuring everyone here that my Ministry is on course but to realise our end state will require the support and cooperation of all of us. Together, we shall succeed.
It is therefore, my great honour and pleasure, to declare this Agriculture Performance Review for 2019/20 officially open and wish you good deliberations.
Important Downloads
Review Report for the Financial Year 2019/20: https://www.agriculture.go.ug/wp-content/uploads/2020/10/MAAIF-Annual-Performance-Report-FY-2019-2020-Draft-D.pdf
Notes for editors
About the Ministry of Agriculture, Animal Industry and Fisheries (MAAIF)
The Ministry of Agriculture, Animal Industry and Fisheries is a Ministry in the Government of Uganda charged with creating an enabling environment in the Agricultural Sector.
The Ministry formulates, reviews and implement national policies, plans, strategies, regulations and standards and enforce laws, regulations and standards along the value chain of crops, livestock and fisheries.
Vision: A competitive, profitable and sustainable agricultural sector.
Mission: To transform subsistence farming to commercial agriculture.
Strategic Objectives
To initiate the formulation and review of the policy and legal framework for the sector
To establish and implement systems for service provision in the sector
To strengthen and implement strategies, regulatory framework, standards, institutional structures and infrastructure for quality assurance and increased quantities of agricultural products to access and sustain local, regional and export markets
To design and implement sustainable capacity building programmes for stakeholders in the agricultural sector through training, re-tooling, infrastructure, provision of logistics and ICT
To develop strategies for sustainable food security
To develop appropriate agricultural technologies for improved agricultural production, productivity and value addition through research
To develop effective collaborative mechanisms with affiliated institutions and
To take lead and establish a system and institutional framework for agricultural data collection, analyses, storage and dissemination to stakeholders including Uganda Bureau of Statistics.
The Ministry of Agriculture, Animal Industry and Fisheries (MAAIF) is made up of four Directorates including the Directorate of Crop Resources, Directorate of Animal Resources, Directorate of Agricultural Extension Services and the Directorate of Fisheries Resources each with Departments, Divisions and Partnership Projects.
The Departments of the Ministry which do not fall directly in the above include the Department of Agricultural Planning and Development, the Human Resource Department, the Department of Finance and Administration and the Department of Agricultural Infrastructure, Mechanisation and Water for Agricultural Production.
The Ministry is also made up of seven Agencies including the National Agricultural Research Organisation (NARO), the National Agricultural Advisory Services (NAADS), Cotton Development Organisation (CDO), Dairy Development Authority (DDA), Uganda Coffee Development Authority (UCDA) and Coordinating Office for the Control of Trypanosomiasis in Uganda (COCTU) and the National Animal Genetic Resources Centre and Databank (NAGRC&DB).