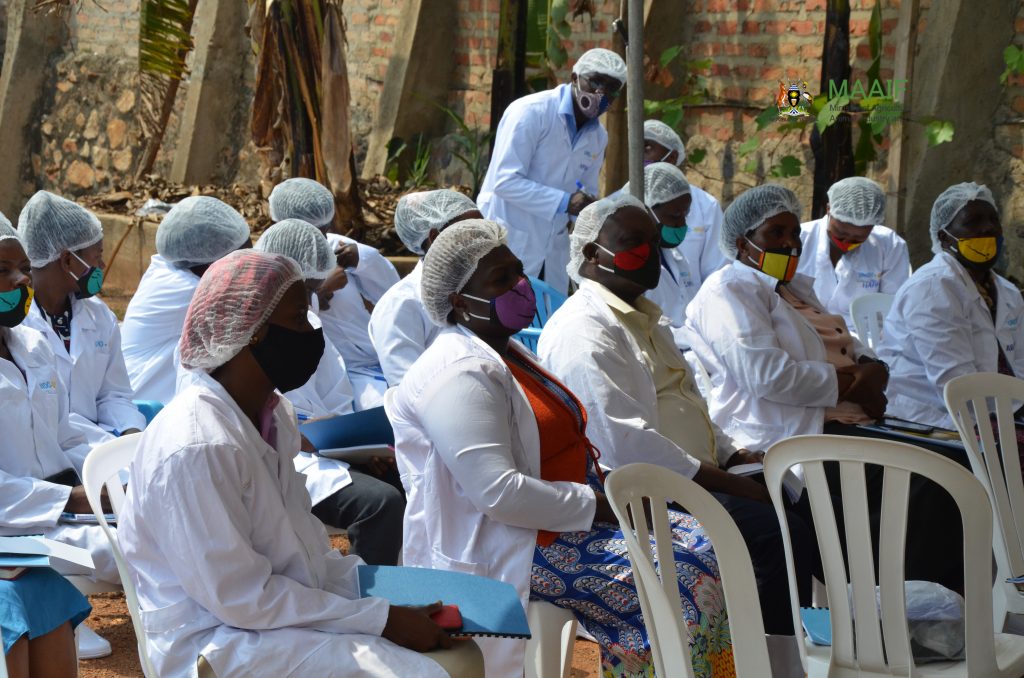 Banana Value Addition Trainings, Processing Equipment and Machines made available through the Banana Livelihood Diversification Project
Mbarara, 26th August 2020. The Ministry of Agriculture, Animal Industry and Fisheries has kick-started training of representatives from Banana growing communities.
The training sessions which are focused on value addition have started in the major Banana growing areas at value addition facilities that were established by a partnership project of MAAIF, the United Nations Industrial Development Organization and the Global Environment Facility.
The partnership project is known as the Banana Livelihoods Diversification Project and Silgard Winery which is one of the beneficiary facilities in Mbarara District has is hosting the sessions for Mbarara this week.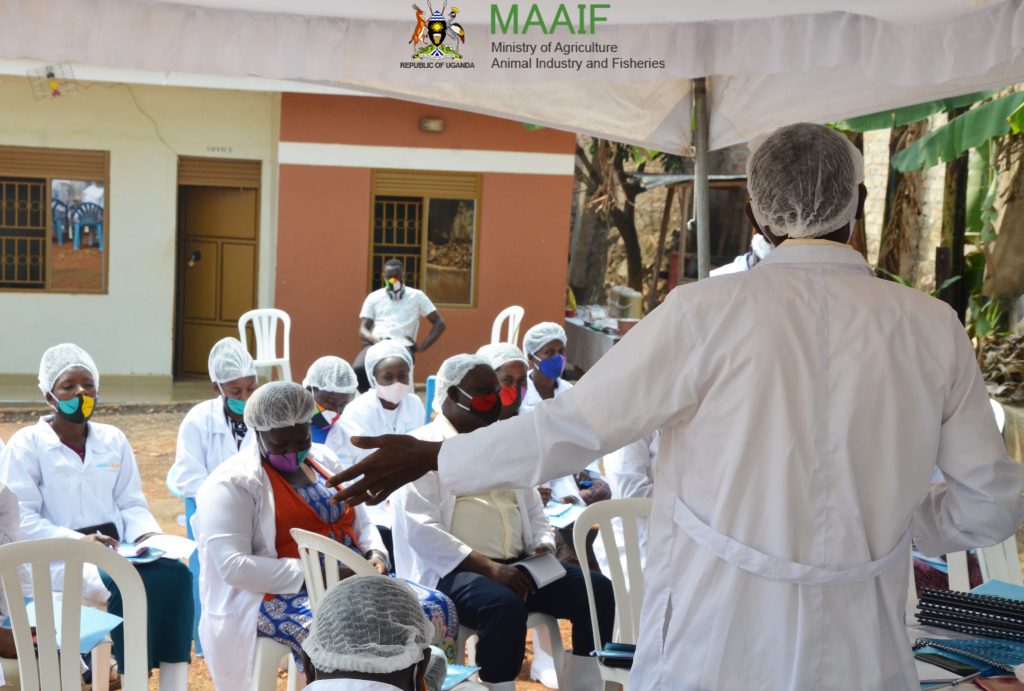 The project was introduced to support these communities to better adapt to the effects of #ClimateChange through Banana value addition activities to provide greater opportunities for income generation, #poverty reduction and #food security.As will be highlighted here, this project has delivered 9 processing facilities, 1 Juice Processing facility in Bushenyi, 4 wineries, 4 Banana Solar Drying Facilities and 200 bio-digesters.
Through this project, more entrepreneurs in #agribusiness are supported to add value to Bananas, also known as Matooke, and process products like Wine, Banana Chips and Flour which fetch higher prices and profits for them and the #farmers linked to the facilities.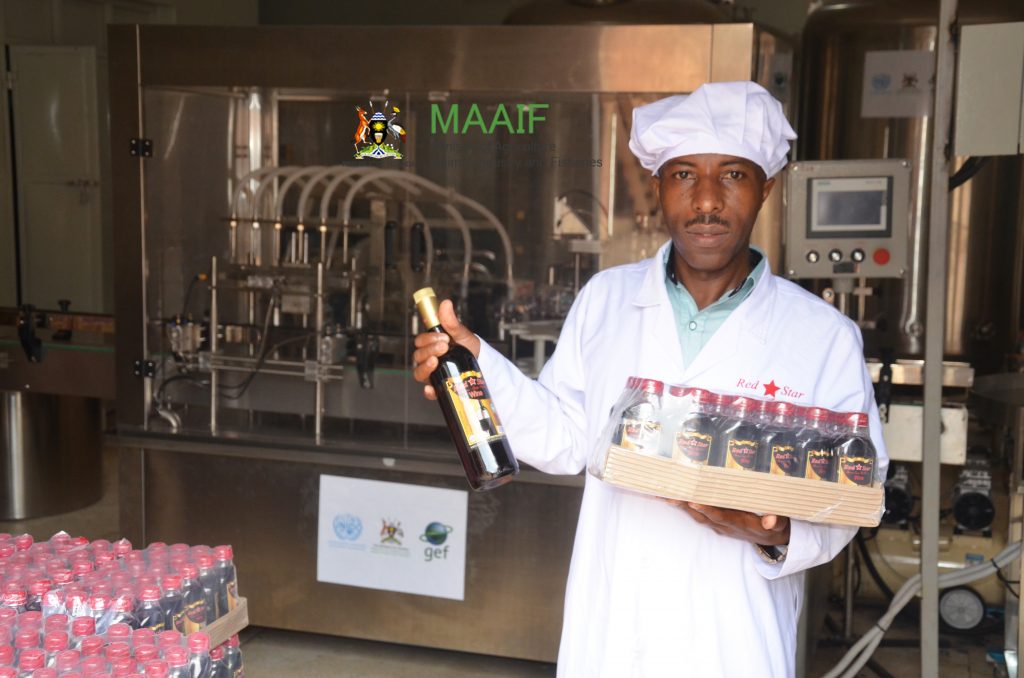 The facilities supported through the Banana Livelihoods Diversification Project also receive standard equipment that enables them to process the highest quantity and quality of products possible.
These interventions aimed at increasing Banana value addition as toured by the Honorable Vincent Bamulangaki Ssempijja the Minister for Agriculture, Animal Industry and Fisheries are in the Districts of Mbarara, Ntungamo, Isingiro, Bushenyi, Sheema, Mitooma, Buhweju and Rubirizi.
Notes for editors
About the Ministry of Agriculture, Animal Industry and Fisheries (MAAIF)
The Ministry of Agriculture, Animal Industry and Fisheries is a Ministry in the Government of Uganda charged with creating an enabling environment in the Agricultural Sector.
The Ministry formulates, reviews and implement national policies, plans, strategies, regulations and standards and enforce laws, regulations and standards along the value chain of crops, livestock and fisheries.
Vision: A competitive, profitable and sustainable agricultural sector.
Mission: To transform subsistence farming to commercial agriculture.
Strategic Objectives
To initiate the formulation and review of the policy and legal framework for the sector
To establish and implement systems for service provision in the sector
To strengthen and implement strategies, regulatory framework, standards, institutional structures and infrastructure for quality assurance and increased quantities of agricultural products to access and sustain local, regional and export markets
To design and implement sustainable capacity building programmes for stakeholders in the agricultural sector through training, re-tooling, infrastructure, provision of logistics and ICT
To develop strategies for sustainable food security
To develop appropriate agricultural technologies for improved agricultural production, productivity and value addition through research
To develop effective collaborative mechanisms with affiliated institutions and
To take lead and establish a system and institutional framework for agricultural data collection, analyses, storage and dissemination to stakeholders including Uganda Bureau of Statistics.
The Ministry of Agriculture, Animal Industry and Fisheries (MAAIF) is made up of four Directorates including the Directorate of Crop Resources, Directorate of Animal Resources, Directorate of Agricultural Extension Services and the Directorate of Fisheries Resources each with Departments, Divisions and Partnership Projects.
The Departments of the Ministry which do not fall directly in the above include the Department of Agricultural Planning and Development, the Human Resource Department, the Department of Finance and Administration and the Department of Agricultural Infrastructure, Mechanisation and Water for Agricultural Production.
The Ministry is also made up of seven Agencies including the National Agricultural Research Organisation (NARO), the National Agricultural Advisory Services (NAADS), Cotton Development Organisation (CDO), Dairy Development Authority (DDA), Uganda Coffee Development Authority (UCDA) and Coordinating Office for the Control of Trypanosomiasis in Uganda (COCTU) and the National Animal Genetic Resources Centre and Databank (NAGRC&DB).