Sud Control: Second Phase of Jinja Operations Commissioned
Jinja, 5th June 2020. Hon. Hellen Adoa the Minister of State for Fisheries in the Ministry of Agriculture, Animal Industry and Fisheries undertook a supervisory visit to Masese Fish Landing Site this morning.
The visit also involved the Commissioning of Sud Control Operations for Jinja and community engagement with the fishing community of Masese.
The following is an excerpt of the official statement delivered by the Hon. Minister to a media briefing at the landing site.
The rising water levels pose a threat to the fisheries resources; through impacting on fishing activities, disorganising fish breeding areas, fish landing sites, suffocating fish and the impacts are currently felt on our water bodies including Lakes Victoria, Albert and Kyoga
The increasing water levels have detached large chunks of land and vegetation from the mainland causing many floating weeds; some in form of floating islands and commonly referred to as suds which has affected Nalubale hydropower dam, some bridges and landing site infrastructure in different parts of the country.
These suds, started to move on the surface of the lakes in the second week of April, with one 12-acre Island reaching the Nalubaale Power Station in Jinja causing a countrywide power blackout.
While weeds are known as plants growing where they are not wanted or plants considered undesirable in a particular situation ("plants in a wrong place"), the current suds comprise of, plantations, crops, water hyacinth weeds, stones, soil/sand, industrial plastics/metals/ceramics/metals/timber, debris and other insoluble materials or composites all directly causing undesirable ecological and socio-economic impacts fishing industry.
At the start of the operations (14th of April 2020), there were close to 100 acres of floating weeds in Portbell and 10 hectares of floating weeds in Jinja
There are also other problem areas where many floating islands are roaming and these include Bunjako Bay (Mpigi/Kalungu), Sango Bay and River Kagera (Kyotera), and Fielding and Thruston Bays (Jinja/Mayuga).
Some of these floating Islands act as hiding place for fisher men doing illegal fishing malpractices and other criminals
The bigger challenge of floating islands lies ahead on Lake Kyoga already affected with many heavy floating weed mats including the Kariba weed and water hyacinth.
The purpose of this community engagement is to brief you and the general public about the efforts to control the floating islands on our respective water bodies and get feedback from you the affected resource users.
I want to first thank the effort put in by the above Ministries and Agencies in clearing the 1st bigger invasion at the Nalubale dam area for which H.E. The President inspected and was happy
Work done so far
MAAIF as the mandated government ministry to management aquatic weeds, and using its long term experience dating as far as 1999, has continued to lead a multi-sectoral team including officers from the following Ministries, Departments and Agencies and Development Partners:
Ministry of Agriculture, Animal Industry& Fisheries,
Arab Republic of Egypt
RDC, Jinja
LCV Chairperson, Jinja District Local Government
His Worship the Mayor of Jinja Municipal Council
CAO Jinja District Local Government
Ministry of Works and Transport,
Ministry of Water and Environment,
Ministry of Energy and Mineral Development
Ministry of Defense and Veteran Affairs – UPDF Marines,
Ministry of Internal Affairs (Police and Prisons)
Eskom (U) Ltd; and
National Agricultural Research Organization (NARO
The Ministry deployed heavy equipment at the Nalubale Dam including; 2 Long Arm Excavators (17 m long), 3 twenty Tons Dump Trucks, 2 self-loading trucks, 1 Barge, 1 Fisheries Research Vessel, 1 ferry from Ministry of Works and Transport with the objective to harvest any remains of weeds/suds for the safety of Nalubale dam. A total of 15 hectares of weeds have been harvested in Jinja areas of Masese, Kirinya and Wairaka. This excludes the 12 acres previously harvested at the dam.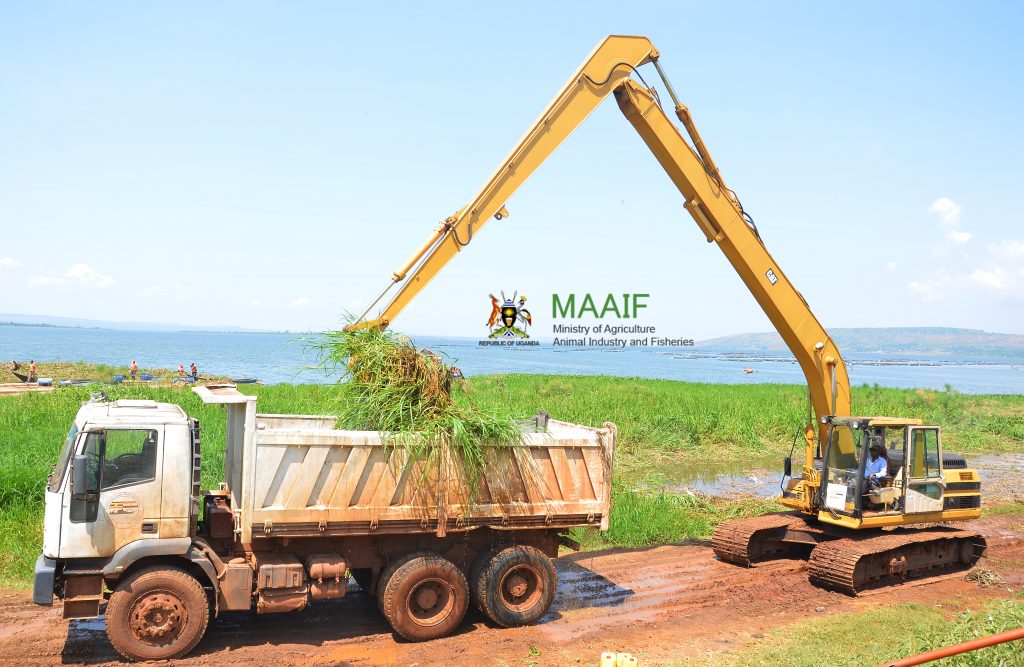 MAAIF also deployed equipment at Port bell (2 barges, 1 harvester, 1 ferry, 2 excavators and 2 self-loading trucks, 1 more ferry from Ministry of Works and Transport) to help in breaking the floating weeds into small masses. The objective is to avert a threat in case of the floating weeds escaping to the dam or moving to fish landing sites. So far 40 acres of weed have been harvested in port bell
Conducted drone based imagery surveys in Murchison Bay, Jinja area and Buvuma Islands with the objective of keeping a close watch on the floating islands movements and guide machine deployment;
Progress
Jinja area is virtually stable with now minimal threats, The ship transport route in Luzira and Port bell and Gaba fish landing sites 50% free from interference by the suds and economic activities going on uninterrupted
The Ministry of Agriculture, Animal Industry and Fisheries will continue working with other stakeholders to undertake surveillance and monitoring on Lake Kyoga to ascertain the current levels and distribution of weed mats with the aim of unblocking the 2 channels previously opened to ease water flow and stop flooding.
The equipment on Lake Kyoga (at Kikooge and Moone landing sites) is to be fully maintained and operationalized to harvest the suds as was the case in the blockage that was experienced between 1998 and 2000.
Stand by equipment to remain in Jinja for any emergency action in case of any new threat.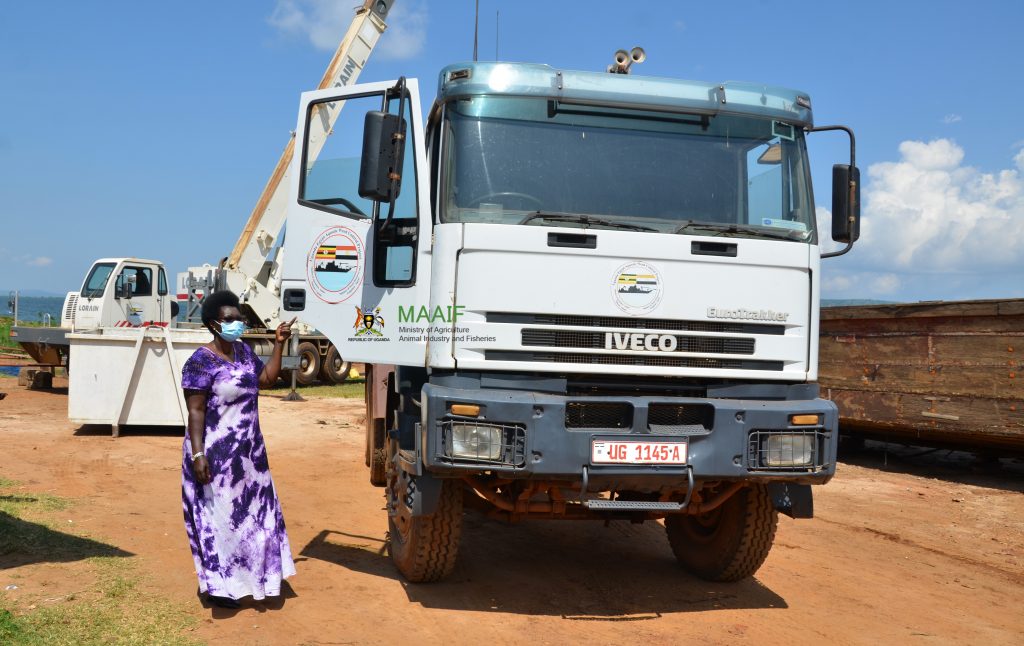 I call upon all of you stakeholders to be calm, efforts will continue to avert threats of weed invasions and floating Islands with the aim to reduce them to levels where they don't cause negative ecological and socio-economic impacts to the environment, fisheries and fishing communities. Bad agriculture practices in the lake shore must be discouraged.
I once again wish to recognize the collaboration and input from the Ministry of Works and Transport, UPDF, the Management of the Nalubale dam, Jinja Municipal and Local Government for the support in this operations amidst the Covid 19 challenges.
Let us continue working together.
I cannot forget our long term friend, The Arab Republic of Egypt who have supported Uganda with equipment and capacity building in weed control since 1999. In the next one year, The Arab Republic of Egypt will be supporting Uganda with US $ 1.5 M to control weeds on our lakes and develop 2 landing sites.
For God and my country
Hon. Hellen Adoa (MP)
Minister of State for Fisheries
Notes for editors
About the Ministry of Agriculture, Animal Industry and Fisheries (MAAIF)
The Ministry of Agriculture, Animal Industry and Fisheries is a Ministry in the Government of Uganda charged with creating an enabling environment in the Agricultural Sector.
The Ministry formulates, reviews and implement national policies, plans, strategies, regulations and standards and enforce laws, regulations and standards along the value chain of crops, livestock and fisheries.
Vision: A competitive, profitable and sustainable agricultural sector.
Mission: To transform subsistence farming to commercial agriculture.
Strategic Objectives
To initiate the formulation and review of the policy and legal framework for the sector
To establish and implement systems for service provision in the sector
To strengthen and implement strategies, regulatory framework, standards, institutional structures and infrastructure for quality assurance and increased quantities of agricultural products to access and sustain local, regional and export markets
To design and implement sustainable capacity building programmes for stakeholders in the agricultural sector through training, re-tooling, infrastructure, provision of logistics and ICT
To develop strategies for sustainable food security
To develop appropriate agricultural technologies for improved agricultural production, productivity and value addition through research
To develop effective collaborative mechanisms with affiliated institutions and
To take lead and establish a system and institutional framework for agricultural data collection, analyses, storage and dissemination to stakeholders including Uganda Bureau of Statistics.
The Ministry of Agriculture, Animal Industry and Fisheries (MAAIF) is made up of four Directorates including the Directorate of Crop Resources, Directorate of Animal Resources, Directorate of Agricultural Extension Services and the Directorate of Fisheries Resources each with Departments, Divisions and Partnership Projects.
The Departments of the Ministry which do not fall directly in the above include the Department of Agricultural Planning and Development, the Human Resource Department, the Department of Finance and Administration and the Department of Agricultural Infrastructure, Mechanisation and Water for Agricultural Production.
The Ministry is also made up of seven Agencies including the National Agricultural Research Organisation (NARO), the National Agricultural Advisory Services (NAADS), Cotton Development Organisation (CDO), Dairy Development Authority (DDA), Uganda Coffee Development Authority (UCDA) and Coordinating Office for the Control of Trypanosomiasis in Uganda (COCTU) and the National Animal Genetic Resources Centre and Databank (NAGRC&DB).