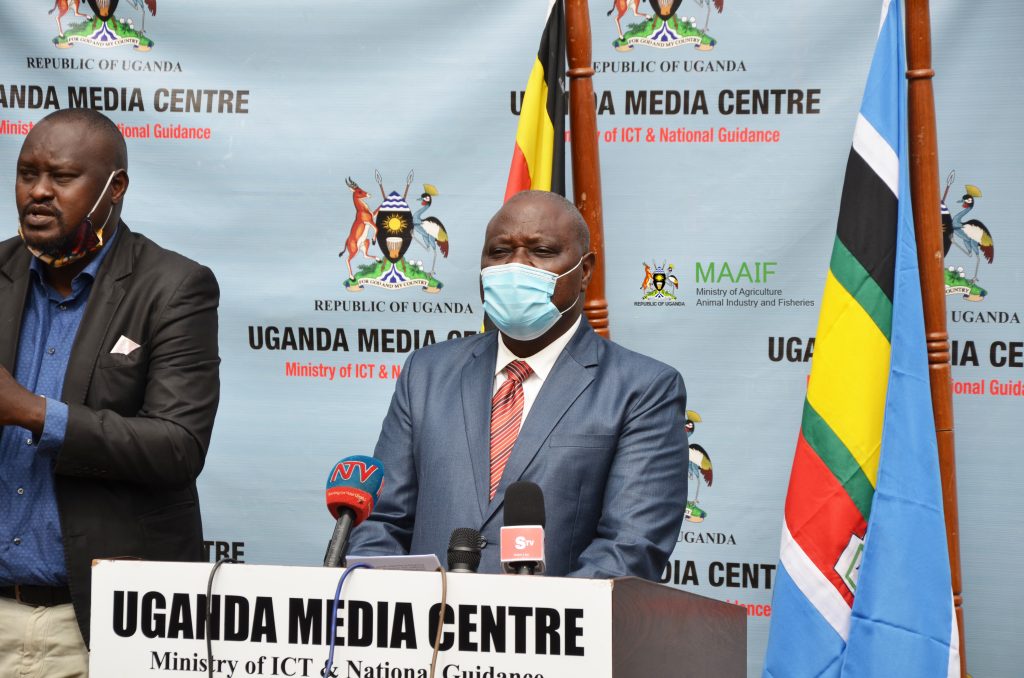 Vanilla Sub-sector Statement as presented by Hon. Henry Aggrey Bagiire, Minister of State for Agriculture
Kampala, 4th June 2020. Hon. Henry Aggrey Bagiire the Minister of State for Agriculture presented a Vanilla Sub-sector Statement to the public through the media at the Uganda Media Center in Kampala.
Below is an excerpt of the Official Statement.
I thank you all for heeding the Directives of H.E. The President of the Republic of Uganda, as well as the guidelines issued by the Ministry of Health in the current fight against COVID-19.
In this situation of COVID, members of households need food. Food also serves as medicine for our human bodies. In addition, we need cash to pay for essential household requirements. On this note, I applaud our farmers who have continued to work on your gardens to ensure that households have enough food. I also thank our vanilla farmers and actors for not abandoning vanilla which is one of the high value horticultural crops in Uganda.
Today, we are here as a Ministry, to apprise you on the current status of Uganda's vanilla value chain, in light of the most recent developments in the Global Vanilla market.
The annual global consumption of vanilla has averaged between 2,100MT to 2,400 MT, over the last 10 years. Uganda's average exports over the last 5 years, were 31.44 MT valued at UGX 20.57 Billion according to Uganda Revenue Authority (URA).
Vanilla is the world's second most expensive spice after saffron, because of its multiple uses. In the past 3 years, vanilla prices have been extremely high due to a shortage in global supply triggered by a devastating cyclone which affected gardens in Madagascar – the world's largest producer. However, there is now a clear downward trend in global prices as a result of increasing supply from Madagascar and other vanilla producing countries. This trend means that our farmers and exporters may receive much lower prices for their vanilla in the coming seasons.
According to the World Bank Commodity Markets Outlook of April, 2020, the ensuing economic shock of the COVID-19 pandemic may further translate into considerably lower commodity prices in 2020.
In a market situation where supply meets or even exceeds demand, buyers and consumers generally demand high quality products. To harness the best opportunities of such a global vanilla market situation, we in Uganda, must of necessity, identify and emphasize strategies that guarantee high quality of vanilla that we put on the market in order to ensure a sustainable and better price for farmers.
For this to succeed however, effective collaborative efforts of both the public and private sector actors are required. Farmers must harvest their vanilla when it is fully mature, that is; 9 months after pollination. Traders and processors need to adhere to the professional vanilla handling and processing standards to attain the highest possible vanillin content that the market requires. Government on the other hand should provide an appropriate regulatory environment to ensure compliance with standards and buyers' requirements.
As you may recall, on the 21st of May and also on the 14th of November 2019, my Ministry made national declarations of Vanilla Harvest Dates with the aim of reducing premature harvests, curbing theft, improving the handling and processing practices to ensure that high quality vanilla is exported out of Uganda.
Commendably, we have heard and observed a positive impact on the image of Uganda's vanilla industry, particularly the quality of vanilla that goes to the market. Such reports are contained in the testimonies coming from the Global Vanilla Importers organized under the Sustainable Vanilla Initiative (SVI). Similarly, less cases of theft and premature harvests have been reported by our Agriculture Police Unit.
I thank you vanilla actors-Mzee Aga Sekalala, VANEX leadership as well as vanilla farmers, curers, buyers and exporters for this milestone achievement.
However, I would like to appeal to you not to be complacent and retrogress into the situation that will again compromise the quality of Uganda's vanilla. We seriously need to consolidate these gains and ensure that Uganda is the world center of excellence in producing quality vanilla.
It is indeed disheartening to hear that inspite of the positive testimonies we are getting from the market, we have started getting reports of premature harvests, mostly fueled by dodgy middlemen. For example, on May 13, 2020, our security officers intercepted a truck of poor-quality, cured vanilla in Mukono District, which had just arrived from Kasese.
According to our experts, the color of this vanilla indicated that it was picked prematurely, about 3 or 4 months after pollination.
A sample of that vanilla was taken to Chemiphar laboratories for analysis. We were shocked to learn that the vanillin content was only 0.2%, the lowest ever! If such vanilla is exported, no matter where it goes, it will paint a bad image about Uganda. This is unacceptable and must stop with immediate effect.
Let us continue to sensitize all our vanilla actors, demonstrate to them the effects of such malpractices to the vanilla industry, to vanilla profitability, to the national economy and save our country.
Government through my Ministry is committed to pursuing the development of vanilla regulations; a national vanilla law, working closely with the local governments and private actors to draft ordinances and by-laws and fast tract their approval and implementation in the different vanilla growing districts. I appreciate Districts like: Kasese, Bundibugyo, Ntoroko, Bunyangabu, Buikwe, Rubirizi and Ibanda for taking lead. I urge the others to follow suit.
I am happy to inform you that arising from several consultative meetings with key actors in the horticulture sub-sector, vanilla has been prioritized among the top horticulture crops planned for focused investment in the medium term (2020/21-2024/25) and it has been included in our Agriculture Sector Strategic Plan (ASSP).
This will attract further investments in vanilla and hence help to position Uganda's vanilla industry as the World's No. 1 source of premium quality vanilla. Please let us continue to grow, process and sell good quality vanilla.
As a Ministry, like other actors, we have observed changes in weather patterns, which demand adjustments in harvest dates. In all our consultations, so far, we have established that the best timing for harvesting the next season's vanilla should fall somewhere between late June and Mid-July, 2020.
On behalf of my Ministry, therefore, I hereby declare that Harvesting of vanilla for season A, shall start on July 6, 2020 through July 30, 2020. During this exercise, farmers are required to pick only mature ripe beans and any trader found in possession of unripe beans will be dealt with by Government. I would like to direct my Ministry staff, the Agriculture Police, to work closely with other actors to ensure effective implementation of this declaration.
Finally, I would like to remind all farmers, traders and other vanilla actors to comply with the directives of the H.E. The President of Uganda and the guidelines of the Ministry of Health on COVID-19, before, during and after the harvesting period. Wash your hands regularly with soap and other sanitizers, wear face masks and observe social distancing.
Notes for editors
About the Ministry of Agriculture, Animal Industry and Fisheries (MAAIF)
The Ministry of Agriculture, Animal Industry and Fisheries is a Ministry in the Government of Uganda charged with creating an enabling environment in the Agricultural Sector.
The Ministry formulates, reviews and implement national policies, plans, strategies, regulations and standards and enforce laws, regulations and standards along the value chain of crops, livestock and fisheries.
Vision: A competitive, profitable and sustainable agricultural sector.
Mission: To transform subsistence farming to commercial agriculture.
Strategic Objectives
To initiate the formulation and review of the policy and legal framework for the sector
To establish and implement systems for service provision in the sector
To strengthen and implement strategies, regulatory framework, standards, institutional structures and infrastructure for quality assurance and increased quantities of agricultural products to access and sustain local, regional and export markets
To design and implement sustainable capacity building programmes for stakeholders in the agricultural sector through training, re-tooling, infrastructure, provision of logistics and ICT
To develop strategies for sustainable food security
To develop appropriate agricultural technologies for improved agricultural production, productivity and value addition through research
To develop effective collaborative mechanisms with affiliated institutions and
To take lead and establish a system and institutional framework for agricultural data collection, analyses, storage and dissemination to stakeholders including Uganda Bureau of Statistics.
The Ministry of Agriculture, Animal Industry and Fisheries (MAAIF) is made up of four Directorates including the Directorate of Crop Resources, Directorate of Animal Resources, Directorate of Agricultural Extension Services and the Directorate of Fisheries Resources each with Departments, Divisions and Partnership Projects.
The Departments of the Ministry which do not fall directly in the above include the Department of Agricultural Planning and Development, the Human Resource Department, the Department of Finance and Administration and the Department of Agricultural Infrastructure, Mechanisation and Water for Agricultural Production.
The Ministry is also made up of seven Agencies including the National Agricultural Research Organisation (NARO), the National Agricultural Advisory Services (NAADS), Cotton Development Organisation (CDO), Dairy Development Authority (DDA), Uganda Coffee Development Authority (UCDA) and Coordinating Office for the Control of Trypanosomiasis in Uganda (COCTU) and the National Animal Genetic Resources Centre and Databank (NAGRC&DB).