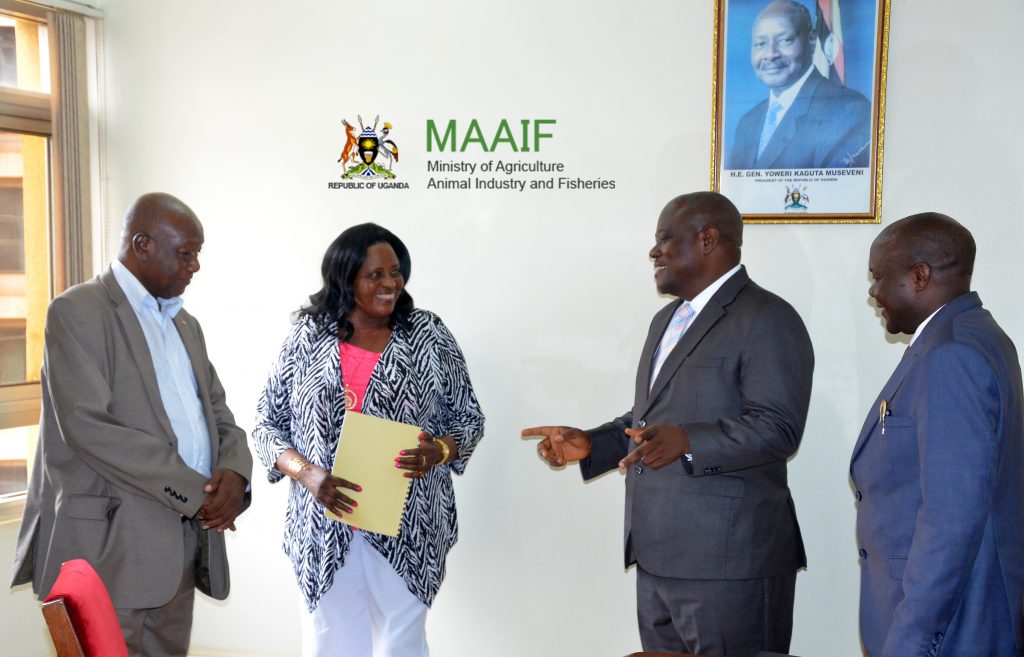 Agribusiness Opportunities along Cashew Nut Value Chain Reinforced
Kampala, 10th March 2020. The Ministry of Agriculture, Animal Industry and Fisheries has undertaken a major step towards further development of the Cashew Nut Value Chain.
This step was in the form of signing of a new Memorandum of Understanding with the organized farmers under the umbrella Uganda Cashewnut and Trees Limited in Kampala.
The Ministry was represented in the signing by Hon. Henry Aggrey Bagiire the Minister of State for Agriculture.
Below are details about the benefits of Cashewnut growing and the steps being taken by Government to develop the value chain further.
Cashewnut (Anacardium occindentale), is a hardy drought resistant tree crop. It strives best in dry areas with annual average temperatures above 28°C and having well drained deep sandy loam soils with high textural porosity. This makes it a very suitable commodity for dry cattle corridor areas of Uganda.
Cashew is grown across the world including countries such as Mexico, Brazil, India, Philippines and other African Countries s including Nigeria, Mozambique, Kenya, Tanzania and Uganda among others
 Cashewnut offers enormous benefits including; Nutritional benefits where it provides macro and micro nutrients, such as protein, magnesium, zinc, copper, manganese a potential Source of vitamin C.
Industrially, Cashewnut is used in manufacture of varnishes, typewriter rolls, industrial flooring tiles, gum, inks, oil cloth, paints, water-proofing paper, acid and alkali resistant cements, laminating resins among others.
Economically, Cashew is a source of income for small holder farmers, provides employment opportunities and foreign exchange earnings for government.
Environmentally, being a hardy drought resistant tree crop Cashew provides potential benefit to climate change mitigation especially for the dry land areas with annual average temperatures well above 28°C. This makes it very suitable for the cattle corridor districts of Uganda.
On 16th October, 2017 His Excellency the President directed Ministry of Agriculture Animal Industry and Fisheries (MAAIF) to integrate Cashewnut among the priority Commodities and to liaise with Uganda Cashewnut and Trees Limited (UCTL) for Development of Cashewnut Value Chain for improving livelihoods of smallholder farmers in the Cattle Corridor Districts of Uganda.
In 2018/19, MAAIF developed a concept for Development of Cashewnut Value Chain in Cattle Corridor districts of Uganda. The concept was presented to various committees including the Development Committee (DC) of Ministry of Finance Planning and Economic Development (MFPED) but its still pending approval by MFPED's Development Committee.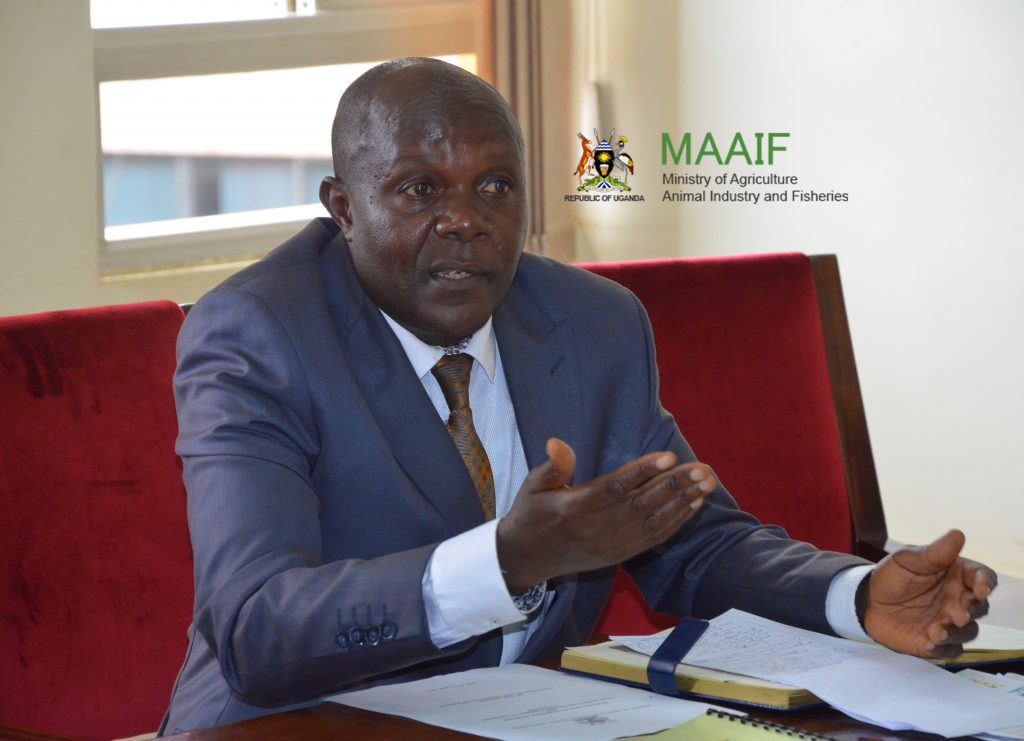 In FY 2019/20, MAAIF through NAADS allocated funds amounting to 1 (One) billion shillings only for procurement of Cashewnut Seedlings of improved varieties. A total of 166,965 improved Cashewnut seedlings were procured in Season 2019A (Season1) and distributed to demonstration farmers which was then planted in 2,000 acres of land in 28 districts in the cattle corridor area of Uganda.
This FY 2019/20, MAAIF ringed fenced up to 2 (two) billion shillings for procurement and distribution of Cashewnut Seedlings of improved varieties to demonstration Host Farmers in Season 2019B (Season 2).
In September, 2019 MAAIF initiated the procurement of 333,333 Seedlings of improved Cashewnut Varieties worth 2 Billion Uganda Shillings.
In collaboration with Uganda Cashewnut and Trees Limited, Nursery Operators were identified, inspected and up to 171 Nursery operators submitted bids, evaluated and have signed contract with MAAIF to supply up to 333, 333 seedlings of improved Cashewnut varieties AA7, AC4, AC43, AZA2 and AC10 in season 2020A.
The Start-up seedlings will be provide to farmers in 42 districts along the dry cattle corridor areas of Uganda including districts in the sub regions of Karamoja, Teso, Lango, Acholi, WestNile, Parts of Central and South Western Uganda.
In 2019, MAAIF in collaboration with Uganda Cashewnut and Trees Limited drafted Memorandum of Understanding (MOU) to support promotion of Cashewnut Value Chain in Uganda. The MOU has been signed today.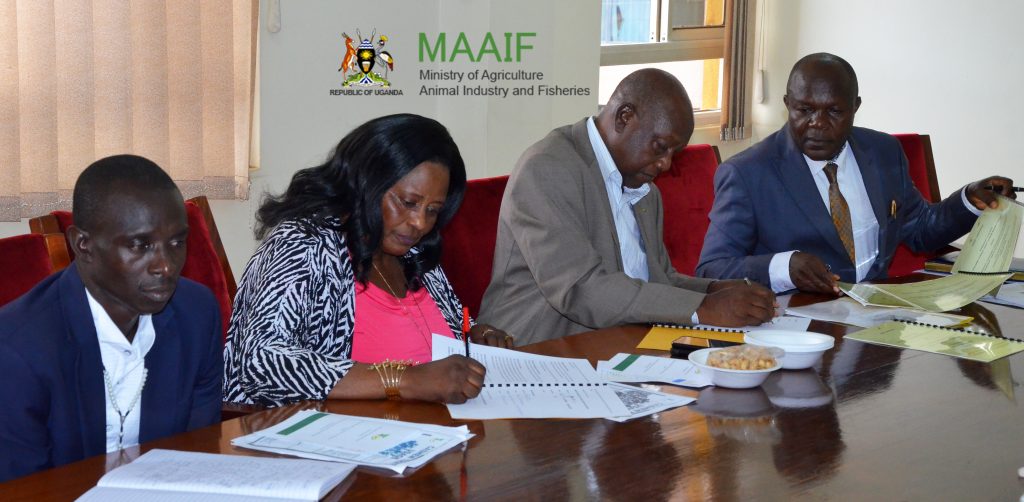 This partnership is expected to contribute to:
increase Cashewnut production and trade
increase Volume of High Quality Cashew produce and products for Local, Regional and International Markets.
Increase household and National incomes.
Improve Household food and Nutrition security
Enhanced job creation for about 2 million youths directly and indirectly
Reduced effects of climate change and
Increased foreign exchange earnings.
Finally, the Ministry of Agriculture, Animal Industry and Fisheries is currently developing a project to support development of sustainable Cashew nut value chains in Uganda. A total of 61,000 farmers from 61 districts located along the cattle corridor and dry land areas of Uganda are expected to benefit from this project.
Notes for editors
About the Ministry of Agriculture, Animal Industry and Fisheries (MAAIF)
The Ministry of Agriculture, Animal Industry and Fisheries is a Ministry in the Government of Uganda charged with creating an enabling environment in the Agricultural Sector.
The Ministry formulates, reviews and implement national policies, plans, strategies, regulations and standards and enforce laws, regulations and standards along the value chain of crops, livestock and fisheries.
Vision: A competitive, profitable and sustainable agricultural sector.
Mission: To transform subsistence farming to commercial agriculture.
Strategic Objectives
To initiate the formulation and review of the policy and legal framework for the sector
To establish and implement systems for service provision in the sector
To strengthen and implement strategies, regulatory framework, standards, institutional structures and infrastructure for quality assurance and increased quantities of agricultural products to access and sustain local, regional and export markets
To design and implement sustainable capacity building programmes for stakeholders in the agricultural sector through training, re-tooling, infrastructure, provision of logistics and ICT
To develop strategies for sustainable food security
To develop appropriate agricultural technologies for improved agricultural production, productivity and value addition through research
To develop effective collaborative mechanisms with affiliated institutions and
To take lead and establish a system and institutional framework for agricultural data collection, analyses, storage and dissemination to stakeholders including Uganda Bureau of Statistics.
The Ministry of Agriculture, Animal Industry and Fisheries (MAAIF) is made up of four Directorates including the Directorate of Crop Resources, Directorate of Animal Resources, Directorate of Agricultural Extension Services and the Directorate of Fisheries Resources each with Departments, Divisions and Partnership Projects.
The Departments of the Ministry which do not fall directly in the above include the Department of Agricultural Planning and Development, the Human Resource Department, the Department of Finance and Administration and the Department of Agricultural Infrastructure, Mechanisation and Water for Agricultural Production.
The Ministry is also made up of seven Agencies including the National Agricultural Research Organisation (NARO), the National Agricultural Advisory Services (NAADS), Cotton Development Organisation (CDO), Dairy Development Authority (DDA), Uganda Coffee Development Authority (UCDA) and Coordinating Office for the Control of Trypanosomiasis in Uganda (COCTU) and the National Animal Genetic Resources Centre and Databank (NAGRC&DB).