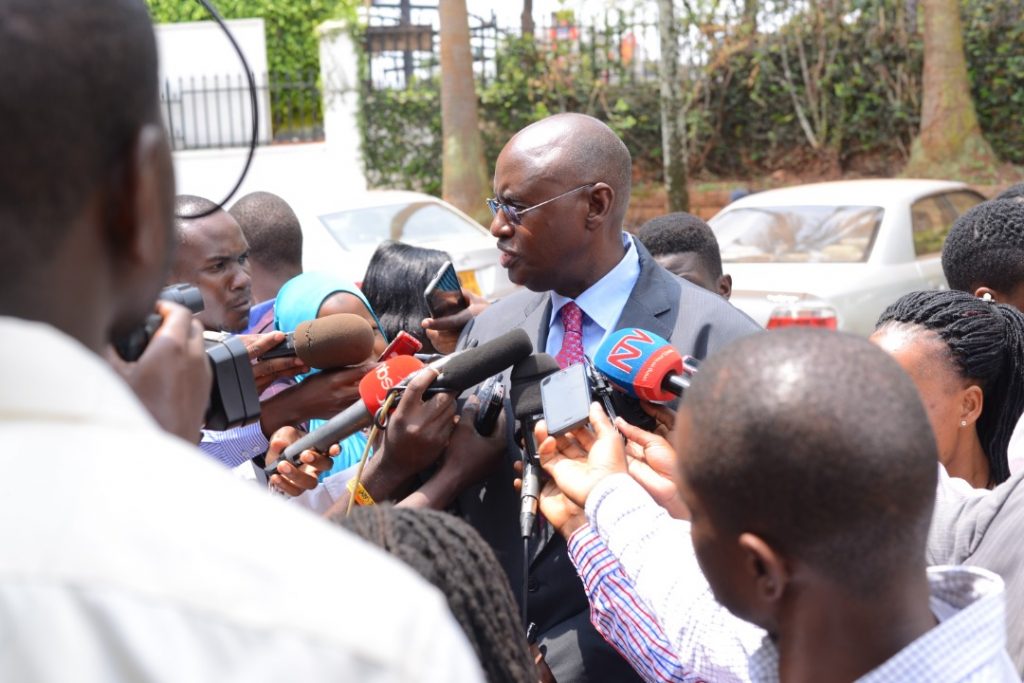 Status Update and Public Advisory regarding Desert Locust Invasion
Kampala, 3rd March 2020. Hon. Bright Rwamirama the Minister of State for Animal Industry presented a public statement through the media at the Uganda Media Centre today as part of the continual efforts by the Ministry to provide regular status updates and public advisory.
An excerpt from the statement is as follows. 
The Desert Locust Invasion in Uganda that started in early February is now 24 districts that include: Amudat, Nakapiripirit, Nabilatuk, Moroto, Kotido, Kaabong, Karenga, Abim, Otuke, Napak, Katakwi, Amuria, Soroti, Ngora, Kumi, Bukedea, Bukwo, Kween, Agago, Kitgum, Lamwo, Pader among others, despite control efforts on the ground.
Among other desert locust invasions, on 29th February, 2020, one swarm crossing from Kenya was reported at Lorengedwat in Nabilatuk and settled at Matany in Napak; covering nearly 10 square kilometres.
Two other swarms have been reported in Rupa, Moroto and Kakamongole in Nakapiripirit district.
GOVERNMENT INTERVENTIONS
In response to the invasion, a number of interventions continue to be undertaken by Government in collaboration with relevant stakeholders to minimize the impact of desert Locusts on food security and livelihoods of communities in the affected Districts as follows:
MAAIF technical team with support of a National Consultant and in collaboration with experts from Desert Locust Control Organization for Eastern Africa (DLCOEA); Food and Agriculture Organization of the United Nations; and the National Agriculture Research Organization (NARO) are on the ground in the affected District Local Governments training extension workers, District leaders and other stakeholders on the management of Desert Locusts. The same teams have also trained the UPDF and staff of the Uganda Wildlife Authority on safe use and handling of the pesticide's equipment.
Government has dispatched an assortment of pesticides, spray pumps (motorized and knapsack) and protective gear to the affected District Local Governments and ground control operations have been conducted in all the 24 Districts, to minimize the spread of the mature egg laying desert Locusts.
Surveillance and monitoring teams from MAAIF and trained staff from District Local Governments and Uganda People's Defense Forces have continued to assess and map out areas where eggs could have been laid by the Locusts and maps are being developed to guide the control as the eggs hatch into nymphs (both by aerial and ground control)
Ground spraying of Desert Locusts has continued in the affected districts by UPDF. The responses are based on information provided by the trained surveillance team that provides coordinates of the areas where swarms will have roosted for the night. The ground spraying has been successful in suppressing the mature Desert Locust swarms thus cutting off the laying of eggs that would have resulted into a bigger population of locusts.
Aerial spraying: An aircraft from the Desert Locust Control Operational Base was deployed in Moroto – Karamoja sub-region to conduct transboundary aerial spraying/control to suppress the potential of invading swarms from Turkana area into the Country.
Aerial spraying using the deployed DLCOEA aircraft using Fenitrothion 96 ULV was conducted at Napeto, Nakachumti Parish Matany Sub-county Napak disrtict on 1st March, 2020. On the 2nd March 2020, more aerial spraying of desert locusts was conducted at kadonyo, Tapac subcounty Moroto district. More areas for aerial spraying are being assessed and mapped.
The second aircraft is awaiting the delivery of more aerial spray pesticide (ULV) from Japan and Nairobi to be deployed in the field and this should happen anytime from now
In collaboration with FAO, DLCO-EA, Local Governments and other partners, a total of 1300 UPDF Officers, have been trained on ground spraying and safe use of pesticides and 310 District Local Government staff (Extension staff including District Entomologists) have been trained on the Biology, behaviour, ecology, management and control of Desert Locusts and these trained staff are part of the surveillance team guiding aerial and ground spraying control operations.
Awareness creation and sensitization is ongoing and will be intensified over the next few weeks in the local areas affected by the Development Partners in the affected communities through various engagement fora including media and local council mobilization efforts.
The Districts' leadership including Resident District Commissioners, LCV Chairpersons, Chief Administrative Officers, District Internal Security Officers and District Production Officers have been sensitized on the control measures and their roles in combating the pests.
The Ministry advises members of the Public to:
Not eat the dead locusts as they will have been sprayed and would be poisonous to ingest
Report any sightings of the Desert Locusts to the nearest agricultural extension officer, local Council leaders and call on 0800177777