Liberation Day 2020: Progress Update from the Ministry of Agriculture, Animal Industry and Fisheries
Entebbe, 24th January 2020 Agriculture is among the four key sectors highlighted in the Uganda vision 2040 that can greatly contribute to wealth and employment creation. Agriculture has continued to be the main building block of our economy and is a core undertaking under the NRM Manifesto. The 2014 Population and Housing Census figures indicate that close to 80% of the households in the country are involved in agriculture. The sector contribution to the national economy still remains strong. Agriculture contributed 24.9% of the national GDP and 72.9% of the total national export earnings in FY 2016/17.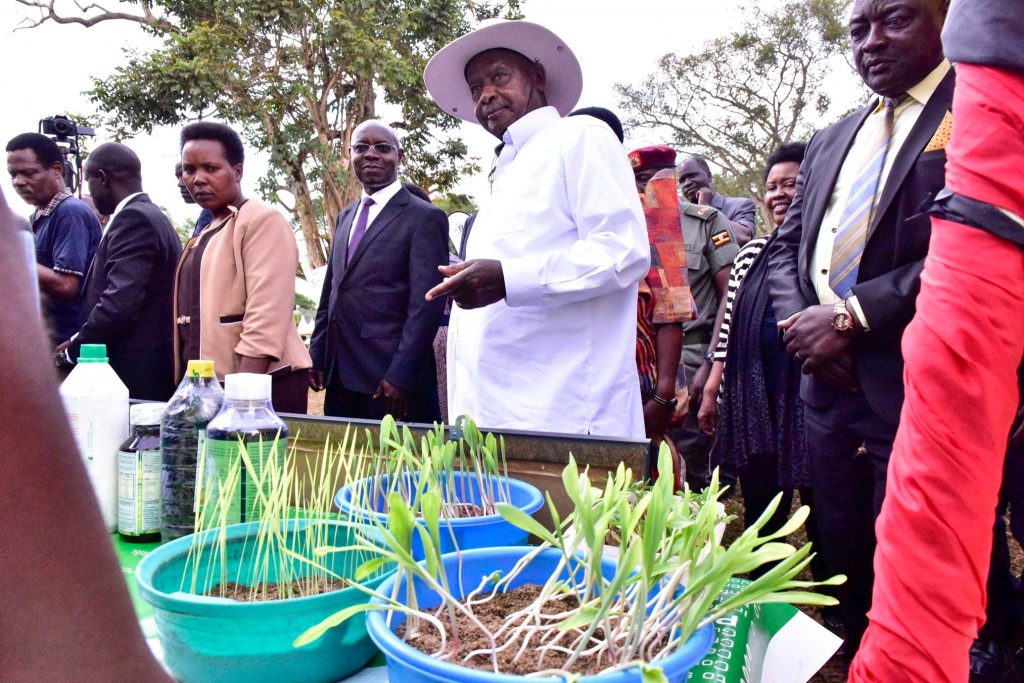 The Ministry is focused on increasing production, productivity and value addition to the key strategic enterprises that will bring about import substitution and export promotion. This will reverse our balance of payments constraints and provide the much needed foreign exchange to the country.. This will also partially address the issue of employment, especially among the youths. The Ministry has also increased investment in cross cutting inputs such as water for production at farm level, mechanization, fertilizers and provision of seed, planting and stocking materials.
In line with the Agriculture Sector Strategic Plan 2015/16 – 2019/20, the Ministry will continue to channel sector investments across the entire commodity value chains, focusing on research, extension, pest, vector and disease control, provision of inputs, promoting sustainable land use and soil management, post-harvest handling, improving market access and infrastructure and value addition.
Below is a summary of national level progress made in the agricultural sector since the year 2016.
Agricultural Extension Services stepped up
Following the adoption of the Single Spine Extension System, Government embarked on the recruitment drive of Public Agricultural Extension Staff in Local Governments. The ratio has since been reduced from 1:5000 to about 1:1800. Recruitment of extension staff has reached 3,032 which is 60% of the target (5000 recruited extension workers).
To combat the Fall Army Worm (FAW), the Department of Crop Protection and the National Agricultural Research Organisation (NARO) have undertaken surveys and laboratory studies on the diversity and efficacy of key potential bio-control agents of the Fall Army Worm since the outbreak was first detected in the country.
The Ministry has since worked on development of a FAW infestation map, establishment of FAW Early warning systems, procured and distributed FAW control demonstration inputs and equipment, establishment of FAW Control Demonstration Plots, awareness creation and knowledge sharing on FAW Management, research on distribution and diversity of natural enemies of fall army worm and determination of efficiency of natural enemies of the FAW.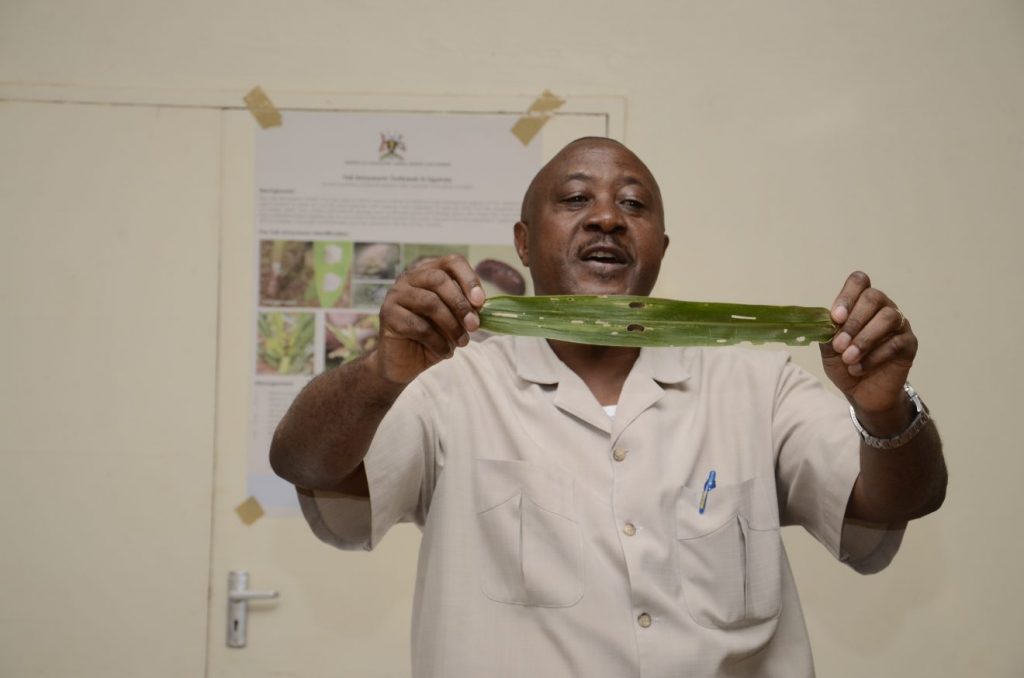 To improve FAW management and reinforce the early warning System, extension workers across the country hjave since been trained with 269 Agricultural extension workers trained on management and control of the fall armyworm in Eastern (Mbale) and Northern (Lira) Uganda in March of 2019 alone.
Detailed Information, Education Communication (IEC) materials for FAW control including posters, brochures, fliers were also developed and disseminated to complement Radio talk-shows running on five major radio stations including Voice of Toro, Kabarole district; Radio West, Mbarara district; Open Gate FM, Mbale district; CBS FM, Central region; and Voice of Lango in Lira district. It is estimated that about 150,000 farmers are reached during these shows.
Enhancing productivity through improved agricultural mechanisation as well as availability and access to water for agricultural production
The Ministry has delivered a number of initiatives through the Department of Agricultural Infrastructure, Mechanisation and Water for Agricultural Production.
Through this Department over the last Financial Year alone, the Ministry of Agriculture Animal Industry and Fisheries supervised Construction of six irrigation schemes of Wadelai, Torchi, Mobuku ll, Doho ll, Ngenge and Rwengaaju.
By the end of June 2019 the construction works had covered 62.8% of DohoII in Butaleja (1,178 ha), 54.0% of Mubuku II in Kasese (480 ha), 32.5% of Wadelai in Nebbi District (1,000 ha), 73.4% of Torchi in Oyam District (500 ha), 68.0% of Ngenge in Kween District (880ha) and 58.0% of Rwengaaju in Kabarole district (116 ha) .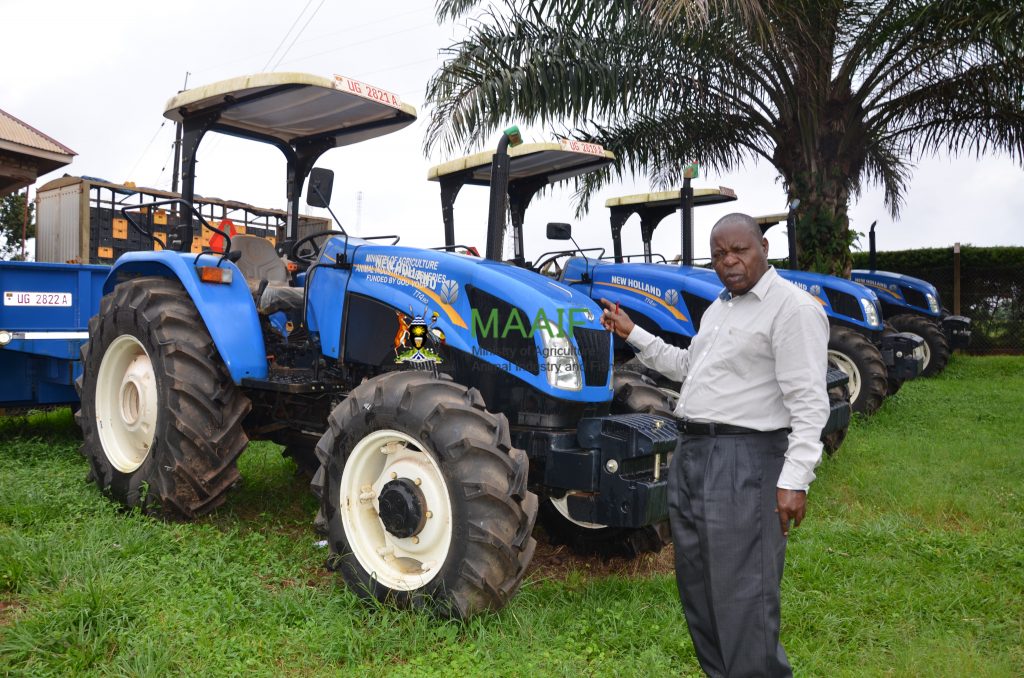 In addition to that, the Ministry has completed design and construction of 50 small scale irrigation and water harvesting demonstrations in selected districts of Kyenjojo, Kamwenge, Kyegegwa, Kabale, Rukiga, Rubanda, Kiryandongo, Bulisa, Kagadi, Hoima, Mbale, Bulambuli, Manafwa, Bududa, Kamuli, Mbarara, Kirihura, Isingiro, Nebbi, and Zombo districts under the 9 ZARDIs.
These demonstrations benefit 300 registered farmer groups that live around the nine Zonal Agricultural Research and Development Institutes (ZARDIs) in the selected pilot districts.
The Ministry has also designed and constructed 15 solar powered irrigation systems in 13 Districts which include Katakwi, Kibuku, Kamuli, Bukedea, Buikwe, Kayunga, Mpigi, Lyantonde, Kiruhura, Mbarara, Kamwenge, Rubirizi and Mukono under the NAADS program.
To further improve irrigation for Coffee, the Ministry completed design of 15 smallholder coffee irrigation systems (167 ha) in the 8 districts of Mpigi (2), Kalungu (3), Masaka (2), Rakai (2), Kyotera (1), Mubende (2), Kassanda (1) and Kyenjojo (3) under the Agriculture Cluster Development Project (ACDP).
In addition to that, construction of 7 solar powered irrigation systems at Bulindi, Rwebitaba, Abi, Buginyanya, Nabiun, Mukono and Ngetta Zonal Agricultural Research and Development Institutes (ZARDIs) is also ongoing.
Ongoing work in improving availability and access to water for agricultural production
To date, the Ministry has completed detailed engineering designs for Acomai irrigation Scheme in Bukedea and Bulambuli Districts (1,480ha and 1,600 households); Atari Irrigation scheme in Kween/Bulambuli District (680ha and 2,667 households).
Construction of Water for production infrastructure and facilities under the Regional Pastoral Livelihoods Resilience Project (RPLRP)
Five valley tanks each of 40,000 cubic meter capacity in Kween, Nakapiripirit, Napak, Abim and Amuria are being constructed and have reached 35% completion.
This will complement two valley tanks each of 30,000 cubic meter capacity in Kumi and Bukedea which are at 35% completion and one dam of 720,000 cubic meter capacity in Kaabong district which is at 21% completion.
Using the acquired heavy earth moving equipment, the Ministry constructed and rehabilitated valley tanks in the drought and cattle corridor districts country wide. The number of valley tanks increased by 83 from 155 in December 2017 to 238 in December 2018 with total holding capacity increasing from 8,000,000 m3 to 9,245,000 cubic meters in the same period. This has improved the number of farmers accessing and utilizing water for irrigation, aquaculture and livestock from 5% to 8%.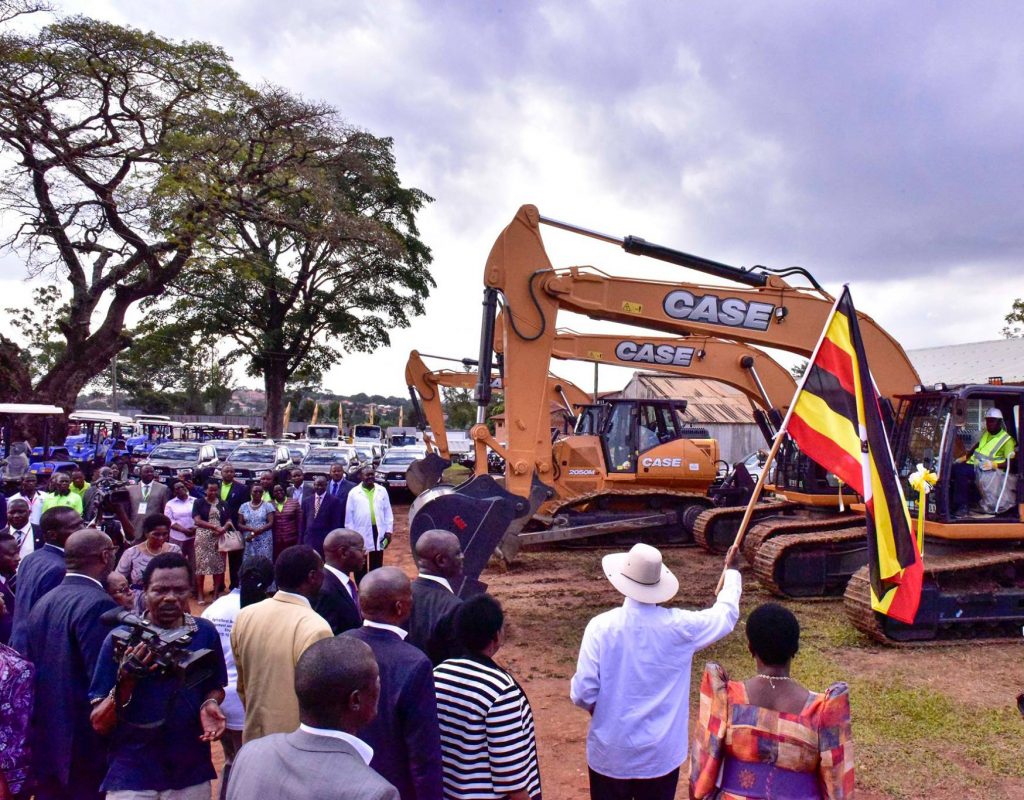 4P Model successfully implemented through the Vegetable Oil Developement Project
Through the 4P (Private Public Producer Partnership) model that is implemented through the Veetable Oil Development Project, 10,924 hectares of oil palm have been established by both the smallholder farmers and BIDCO Uganda Limited in Kalangala District.
Here, BIDCO has constructed two Palm Oil Mills on the islands which have so far received 92.3 MT of oil palm fresh fruit bunches from the smallholders alone. The oil palm fruits have earned the smallholder farmers UGX 46.7 billion since 2010.
By December 2017/18, a total of 1,810 farmers (36% female) were benefiting from the oil palm smallholder scheme with 1,080 farmers already harvesting from 3,021 hectares of mature oil palms and earned UGX 1.2 Bn each month. An average of UGX 1.1 million is earned by each farmer per month for 25 years.
The private sector partner, BIDCO is currently producing 27,198 tons of crude palm oil per year and pays Government of Uganda taxes worth UGX 157.4 billion per year.
Through the Ministry of Agriculture, Animal Industry and Fisheries, Government is also supporting 51 districts spread across Eastern, Northern, West Nile and Western regions to grow sunflower, soybeans, ground nuts and sim sim.
The Ministry contracted 11 private extension service providers to provide oil seeds value chain services to the project beneficiaries.
Due to this drive, production of sunflower, soybeans, ground nuts and sesame has increased across the target area, leading to an increase in mill capacity utilization from 34% in 2015 to 56% in 2018. Our oil seed farmers have also realized an increase in the sunflower yield per hectare from 0.9 tons per hectare in 2014 to 1.3 tons per hectare in 2017, the soybean yield per hectares has also increased from 0.6 tons per hectare in 2014 to 0.9 tons per hectare in 2017.
This has increased the income per unit area under production for Uganda's oil seeds farmers.
Boosting Livestock sub-sector development
Through the National Animal Genetic Resources Centre and Databank (NAGRCRC&DB) which is the livestock sub-sector Agency of the Ministry, Government is promoting crossing local animals, to F1-50% and F 2-75% which can produce 12 and 18 liters of milk per day respectively. With F1 a farmer with good management gets 1.5 million Uganda shillings per animal per year. Six Cows of 75% dairy crosses earns more than 20million a year from milk.
NAGRC has improved the beef animal's average daily weight gain to 250 gms per day with F1- 50% and this has reduced the market age tremendously from 3-4 years to 1- 1.5 years.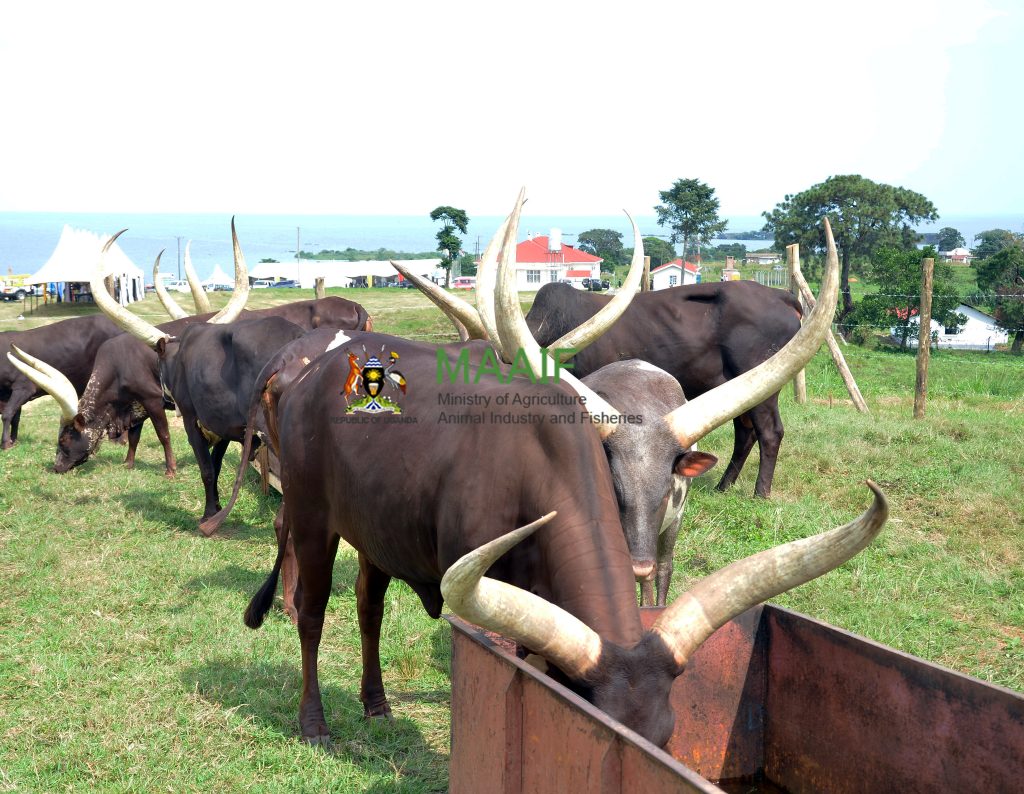 Kroiler chicken which are disease resistant and faster growth have been introduced. The Kuroiler hens lays between 150-200 eggs in a year compared to the 40eggs produced by the indigenous birds. Cocks weigh between 3-4 kg within four months. 2, 305,194 were distributed to 5,500 households and 40,000 birds have been exported to the regional markets.
Through genetic improvement NAGRC&DB goats have been improved to reach an average daily weight gain (ADG) to 145g/day compared to 25 – 30 g/day for the local goats which is an increase in household income by 67% per goat from sales.
Early maturing pigs have been introduced where they can produce at 10 months at an estimated weigh of 80-90 kgs live weight compare to the locals one year and two months at an average weight of 40-60 Kgs. Breeds such as Comborough can produce over 14 piglets (28 piglets/animal/year) and at 150,000/- " translates into 4,200,000/= per sow/year.
To step up control and prevention of livestock diseases, trials of a new acaricide (Vectoclor) to deal with resistant ticks was carried out and was 85% successful.
Through the Directorate of Animal Resources, an Acaricide Zoning Strategy and implementation plan to manage movement of acaricides across zones after cleansing in the 27 affected districts were introduced along with a proposal to boost local production of animal vaccines.
To step up control and prevention Crop Diseases and Pests as well as vectors, the Ministry has also carried out trainings related to fighting the Fall Army Worm and Banana Bacterial Wilt (BBW) in 92 districts across the country, through the Department of Crop Protection.
Stepping up Agricultural Research
NARO has developed two anti-tick vaccines to effectively control blue ear ticks (Boophilus decoloratus), two bio-acaricide formulations to manage the emerging challenge of tick resistance to available acaricides, three drugs that are botanical de-wormers for control of internal (Nematode, Cestode and Trematode worms) and external parasites in ruminants.
A national tick distribution map to guide tick control programs and initiatives was developed along with an African Swine Fever (AFS) diagnostic kit prototype and a rapid and widely affordable on-farm detection of African Swine Fever.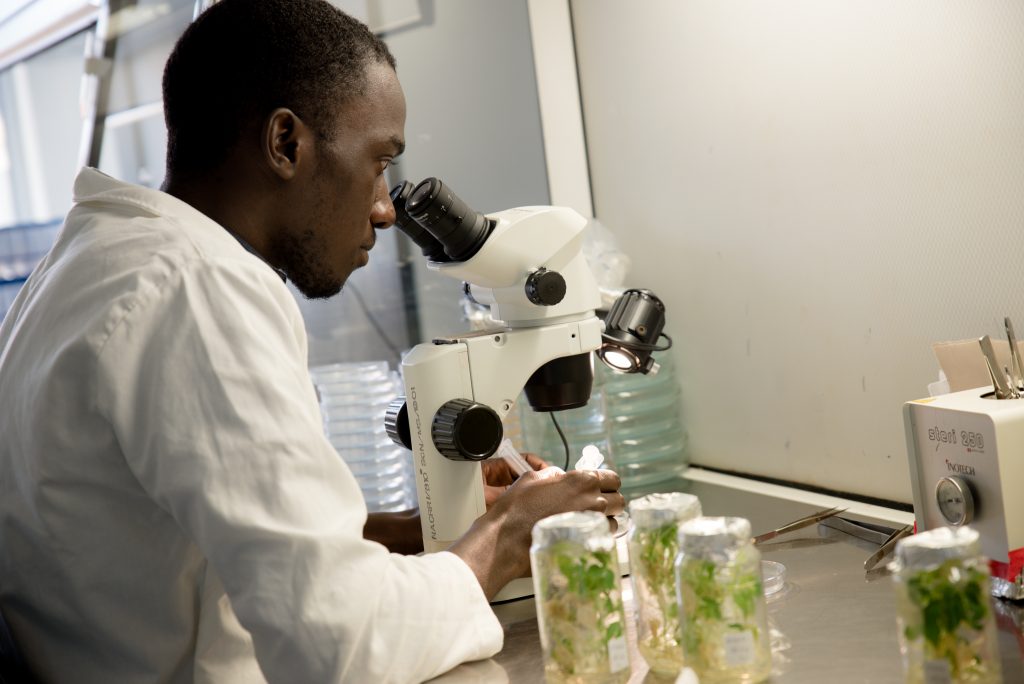 A NARO-Ngu trap which captures 106 flies per day compared to 22 flies trapped by the pyramidal trap was also developed along with a green protein feed Supplement for both poultry and fish feeds. This feed replaces the fish ingredient in poultry diets by 16% and the farmer saves UGX 100 per KG of feed resulting into a total saving of UGX 500 per bird.
The Agency also released 32 disease-resistant and nutrition enhanced varieties to ensure increased production and productivity.
More details and progress reports are available in the library section.
Notes for editors
About the Ministry of Agriculture, Animal Industry and Fisheries (MAAIF)
The Ministry of Agriculture, Animal Industry and Fisheries is a Ministry in the Government of Uganda charged with creating an enabling environment in the Agricultural Sector.
The Ministry formulates, reviews and implement national policies, plans, strategies, regulations and standards and enforce laws, regulations and standards along the value chain of crops, livestock and fisheries.
Vision: A competitive, profitable and sustainable agricultural sector.
Mission: To transform subsistence farming to commercial agriculture.
Strategic Objectives
To initiate the formulation and review of the policy and legal framework for the sector
To establish and implement systems for service provision in the sector
To strengthen and implement strategies, regulatory framework, standards, institutional structures and infrastructure for quality assurance and increased quantities of agricultural products to access and sustain local, regional and export markets
To design and implement sustainable capacity building programmes for stakeholders in the agricultural sector through training, re-tooling, infrastructure, provision of logistics and ICT
To develop strategies for sustainable food security
To develop appropriate agricultural technologies for improved agricultural production, productivity and value addition through research
To develop effective collaborative mechanisms with affiliated institutions and
To take lead and establish a system and institutional framework for agricultural data collection, analyses, storage and dissemination to stakeholders including Uganda Bureau of Statistics.
The Ministry of Agriculture, Animal Industry and Fisheries (MAAIF) is made up of four Directorates including the Directorate of Crop Resources, Directorate of Animal Resources, Directorate of Agricultural Extension Services and the Directorate of Fisheries Resources each with Departments, Divisions and Partnership Projects.
The Departments of the Ministry which do not fall directly in the above include the Department of Agricultural Planning and Development, the Human Resource Department, the Department of Finance and Administration and the Department of Agricultural Infrastructure, Mechanisation and Water for Agricultural Production.
The Ministry is also made up of seven Agencies including the National Agricultural Research Organisation (NARO), the National Agricultural Advisory Services (NAADS), Cotton Development Organisation (CDO), Dairy Development Authority (DDA), Uganda Coffee Development Authority (UCDA) and Coordinating Office for the Control of Trypanosomiasis in Uganda (COCTU) and the National Animal Genetic Resources Centre and Databank (NAGRC&DB).