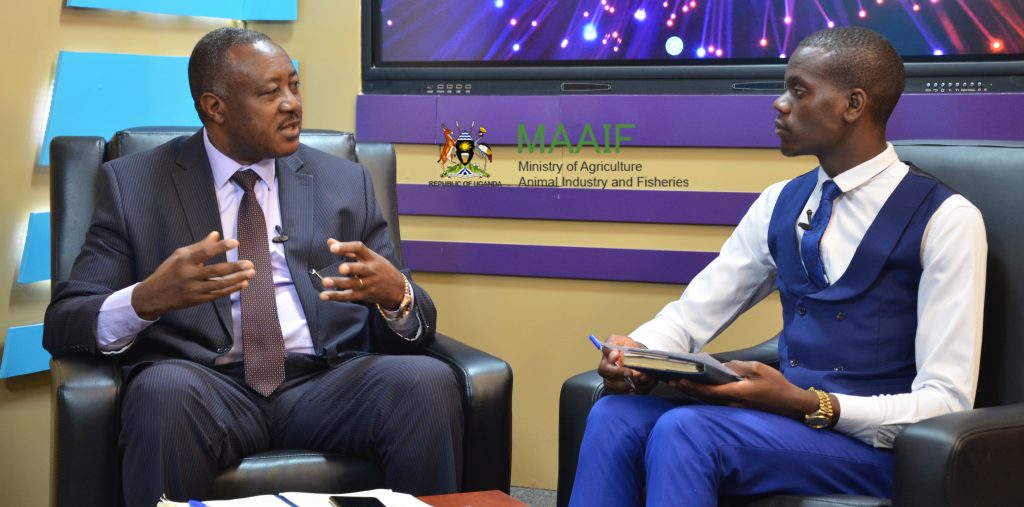 MAAIF Undertaking Media Engagement on Locust Control and Early Warning Systems
Kampala 15th January 2020. As follow up to the just-concluded Media Centre Briefing by Hon. Henry Aggrey Bagiire the Minister of State for Agriculture, the Ministry of Agriculture Animal Industry and Fisheries has been represented on a TV Interview on Pest and Disease Control Strategies by Mr. Steven Byantware the Commissioner for Crop Protection.
During the interview on Smart 24 TV, the Commissioner provided updates about the following:
The country's Early Warning System for Pest and Disease outbreaks as presented earlier by Hon. Aggrey Bagiire the Minister of State for Agriculture.
Relevant link: https://www.agriculture.go.ug/uganda-free-from-locust-atta…/
The role of the Ministry in carrying out surveillance and training of experts through the Plant Clinics as well as the collaboration with the FAO and CABI.
Relevant Link: https://www.agriculture.go.ug/department-of-crop-protection/
Excerpt of TV Interview as captured on Facebook Live: https://web.facebook.com/Smart24TvUganda/videos/508557369791348/
Facts about the Desert Locust
Desert Locust (Schistocerca gregaria) is a species of short- horned grasshopper family. It is characterized by its nature of high mobility (migratory) and broad spectrum feeding habits.
Locust Status/ Phases
Locusts have ability to alter their behavior, colour, size and shape. When the population density is low, locusts behave as individuals, when the population is high, they swarm and migrate. The locust life cycle comprises three stages of egg, hopper and adult and it lives a total of 3 to 6 months.
Locust ecology and behavior
In Solitary phase, the Desert Locust lives individual life until it rains with availability of vegetation, the females lay eggs. Desert Locusts usually fly with the wind and swarms can travel between 5-150 km or more a day depending on weather conditions and normally taking off 2-3 hrs after sunrise in warm weather and 4-6 hrs in cool weather.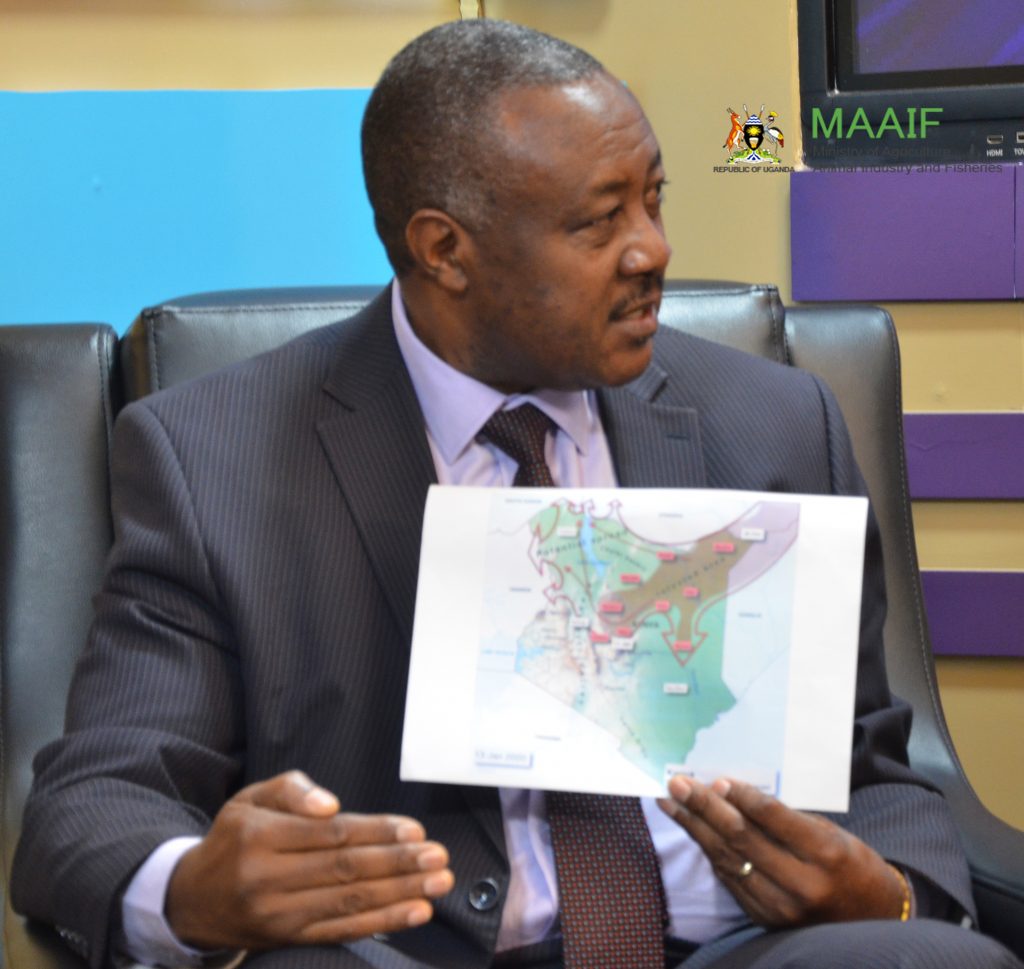 Locust feeding habits
Locust swarms vary from less than one km2 to several hundred km2. There can be at least 40 to 80 million locusts in each km2 of swarm. Coupled with its amazing ability to build up and multiply to colossal numbers, a locust can eat its own weight in fresh food (about 2 gm/day). Half million locusts weigh about 1 ton and they can eat about 1 ton of food enough to feed 2500 people.
Current Situation and Control Operations in Kenya

By October 2019, the Desert Locust situation had worsened in Ethiopia, Sudan, Eritrea, and Somalia and the governments had instituted aerial spray control operations with support from Desert Locust Control Organization for Eastern Africa (DLCOEA) and other Development partners.
As earlier predicted by FAO experts, the Locusts invaded North Eastern Kenyan County of Mandera by December 2019.
Currently they have spread to the 6 Counties of Mandera, Marsabit, Wajir, Garissa, Meru and Isiolo. The Kenyan government working with DLCOEA and partners has instituted control operations to suppress the population and stop further spread.

Due to the security situation in Somalia and North Eastern Kenya (Mandera and Garissa Counties) and other factors, there are still large locusts' swarms observed from Somalia and Ethiopia with further spread inside Kenya.
Since the current control capacity is limited, some of the swarms could move further Western into Turkan county, probably by Mid January 2020, with likely potential and risk that some swarms could spill over into the North Eastern region of Uganda, particularly Karamoja region (borders Turkana County).
Interventions by the Government of Uganda through the Ministry of Agriculture, Animal Industry and Fisheries
Uganda is a member of the Desert Locust Control Organization for Eastern Africa (DLCO EA) and is currently closely working and sharing information on the current status of the desert Locust in the Region.

A technical team of two officers have been assigned to travel to Kenya (Wajir and Marsabit counties) to understudy the current Locust control operations to subsequently share experiences and support the control efforts in Uganda (in case of any outbreak).

MAAIF has communicated to MOFPED to make good of the arrears on Annual contributions to DLCO EA which currently stand at US $ 5,090,000 as of June 30, 2019. This is in cognizance and appreciation of the current pressure on the DLCO EA operation.

The Ministry has communicated to office of the Prime minister on the imminent Locust invasions and requested MOFPED for provision of a contingency fund of 5 bn ug. Shillings to cater for aircraft fuel (aircraft to be provided by DLCO EA), pesticides for control, provide for ground spray equipment and spray teams and to continuously create awareness to the population in case of an invasion.

The Ministry has alerted all the Districts in Karamoja and entire Eastern Region to be on the look out and the public to report immediately to the nearest Extension Staff in case of any strange grasshoppers detected in their areas.
Notes for editors
About the Ministry of Agriculture, Animal Industry and Fisheries (MAAIF)
The Ministry of Agriculture, Animal Industry and Fisheries is a Ministry in the Government of Uganda charged with creating an enabling environment in the Agricultural Sector.
The Ministry formulates, reviews and implement national policies, plans, strategies, regulations and standards and enforce laws, regulations and standards along the value chain of crops, livestock and fisheries.
Vision: A competitive, profitable and sustainable agricultural sector.
Mission: To transform subsistence farming to commercial agriculture.
Strategic Objectives
To initiate the formulation and review of the policy and legal framework for the sector
To establish and implement systems for service provision in the sector
To strengthen and implement strategies, regulatory framework, standards, institutional structures and infrastructure for quality assurance and increased quantities of agricultural products to access and sustain local, regional and export markets
To design and implement sustainable capacity building programmes for stakeholders in the agricultural sector through training, re-tooling, infrastructure, provision of logistics and ICT
To develop strategies for sustainable food security
To develop appropriate agricultural technologies for improved agricultural production, productivity and value addition through research
To develop effective collaborative mechanisms with affiliated institutions and
To take lead and establish a system and institutional framework for agricultural data collection, analyses, storage and dissemination to stakeholders including Uganda Bureau of Statistics.
The Ministry of Agriculture, Animal Industry and Fisheries (MAAIF) is made up of four Directorates including the Directorate of Crop Resources, Directorate of Animal Resources, Directorate of Agricultural Extension Services and the Directorate of Fisheries Resources each with Departments, Divisions and Partnership Projects.
The Departments of the Ministry which do not fall directly in the above include the Department of Agricultural Planning and Development, the Human Resource Department, the Department of Finance and Administration and the Department of Agricultural Infrastructure, Mechanisation and Water for Agricultural Production.
The Ministry is also made up of seven Agencies including the National Agricultural Research Organisation (NARO), the National Agricultural Advisory Services (NAADS), Cotton Development Organisation (CDO), Dairy Development Authority (DDA), Uganda Coffee Development Authority (UCDA) and Coordinating Office for the Control of Trypanosomiasis in Uganda (COCTU) and the National Animal Genetic Resources Centre and Databank (NAGRC&DB).
For media-related inquiries and accreditation contact Solomon Kalema Musisi, Senior Communications Officer-Ministry of Agriculture Animal Industry and Fisheries using the email below: