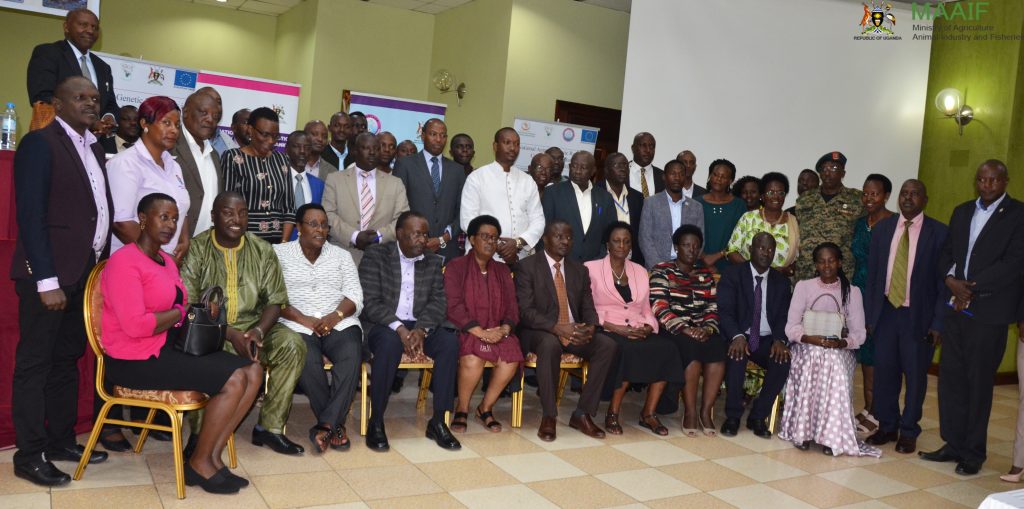 Livestock sub-sector development reinforced with more support for innovation, breeding and enterprise incubation
Kampala, 2nd October 2019. During a national launch event in Kampala, a new intervention for the livestock sub-sector has been kick-started the Ministry of Agriculture, Animal Industry and Fisheries through the National Animal Genetic Resources Centre and Data Bank in collaboration with the Africa Agribusiness Incubators Network (AAIN), Excel Hort Consult, Operation Wealth Creation, the Bushenyi Youth Forum Project (BYFP) and Youth leaders in project areas.
The programme under the title, "Animal Resources Value Chain Development and Business Incubation for Job, Employment and Wealth Creation in Ankole Region, Uganda" was designed to transform the Animal Resources Sub-Sector focused on job, employment and wealth creation for youth and women through improved production, productivity, markets and business development along selected value chains.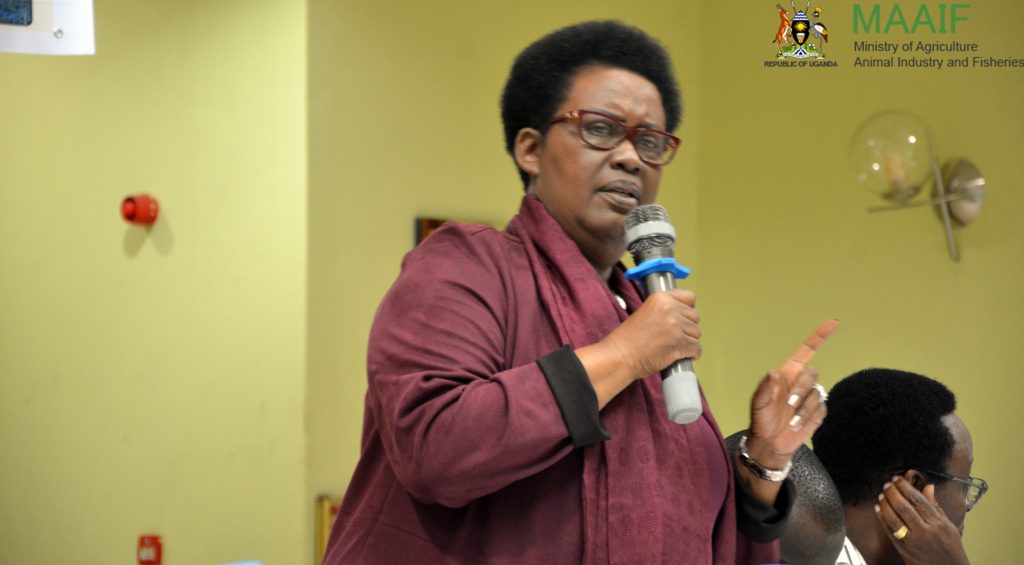 Background to the intervention
Twelve districts comprise the Greater Ankole Region. They are Buhweju, Bushenyi, Ibanda, Isingiro, Kazo, Kiruhura, Mbarara, Mitooma, Ntungamo, Rubirizi, Rwampara, and Sheema.
Of these, Bushenyi and Kiruhura are among the districts with the largest percentages of the national livestock herd .
Moreover, the western region holds the highest number of milking cows, in addition to over 6 million goats (3.5 million in 2008), hundreds of thousands of pigs, sheep, birds, bees and fish. Therefore even with the available national statistical estimates, the Greater Ankole Region constitutes Uganda's animal resources production and productivity heartland.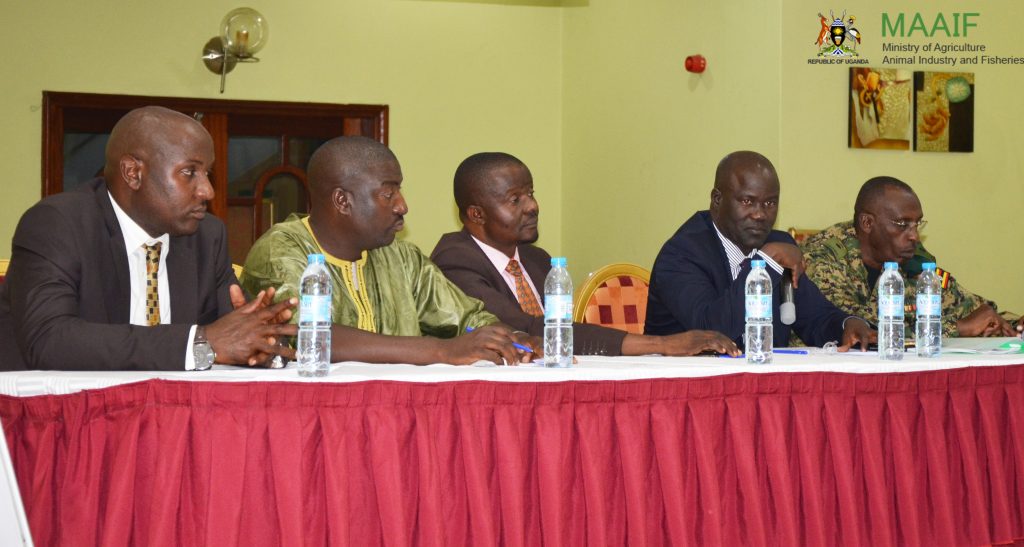 Livestock farming is considered more dependable than crop farming. For example, small ruminants, with their high rates of reproduction and growth, can provide a regular source of income from sales. Also, cattle which produce milk and milk products like butter and cheese provide daily income unlike income from crops, which is highly seasonal. Livestock also contributes to crop production through the provision of draught animal power and manure.
They also contribute to the achieving of a more efficient and more sustainable resource use through enhanced energy and nutrient cycling. For instance, animal manure increases soil fertility, soil structure and water-holding capacity.
With smallholder farmers owning about 95% of the cattle, goats, sheep and chicken in the country, the livestock production is largely by small scale farmers and scattered in different villages or even mobile and is dominated by indigenous breeds.
Despite the importance of the livestock sector to the Ugandan economy, it remains undeveloped and performs far under capacity. The farmers are constrained by inadequate access to good quality breeds and improved management practices resulting in low productivity.
Research has shown that adoption of improved dairy breeds in Uganda leads to 147% increase in milk production.
Livestock systems used by some farmers, such as pastoralism and free range grazing also make the control of livestock diseases such as east coast fever, foot and mouth disease and brucellosis, among others, difficult.
The total outcome of this combination of challenges has been low productivity in terms of carcass weight, milk yield, and feed conversion efficiency. The fluctuating quality within the national livestock value chains is a major cause of failure to secure sustainable high value markets.
Livestock research and development efforts in Uganda and elsewhere have prioritized the generation and promotion of technologies for managing biophysical constraints including diseases, pest, improved livestock management practices, improved breeds of stocking materials (semen and bulls), improved pastures and feeding regimes. Like other commodities in the agricultural sector, there is also limited support for livestock value chains at post-farm segments and the livestock-based enterprises.
However, it is already established that nurturing sustainable agribusiness can reverse these challenges.
The World Bank Group on Agriculture (Action Plan FY2010-2012), identified agribusiness incubation as a tool for the following: (1) raising agricultural productivity; (2) linking farmers to markets while enhancing value addition; (3) reducing risk and vulnerability; (4) facilitating agricultural entry and exit mechanisms while generating rural non-farm income; and (5) improving environmental services and sustainability.
Recent studies show that small agribusinesses are critical drivers of economic growth.
Small cottage agro-industries have been found to be closely linked with improvements in GDP and the general population's incomes and welfare in developing countries.
From a business perspective, the combination of a hugely under-supplied market and low productivity offers very exciting commercial prospects for increasing production profitably.
The Livestock agribusiness incubation programme will focus on realizing the business potential of Uganda's dominant livestock species, namely cattle, sheep, goats and pigs.
Community-based animal breeding programmes
Livestock breeding interventions can be planned well, designed and implemented by livestock value chain actors in cooperation with technical stakeholders to achieve efficient management of animal genetic resources for improved business development, wealth creation and sustainable livelihoods.
Community breeding models are designed to effectively allow for ownership and sustainability of animal genetic improvement efforts as well as effective utilization and conservation of animal genetic resources.
The purpose of community animal breeding programmes is to involve livestock farming communities (who are usually resource constrained and marginalized) in livestock breeding especially for the purposes of increasing production and productivity leading to improved livelihoods of poor livestock farmers.
Livestock breeding services in Uganda have over the years slowed down due to numerous reasons, including but not limited to inadequate Artificial Insemination (AI) services, farmer's poor perception of AI, low conception rates and low access to AI inputs and high quality genetics.
This scenario has culminated in farmers failing to adopt appropriate technology. Consequently, there has been rampant inbreeding that has resulted into herd depression manifested by a decline in production and productivity. There is therefore need for livestock farming communities to participate and/or carry out breeding activities.
The Greater Ankole Livestock Programme
Community-based animal breeding programs will be organized with focus on indigenous and farmer preferred breeds suited to local conditions.
The breeding program will serve as a working model for animal genetic improvement in sub region to increase productivity and utilization of animal genetic resources for improved livelihoods of farmers and the other livestock value chain actors targeting the resource constrained for improved trade and investment in animal resources.
The role of NAGRC&DB as the central government lead agency will be to provide programmed artificial insemination (AI) services from proven superior bulls of pedigree quality to small scale farmers to improve their genetics.
Artificial inseminators working alongside the district veterinary officers will be responsible for AI services. NAGRC&DB will furthermore undertake to avail embryos of superior quality from proven suppliers.
The embryo transfer programme will target elite breeders. Through this arrangement, lead/model farmers in the sub-region will be able to raise animals of preferred breed quality and eliminate the cost of buying them as live animals.
Hybrid animals will be used to improve the genetics of herds within the immediate community supported by the model farmer. Livestock farmers within a community will be mobilized into breeder associations of specific breeds of desired performance traits.
The ultimate goal of the proposed livestock agribusiness incubation programme is the creation of a sustainable source of breeding stock of the desired genetics in the region.
This strategy is envisaged to augment human capacity building efforts to enhance food and income security, social cohesion, sustainable natural resource management and wealth creation and well-being within the communities.
Notes for editors
About the Ministry of Agriculture, Animal Industry and Fisheries (MAAIF)
The Ministry of Agriculture, Animal Industry and Fisheries is a Ministry in the Government of Uganda charged with creating an enabling environment in the Agricultural Sector.
The Ministry formulates, reviews and implement national policies, plans, strategies, regulations and standards and enforce laws, regulations and standards along the value chain of crops, livestock and fisheries.
Vision: A competitive, profitable and sustainable agricultural sector.
Mission: To transform subsistence farming to commercial agriculture.
Strategic Objectives
To initiate the formulation and review of the policy and legal framework for the sector
To establish and implement systems for service provision in the sector
To strengthen and implement strategies, regulatory framework, standards, institutional structures and infrastructure for quality assurance and increased quantities of agricultural products to access and sustain local, regional and export markets
To design and implement sustainable capacity building programmes for stakeholders in the agricultural sector through training, re-tooling, infrastructure, provision of logistics and ICT
To develop strategies for sustainable food security
To develop appropriate agricultural technologies for improved agricultural production, productivity and value addition through research
To develop effective collaborative mechanisms with affiliated institutions and
To take lead and establish a system and institutional framework for agricultural data collection, analyses, storage and dissemination to stakeholders including Uganda Bureau of Statistics.
The Ministry of Agriculture, Animal Industry and Fisheries (MAAIF) is made up of four Directorates including the Directorate of Crop Resources, Directorate of Animal Resources, Directorate of Agricultural Extension Services and the Directorate of Fisheries Resources each with Departments, Divisions and Partnership Projects.
The Departments of the Ministry which do not fall directly in the above include the Department of Agricultural Planning and Development, the Human Resource Department, the Department of Finance and Administration and the Department of Agricultural Infrastructure, Mechanisation and Water for Agricultural Production.
The Ministry is also made up of seven Agencies including the National Agricultural Research Organisation (NARO), the National Agricultural Advisory Services (NAADS), Cotton Development Organisation (CDO), Dairy Development Authority (DDA), Uganda Coffee Development Authority (UCDA) and Coordinating Office for the Control of Trypanosomiasis in Uganda (COCTU) and the National Animal Genetic Resources Centre and Databank (NAGRC&DB).
About the National Animal Genetic Resources Center and Data Bank
The National Animal Genetic Resources Centre and Data Bank (NAGRC & DB) is the livestock sub-sector Agency of the Ministry of Agriculture, Animal Industry and Fisheries.
NAGRC & DB was established by the Animal Breeding Act, 2001. It's one of the statutory semi-autonomous bodies of MAAIF. Formation of NAGRC & DB was part of the fulfilment of the aspirations in the National Animal Breeding Policy (1997) document and the action plan for its implementation, providing guidelines to all actors in the animal breeding and production value-chain. These actors include agro-input suppliers, farmers, companies, researchers, extension workers and civic leaders on suitable breeds for the various ecological and production systems. NAGRC & DB ensures national capacity development and management in the following technical areas: alternative breeding programmes; import, export and trade in genetic materials; breeding and management systems for conservation and sustainable use of indigenous genetic resources; and use of modern breeding technologies in the country. NAGRC & DB was established with a twofold mandate, namely: (i) to play a leading role in the commercialization of animal breeding activities in Uganda; and (ii) to carry out development activities that enhance animal Genetic improvement and productivity.
NAGRC & DB has eleven (11) livestock farms and ranches situated in different agro-ecological zones with varying livestock production systems. These farms serve the purpose of breeding and availing to farmers' quality breeding stock at affordable prices. However, due to past wars and civil strife, they were impacted negatively hence leading to loss of most of the stock and destruction of key farm infrastructure. Through this project therefore, NAGRC&DB seeks to revitalize center of excellence to among other aspects support the surrounding communities with quality livestock breeds as well as build their capacity to serve as reference points/ demonstration farms for livestock farmers in aspects of animal production and farm management practices as well as export oriented production for sustainable and profitable livestock enterprises.
About the Excel Hort Consult Agribusiness Incubator (EHCAI)
Excel Hort Consult Agribusiness Incubator Ltd (EHCAI) is an agribusiness innovation, incubation and acceleration business development centre with headquarters in Biharwe Division, Mbarara Municipality. EHCAI has developed a private sector response business model which effectively complements Government's OWC initiative. The agribusiness incubation model (AIM) is designed to: (i) increase agricultural productivity and production by deliberately targeting youths and women in small-holder farm households; (ii) develop mechanisms for financing small-holder farmers sustainably; (iii) ensure long-term stability of markets through agro-processing to increase the shelf life of "raw" farm produce; and (iv) empower the small-holder farmer to have a fair amount of control over any chosen agribusiness value chain. Youth associations and networks such as Bushenyi Youth Forum (BYF) and Uganda Youth in Agriculture and Agribusiness Network (UYAAN) are key partners implementing AIM.
Thus, EHCAI, in partnership with OWC, African Agribusiness Incubators Network (AAIN) BYF and UYAAN, is proposing to implement an animal resources value chain development and business incubation to accelerate business start-ups and SMEs engaged in various livestock value chains in the Greater Ankole Region.  The EHCAI-led Consortium of partners will seek to leverage potential market opportunities that have not been fully realized by strengthening business linkages along the livestock value chains through the agribusiness incubation model for jobs, employment and wealth creation.
For related inquiries and accreditation, contact Solomon Kalema – Senior Communications Officer Ministry of Agriculture Animal Industry and Fisheries. Email: Solomon.kalema@agriculture.go.ug