Rollout of Guidelines for Mainstreaming Climate Change Adaptation and Mitigation in the Agricultural Sector kick-started
Mukono, 25th September 2019. The Ministry of Agriculture, Animal Industry and Fisheries (MAAIF), in conjuction with Office of the Prime Minister and the United Nations Development Programme (UNDP) Strengthening Community Resilience to Climate Change and Disaster Risks (SCORE) project, has organized workshops for dissemination of guidelines for mainstreaming climate change adaptation and mitigation in the Agriculture Sector.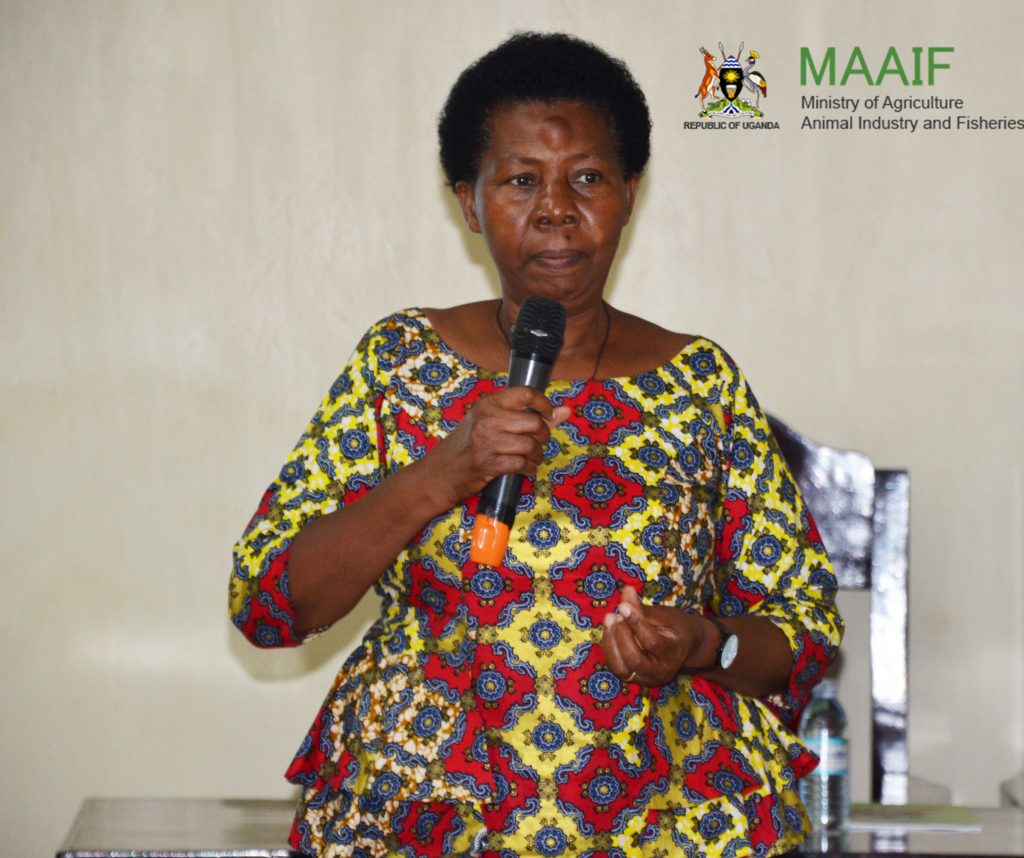 Officially opened in Karamoja sub-region, the workshops are designed to provide practical, step-by-step guidance for all stakeholders in agriculture sector, including MAAIF Agencies and local governments, on how to mainstream climate change adaptation and mitigation in their planning and decision-making processes.
In order to help farmers build resilience to climate change, and enhance their capacities to cope with climate change impacts, MAAIF developed Guidelines to mainstream climate change into the agriculture sector. These guidelines are aligned to the national guidelines for mainstreaming climate change in sector plans and budgets developed by the National Planning Authority in collaboration with the Climate Change Department of Uganda.
MAAIF, that pioneered this initiative, developed guidelines that will facilitate mainstreaming of climate change issues into the agriculture sector policies, plans, programs, and activities by providing basic and flexible guidance on entry points.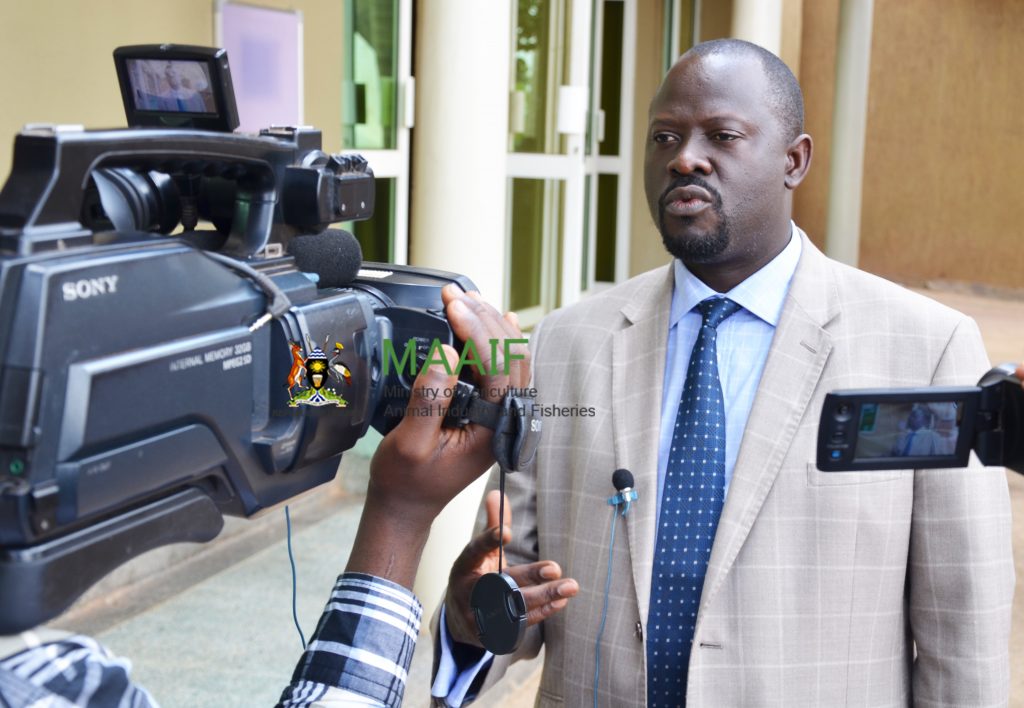 The Agriculture Sector in Uganda is experiencing the impacts of climate change and associated economic losses. Evidence and signs include increasing temperatures, frequent droughts, flooding, water logging, prolonged dry spells, hailstorms, landslides, lightening, and increase in pests and disease incidences for livestock and crops, as well as shifts in rainy seasons.
These climate change impacts have been predicted to increase in intensity and magnitude. Their negative implications on agricultural performance in general and food security and water availability are also expected to worsen.
This initiative comes at an opportune time as at national level, there is a policy window in the ongoing development of NDP III (2020/2021-2024/2025) to include climate proofed district development plans.
Notes for editors
About Strengthening Community Resilience to Climate Change and Disaster Risks (SCORE) project
SCORE is a part of the Climate Change Response & Disaster Risk Reduction Program led by the United Nations Development Programme (UNDP). It is implemented by Office of the Prime Minister in conjunction with: Ministry of Agriculture, Animal Industry and Fisheries (MAAIF), Ministry of Finance, Planning & Economic Development (MFPED), Ministry of Lands, Housing & Urban Development (MLHUD), Uganda National Meteorological Authority (UNMA) and National Planning Authority (NPA).
SCORE aims to ensure that natural resources management and energy access is gender responsive, effective and efficient, reducing emissions, negating the impact of climate-induced disasters and environmental degradation on livelihoods and production systems, and strengthening community resilience.
About the Ministry of Agriculture, Animal Industry and Fisheries (MAAIF)
The Ministry of Agriculture, Animal Industry and Fisheries is a Ministry in the Government of Uganda charged with creating an enabling environment in the Agricultural Sector.
The Ministry formulates, reviews and implement national policies, plans, strategies, regulations and standards and enforce laws, regulations and standards along the value chain of crops, livestock and fisheries.
Vision: A competitive, profitable and sustainable agricultural sector.
Mission: To transform subsistence farming to commercial agriculture.
Strategic Objectives
To initiate the formulation and review of the policy and legal framework for the sector
To establish and implement systems for service provision in the sector
To strengthen and implement strategies, regulatory framework, standards, institutional structures and infrastructure for quality assurance and increased quantities of agricultural products to access and sustain local, regional and export markets
To design and implement sustainable capacity building programmes for stakeholders in the agricultural sector through training, re-tooling, infrastructure, provision of logistics and ICT
To develop strategies for sustainable food security
To develop appropriate agricultural technologies for improved agricultural production, productivity and value addition through research
To develop effective collaborative mechanisms with affiliated institutions and
To take lead and establish a system and institutional framework for agricultural data collection, analyses, storage and dissemination to stakeholders including Uganda Bureau of Statistics.
The Ministry of Agriculture, Animal Industry and Fisheries (MAAIF) is made up of four Directorates including the Directorate of Crop Resources, Directorate of Animal Resources, Directorate of Agricultural Extension Services and the Directorate of Fisheries Resources each with Departments, Divisions and Partnership Projects.
The Departments of the Ministry which do not fall directly in the above include the Department of Agricultural Planning and Development, the Human Resource Department, the Department of Finance and Administration and the Department of Agricultural Infrastructure, Mechanisation and Water for Agricultural Production.
The Ministry is also made up of seven Agencies including the National Agricultural Research Organisation (NARO), the National Agricultural Advisory Services (NAADS), Cotton Development Organisation (CDO), Dairy Development Authority (DDA), Uganda Coffee Development Authority (UCDA) and Coordinating Office for the Control of Trypanosomiasis in Uganda (COCTU) and the National Animal Genetic Resources Centre and Databank (NAGRC&DB).
About the United Nations Development Programme (UNDP)
UNDP works in about 170 countries and territories, helping to achieve the eradication of poverty, and the reduction of inequalities and exclusion. We help countries to develop policies, leadership skills, partnering abilities, institutional capabilities and build resilience in order to sustain development results.
Although UNDP has been in Uganda for over 50 years, its formal relationship with the Government of Uganda began with the signing of the Standard Basic Assistance Agreement on 29 April 1977. This agreement defines 'the basic conditions under which UNDP and its executing agencies shall provide assistance to the government in carrying out its projects, and under which the projects shall be undertaken'.
As Uganda's partner of choice for development knowledge sharing, building and strengthening national capacities, UNDP continues to ensure that the achievement of the new global Agenda 2030 and its 17 Sustainable Development Goals (SDGs) remains a key item on the national agenda. Although priorities have evolved over the years, UNDP's commitment to Uganda continues to be to empower lives and build a resilient nation.
The UNDP country team is led by a Resident Representative who has full responsibility and ultimate authority on behalf of the UNDP Administrator for the programme in all its activities in the country. This includes full accountability and compliance with existing audit requirements.
The UNDP Uganda Country Office is comprised of a Programme team which carries out activities identified in the current Country Programme Document. The implementation of these activities is made possible through the support of the Operations team.
For inquiries and media-related accreditation contact Solomon Kalema Musisi, Senior Communications Officer-Ministry of Agriculture Animal Industry and Fisheries using the email: solomon.kalema@agriculture.go.ug