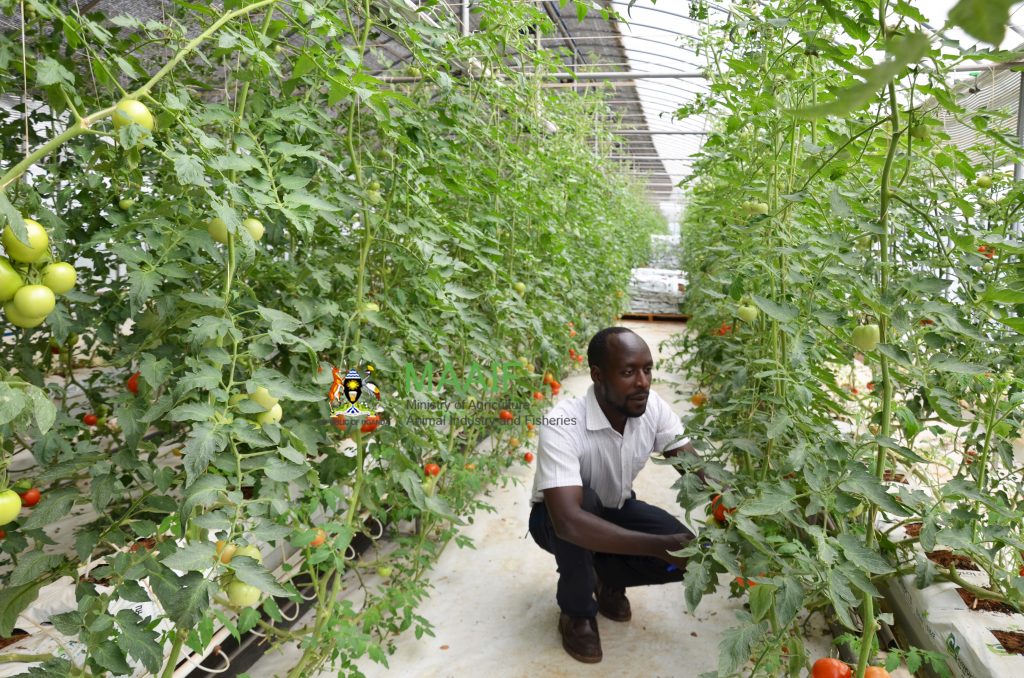 SMART Agriculture for maximising productivity 1: Hydroponics for horticultural enterprises
Hydroponics which is a fairly new approach to producing horticultural products is the growing of crops without using soil.
For this approach, crops are grown in either solid media or water or in air. The use of hydroponics allows farmers to benefit from, among other advantages,
complete elimination of soil born diseases like bacteria wilt.
faster growth of crops compared to using soil
higher yield per unit area.
Crops can be grown from anywhere even on top of buildings.
higher assurance and predictability of Return On Investment
precision use of fertilizers and water
environmentally friendly agricultural production
Penetration of hydroponics in Ugandan Agribusiness
The Government of Uganda developed a National Strategy for Youth Employment in Agriculture through the Ministry of Agriculture Animal Industry and Fisheries to achieve, among other targets, "Strengthening legal, policy and institutional
frameworks to create an enabling, sustainable and
profitable employment of youth along the agricultural value chain through MAAIF and other Ministries, Agencies and Departments of Government."
As an institution of Government, the Makerere University Agricultural Research Institute in Kabanyolo now hosts demonstration of agricultural technologies including the hydroponics, that the youth and farmers can learn from.
Mr. Papius Tumusingize heads the section on hydroponic systems and greenhouses management which trains youth in collaboration with the Learn As You Earn Programme of the Consortium for University Responsiveness to Agribusiness Development (CURAD) which is an agribusiness incubator based at the Institute.
Free consultations about hydroponic systems and how they can be built using locally available materials or using hi-technology are provided at the institution:
Contact number for section leader: 0778500005 Email address: tpapiuss@gmail.com
Useful links
Hydroponics and soil-less system as published by the Food and Agriculture Organization of the United Nations (FAO): http://fao.org/agriculture/crops/thematic-sitemap/theme/climatechange0/methyl-bromide/alt/hydro/en/
Insight on Hydroponics as published by the World Economic Forum: https://www.weforum.org/agenda/2019/02/hydroponics-future-of-farming/
Progress in stepping up agricultural extension services
Following the adoption of the Single Spine Extension System, Government embarked on the recruitment drive of Public Agricultural Extension Staff in Local Governments. The ratio has since been reduced from 1:5000 to about 1:1800. Recruitment of extension staff has reached 3,032 which is 60% of the target (5000 recruited extension workers).
Notes for editors
About the Ministry of Agriculture, Animal Industry and Fisheries (MAAIF)
The Ministry of Agriculture, Animal Industry and Fisheries is a Ministry in the Government of Uganda charged with creating an enabling environment in the Agricultural Sector.
The Ministry formulates, reviews and implement national policies, plans, strategies, regulations and standards and enforce laws, regulations and standards along the value chain of crops, livestock and fisheries.
Vision: A competitive, profitable and sustainable agricultural sector.
Mission: To transform subsistence farming to commercial agriculture.
Strategic Objectives
To initiate the formulation and review of the policy and legal framework for the sector
To establish and implement systems for service provision in the sector
To strengthen and implement strategies, regulatory framework, standards, institutional structures and infrastructure for quality assurance and increased quantities of agricultural products to access and sustain local, regional and export markets
To design and implement sustainable capacity building programmes for stakeholders in the agricultural sector through training, re-tooling, infrastructure, provision of logistics and ICT
To develop strategies for sustainable food security
To develop appropriate agricultural technologies for improved agricultural production, productivity and value addition through research
To develop effective collaborative mechanisms with affiliated institutions and
To take lead and establish a system and institutional framework for agricultural data collection, analyses, storage and dissemination to stakeholders including Uganda Bureau of Statistics.
The Ministry of Agriculture, Animal Industry and Fisheries (MAAIF) is made up of four Directorates including the Directorate of Crop Resources, Directorate of Animal Resources, Directorate of Agricultural Extension Services and the Directorate of Fisheries Resources each with Departments, Divisions and Partnership Projects.
The Departments of the Ministry which do not fall directly in the above include the Department of Agricultural Planning and Development, the Human Resource Department, the Department of Finance and Administration and the Department of Agricultural Infrastructure, Mechanisation and Water for Agricultural Production.
The Ministry is also made up of seven Agencies including the National Agricultural Research Organisation (NARO), the National Agricultural Advisory Services (NAADS), Cotton Development Organisation (CDO), Dairy Development Authority (DDA), Uganda Coffee Development Authority (UCDA) and Coordinating Office for the Control of Trypanosomiasis in Uganda (COCTU) and the National Animal Genetic Resources Centre and Databank (NAGRC&DB).
For related inquiries and media accreditation, contact Mr. Solomon Kalema Musisi – Senior Communications Officer, Ministry of Agriculture Animal Industry and Fisheries. Email: solomon.kalema@agriculture.go.ug