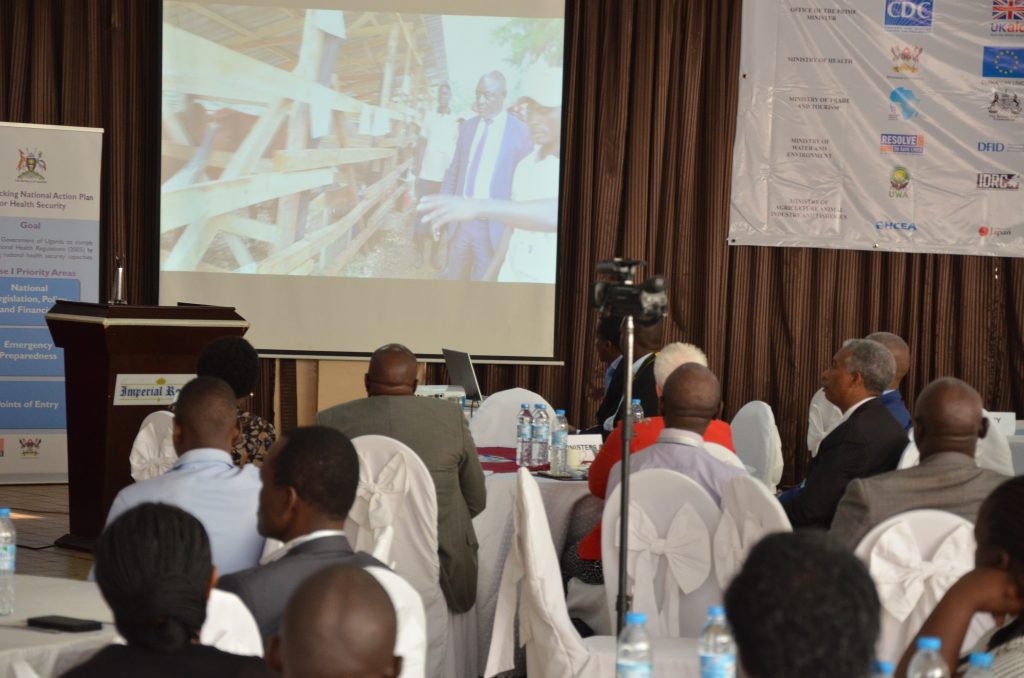 National Action Plan for Health Security launched in Kampala
Kampala, 20th August 2019 A team from the Ministry of Agriculture Animal Industry and Fisheries has joined stakeholder groups representing the Office of the Prime Minister, the Ministry of Health and Development Partners to launch a National Action Plan for Health Security.
The National Action Plan for Health Security (NAPHS) was designed to guide further strengthening of Uganda's capacity to fight and prevent some of the world's most dangerous diseases including Ebola, Anthrax, Cholera and Yellow Fever.
Hon. Jane Ruth Aceng the Minister for Health giving opening remarks at the launch.

U.S. Ambassador Deborah R. Malac speaking on behalf of Development Partners at the launch.
These diseases include some that affect both animals and human beings (zoonotic diseases) and these are to be handled jointly with partners through the Ministry's Directorate of Animal Resources which was represented at the launch by Dr. Juliet Sentumbwe the Acting Director.
As a signatory to the International Health Regulations (2005), Uganda is expecting to take the necessary steps to develop, strengthen, and maintain core public health and emergency preparedness capacities. The Joint External Evaluation (JEE) of IHR core capacities conducted in June 2017 highlighted strengths and critical capacity gaps that exist in preparing for and responding to public health emergencies.
According to the JEE, out of the 50 indicators across 19 technical areas, there was no capacity in 10% of indicators, limited capacity in 30% of indicators, developed capacity in 40% of indicators, and demonstrated capacity in 20% of indicators. No sustainable capacity was achieved for any of the indicators.
The National Action Plan for Health Security (NAPHS) 2023 defines the strategies, actions, and priorities the Government of Uganda will adopt to improve the country's ability to prevent, detect, and respond to public health emergencies.
This plan is the first, full-fledged strategy of its kind in Uganda and adopts a whole-of-government approach to health security by leveraging the strengths of many different ministries, departments, agencies, partners, and funding streams.
NAPHS 2023 is a 5-year strategic plan developed collaboratively with relevant ministries, departments, and agencies (MDAs). The plan includes agreed-upon objectives based on the gaps identified in health security assessments, public health risks in the country, and strategic priorities of the stakeholders involved.
By design, the country adopted a multi-sectoral approach, leveraging the principles of One Health, with significant engagement in the process from MDAs and stakeholders. This multi-sectoral approach reflects a shared commitment to enhanced collaboration when addressing national health security.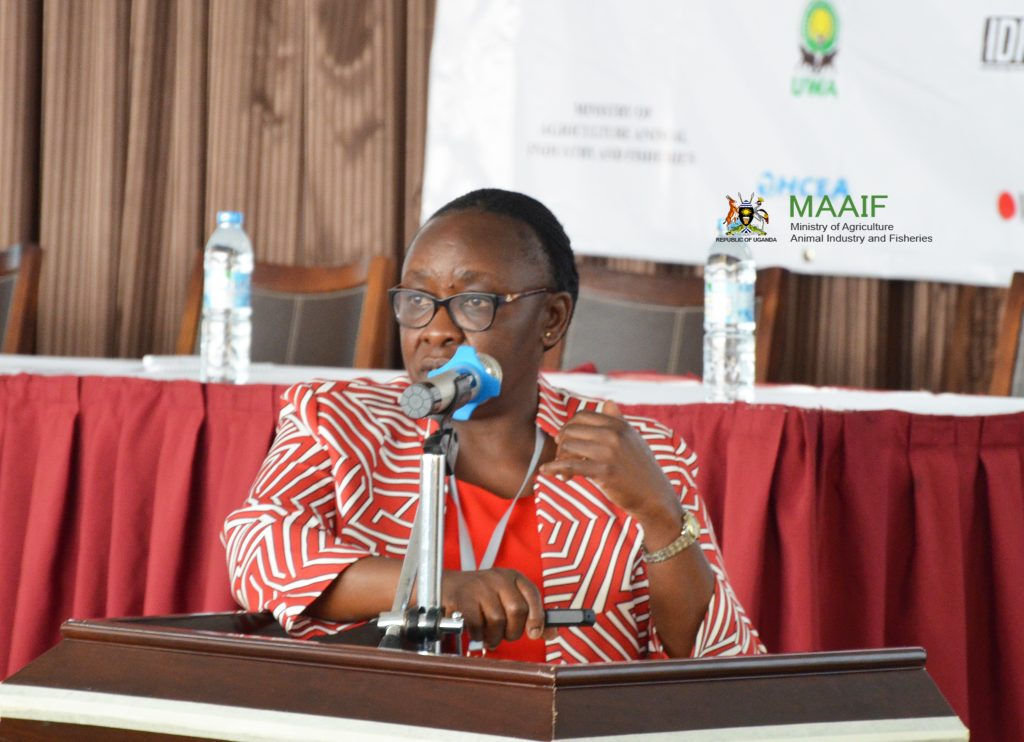 About Zoonotic Diseases
Information from the Directorate of Animal Resources in the Ministry of Agriculture Animal Industry and Fisheries defines and describes zoonotic diseases as follows.
Zoonotic diseases, also referred to as zoonoses are diseases which naturally transmissible from animals to humans.
Zoonoses now represent approximately 70% of newly emerging diseases. Additionally, new and re-emerging zoonotic diseases have resulted in negative socioeconomic impacts, affecting national policies that range from health security to the control of trans-boundary animal diseases. Their impacts manifest in multiple ways, including animal illness and loss of productivity, loss of income for livestock-dependent populations, and human morbidity and mortality.
Uganda is particularly vulnerable to zoonotic diseases due to its unique biological diversity and rising population density, bringing humans and animals into increasing and more intensive contact. Additionally, over 80% of Uganda's population is engaged in agriculture with 58% of these individuals involved in livestock farming. Uganda has an estimated about 15 million cattle, 15.7 million goats, 4.3 million sheep, 4 million pigs, and 46.2 million poultry. Multiple outbreaks of highly pathogenic zoonotic diseases including Ebola, Marburg, and Rift Valley fever have occurred in Uganda since 2008.
Information about some of the prioritized zoonotic diseases in Uganda.
What is anthrax?
Anthrax is a deadly zoonotic disease caused by spore forming bacteria called bacillus anthracis While most mammals are susceptible, anthrax is a disease affecting primarily domestic and wild herbivores though it can spill over to humans.
The bacteria produce extremely potent toxins, which are responsible for the ill effects. Anthrax spores are extremely resistant can survive in the environment for decades, making the control or eradication of the disease very difficult.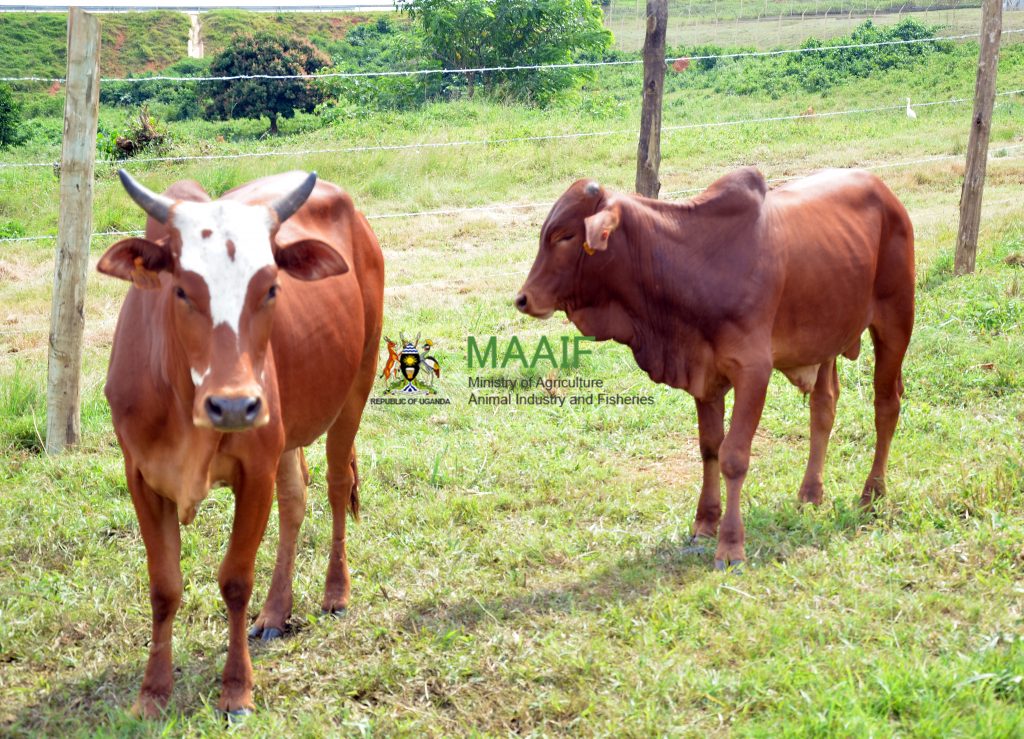 Transmission and spread
Anthrax does typically not spread from animal to animal nor from person to person.
The bacteria produce spores on contact with oxygen. These spores are extremely resistant and survive for years in soil, or on wool or hair of infected animals. Then if ingested or inhaled by an animal, or on entering through cuts in the skin, they can germinate and cause disease. Because the blood of infected animals sometimes fails to clot and may leak from body orifices, insects can spread the bacteria to other animals.
Carnivores and humans can become infected by eating meat from an infected animal. But typically, animals become infected by ingesting spores which are in the soil or in feed.
Public health risk
More than 95% of human anthrax cases take the cutaneous form and result from handling infected carcasses or hides, hair, meat or bones from such carcasses.
In humans, anthrax manifests itself in three distinct patterns (cutaneous, gastrointestinal and inhalational). The most common is a skin infection, where people become infected handling animals or animal products that contain spores. This can happen to veterinarians, agricultural workers, livestock producers or butchers dealing with sick animals, or when infection has been spread by wool or hides.
Bacillus anthracis is not invasive and requires a lesion to infect. The spores enter the body through cuts or scratches in the skin and cause a local infection that if not controlled may spread throughout the body. The digestive form occurs when the spores are eaten. Tragically people who lose their animals may also lose their lives trying to salvage something and consuming the meat from an animal that died. Potentially the most deadly form is by inhalation. This has been called 'wool sorters disease' since spores on hides or hair could be inhaled. While inhalation anthrax is rare in nature, anthrax spores have been developed and used as a biological weapon. Clearly, preventing the disease in animals will protect human public health.
Clinical signs
Peracute, acute, subacute and, rarely, chronic forms of the disease are reported. Ante-mortem clinical signs may be virtually absent in peracute and acute forms of the disease. Meanwhile, the only sign in chronic form may be enlarged lymph glands.
Ruminant animals are often found dead with no indication that they had been ill. In this acute form, there may be high fever, muscle tremors and difficult breathing seen shortly before the animal collapses and dies. Unclotted blood may exude from body openings and the body may not stiffen after death. Subacute form may be accompanied by progressive fever, depression, inappetence, weakness, prostration and death.
In horses or sometimes in ruminants there may be digestive upsets and colic, fever, depression and sometimes swelling. These symptoms may last for up to four days before death results.
In carnivores when the animal feeds on an infected source there may be an intestinal form of the disease with fever and cramps from which animals sometimes recover.
Diagnosis of Anthrax
Anthrax is diagnosed by examining blood (or other tissues) for the presence of the bacteria. Samples must be collected carefully to avoid contamination of the environment and to prevent human exposure to the bacteria. Blood samples from relatively fresh carcasses will contain large numbers of B. anthracis, which can be seen under a microscope, cultured and isolated in a laboratory, or detected by rapid tests, e.g. polymerase chain reaction (PCR).
Prevention and control
Regular vaccination of animals at risk against anthrax is the cheapest prevention measure that can be embraced rather than dealing with costs associated with occurrence of repeated anthrax outbreaks. They are also specific control procedures are necessary to contain the disease and prevent its spread. In particular:
The proper disposal of dead animals is critical;
the carcass should not be opened, since exposure to oxygen will allow the bacteria to form spores
Premises are to be quarantined until all susceptible animals are vaccinated and all carcasses disposed of preferably by incineration or alternatively by deep burial with quick lime.
Cleaning and disinfection are important as is control of insects and rodents.

Vaccination in endemic areas is very important. Although vaccination will prevent outbreaks, Veterinary Services sometimes fail to vaccinate when the disease has not appeared for several years. But because the spores survive for such lengthy periods, the risk is always present.
Though anthrax is quite susceptible to antibiotic therapy, the clinical course is often so rapid that there may not be the opportunity to treat affected animals. Early detection of outbreaks, quarantine of affected premises, destruction of diseased animals and fomites, and implementation of appropriate sanitary procedures at abattoirs and dairy factories will ensure the safety of products of animal origin intended for human consumption.
BRUCELLOSIS
Brucellosis is a contagious disease of livestock with significant economic impact. The disease is caused by various bacteria of the family Brucella, which tend to infect a specific animal species. However, most species of Brucella are able to infect other animal species as well.
It affects cattle, swine, sheep and goats, camels, equines, and dogs. It may also infect other ruminants, some marine mammals and humans. The disease in animals is characterized by abortions or reproductive failure. While animals typically recover, and will be able to have live offspring following the initial abortion, they may continue to shed the bacteria.
Brucellosis in cattle (B. abortus) in sheep and goats (B. melitensis) and in swine (B. suis)
Transmission and spread
Brucellosis is typically spread when the animal aborts or gives birth. High levels of bacteria are found in the birth fluids of an infected animal. The bacteria can survive outside the animal in the environment for several months, particularly in cool moist conditions. They remain infectious to other animals which become infected by ingesting the bacteria. The bacteria also colonise the udder and contaminate the milk. The disease can also infect animals and humans through cuts in the skin, or through mucous membranes.
The disease can also spread to people through consumption of unpasteurized milk coming from infected animals.
Public health risk
Brucellosis is a zoonosis highly infectious for humans causing a disease often called undulant fever or Malta fever, since it was first recognised in Malta during the 1850s.
Symptoms in humans include intermittent or irregular fever, headache, weakness, profuse sweating, chills, weight loss and general aching. Infections of organs including the liver and spleen may also occur.
Veterinarians, farmers, and abattoir workers are vulnerable to infection as they handle infected animals and aborted fetuses or placentae.
Brucellosis is one of the most easily acquired laboratory infections, and strict safety precautions should be observed when handling cultures and heavily infected samples, such as products of abortion.
What are the clinical signs of the disease?
Typically the disease is mild, with the infected animal showing few signs until she aborts. There may be swelling of the testicles in males, and occasionally the bacteria localizes in the joints causing arthritis. In horses, it causes a condition called fistulous withers or poll evil, a swelling of the neck or back. However pregnant mares may either abort or give birth to weak and vulnerable foals.
The importance of Brucellosis is that it causes poor reproductive performance, due to abortions, infertility, retention of placenta, stillbirth or birth of weak offspring. It results in huge economic losses to dairy, sheep, goat and pig farmers
How is the disease diagnosed?
The disease may be suspected based on clinical signs such as abortions, but confirmation is made through serological tests, then with prescribed laboratory tests to isolate and identify the bacteria
What is being done to prevent or control this disease?
Surveillance using serological tests, as well as tests on milk like the milk ring test, can be used for screening and play an important role in campaigns to eliminate the disease. As well individual animal testing both for trade and for disease control purposes is practiced.
In endemic areas, vaccination is often used to reduce the incidence of infection.
Human brucellosis is best prevented by controlling the infection in animals. Pasteurization of milk from infected animals was an important way to reduce infection in humans.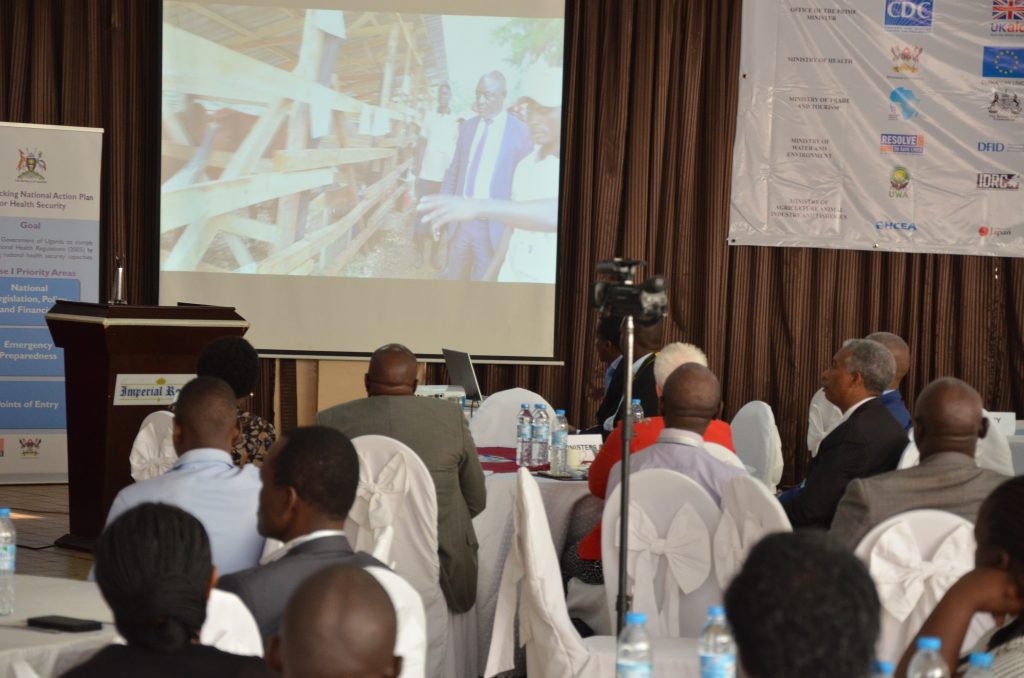 Notes for editors
About the Ministry of Agriculture, Animal Industry and Fisheries (MAAIF)
The Ministry of Agriculture, Animal Industry and Fisheries is a Ministry in the Government of Uganda charged with creating an enabling environment in the Agricultural Sector.
The Ministry formulates, reviews and implement national policies, plans, strategies, regulations and standards and enforce laws, regulations and standards along the value chain of crops, livestock and fisheries.
Vision: A competitive, profitable and sustainable agricultural sector.
Mission: To transform subsistence farming to commercial agriculture.
Strategic Objectives
To initiate the formulation and review of the policy and legal framework for the sector
To establish and implement systems for service provision in the sector
To strengthen and implement strategies, regulatory framework, standards, institutional structures and infrastructure for quality assurance and increased quantities of agricultural products to access and sustain local, regional and export markets
To design and implement sustainable capacity building programmes for stakeholders in the agricultural sector through training, re-tooling, infrastructure, provision of logistics and ICT
To develop strategies for sustainable food security
To develop appropriate agricultural technologies for improved agricultural production, productivity and value addition through research
To develop effective collaborative mechanisms with affiliated institutions and
To take lead and establish a system and institutional framework for agricultural data collection, analyses, storage and dissemination to stakeholders including Uganda Bureau of Statistics.
The Ministry of Agriculture, Animal Industry and Fisheries (MAAIF) is made up of four Directorates including the Directorate of Crop Resources, Directorate of Animal Resources, Directorate of Agricultural Extension Services and the Directorate of Fisheries Resources each with Departments, Divisions and Partnership Projects.
The Departments of the Ministry which do not fall directly in the above include the Department of Agricultural Planning and Development, the Human Resource Department, the Department of Finance and Administration and the Department of Agricultural Infrastructure, Mechanisation and Water for Agricultural Production.
The Ministry is also made up of seven Agencies including the National Agricultural Research Organisation (NARO), the National Agricultural Advisory Services (NAADS), Cotton Development Organisation (CDO), Dairy Development Authority (DDA), Uganda Coffee Development Authority (UCDA) and Coordinating Office for the Control of Trypanosomiasis in Uganda (COCTU) and the National Animal Genetic Resources Centre and Databank (NAGRC&DB).