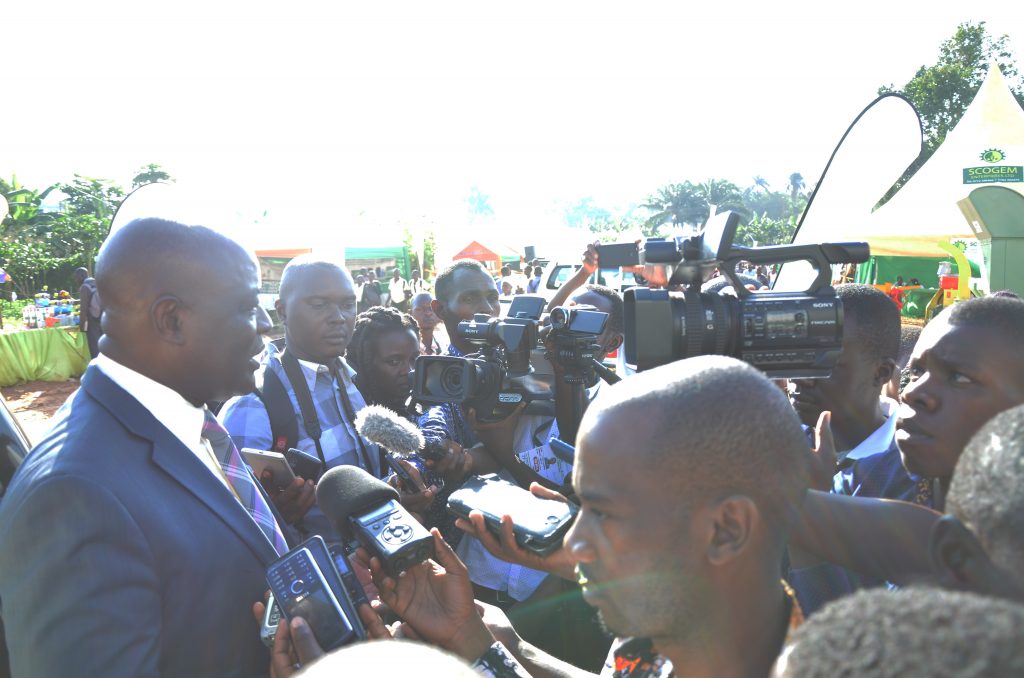 Clarification on objectives of the proposed Coffee Bill and the steps towards increased competitiveness of exports
Entebbe, 22nd July 2019. In response to misrepresentation of the contents of the National Coffee Bill 2018 which was recently presented to the Parliamentary Committee on Agriculture, the Ministry of Agriculture, Animal Industry and Fisheries wishes to clarify as follows.
As highlighted by Hon. Vincent Bamulangaki Ssempijja the Minister for Agriculture, Animal Industry and Fisheries the Coffee Bill has no single clause on licencing of coffee farmers like it is being reported.
The Bill under Part IV, clauses 26,27 and 28, only seeks to register coffee farmers across the country. The Authority under these clauses will use information from the national coffee register to;
(a) Facilitate the provision of extension services to coffee farmers individually or through farmer groups. These extension services include:
-Seed gardens and seed management
-Good Agricultural practices
-Disease and pest management control
-Harvest and post-harvest handling
(b) The basis for planning and making appropriate estimates for the services that are critical for coffee production and productivity such as inputs, extension services, assessment and provision of farmers credit requirements
(c) Data capture and maintenance-Economic market trends: Traceability/source of the product: the buyers/consumers want to know where the coffee they consume comes from, who produces it and what farming practices do they employ.
HOW WILL THE SMALLHOLDER FARMERS BENEFIT FROM REGISTRATION?
All coffee farmers who are registered will benefit from the following;
Provision of extension and other services
Improved yields and good quality coffee resulting from the above
Protection from exploitation from unscrupulous sector players by linking the farmers to the buyers directly
Accessibility of inputs e.g fertilizers, planting materials etc
Mobilisation into farmer groups, cooperatives and or associations
Linkages for accessibility of affordable credit to the farmers
WHAT COST IS THE FARMER LIKELY TO MEET DURING THIS REGISTRATION?
Registration of all farmers shall be free as indicated under clause 27(4). UCDA or its representatives in liaison with other Government entities shall carry out this registration.
WHO WILL BE LICENCED UNDER CLAUSE 35 OF THIS BILL?
The Authority shall on application, issue the following licenses upon such terms and conditions as the Authority thinks fit-
A person shall not operate a pulpery, buy coffee, grade coffee for internal marketing, roast coffee, brew and operate a coffee shop or coffee store, operate a warehouse or coffee huller or process or export coffee on a commercial basis without a licence issued by the Authority.
Where the Authority refuses to issue a licence to an applicant, the applicant shall be informed in writing stating the reasons for the refusal.
This is therefore to show or prove that NO FARMER whatsoever will be licenced. The licencing like you all have known now will be for these categories;
(a) A pulpery operator`s licence
(b) A coffee buyer licence
(c) A coffee grading licence for internal marketing
(d) A coffee processor`s licence
(e) A coffee exporter`s licence
(f) A coffee roaster`s licence
(g) A brewers and operator of a coffee shop operator`s licence
(h) A coffee store or warehouse operator`s licence
(i) A coffee huller operator`s licence
About the Ministry of Agriculture, Animal Industry and Fisheries (MAAIF)
The Ministry of Agriculture, Animal Industry and Fisheries is a Ministry in the Government of Uganda charged with creating an enabling environment in the Agricultural Sector.
The Ministry formulates, reviews and implement national policies, plans, strategies, regulations and standards and enforce laws, regulations and standards along the value chain of crops, livestock and fisheries.
Vision: A competitive, profitable and sustainable agricultural sector.
Mission: To transform subsistence farming to commercial agriculture.
Strategic Objectives
To initiate the formulation and review of the policy and legal framework for the sector
To establish and implement systems for service provision in the sector
To strengthen and implement strategies, regulatory framework, standards, institutional structures and infrastructure for quality assurance and increased quantities of agricultural products to access and sustain local, regional and export markets
To design and implement sustainable capacity building programmes for stakeholders in the agricultural sector through training, re-tooling, infrastructure, provision of logistics and ICT
To develop strategies for sustainable food security
To develop appropriate agricultural technologies for improved agricultural production, productivity and value addition through research
To develop effective collaborative mechanisms with affiliated institutions and
To take lead and establish a system and institutional framework for agricultural data collection, analyses, storage and dissemination to stakeholders including Uganda Bureau of Statistics.
The Ministry of Agriculture, Animal Industry and Fisheries (MAAIF) is made up of four Directorates including the Directorate of Crop Resources, Directorate of Animal Resources, Directorate of Agricultural Extension Services and the Directorate of Fisheries Resources each with Departments, Divisions and Partnership Projects.
The Departments of the Ministry which do not fall directly in the above include the Department of Agricultural Planning and Development, the Human Resource Department, the Department of Finance and Administration and the Department of Agricultural Infrastructure, Mechanisation and Water for Agricultural Production.
The Ministry is also made up of seven Agencies including the National Agricultural Research Organisation (NARO), the National Agricultural Advisory Services (NAADS), Cotton Development Organisation (CDO), Dairy Development Authority (DDA), Uganda Coffee Development Authority (UCDA) and Coordinating Office for the Control of Trypanosomiasis in Uganda (COCTU) and the National Animal Genetic Resources Centre and Databank (NAGRC&DB).