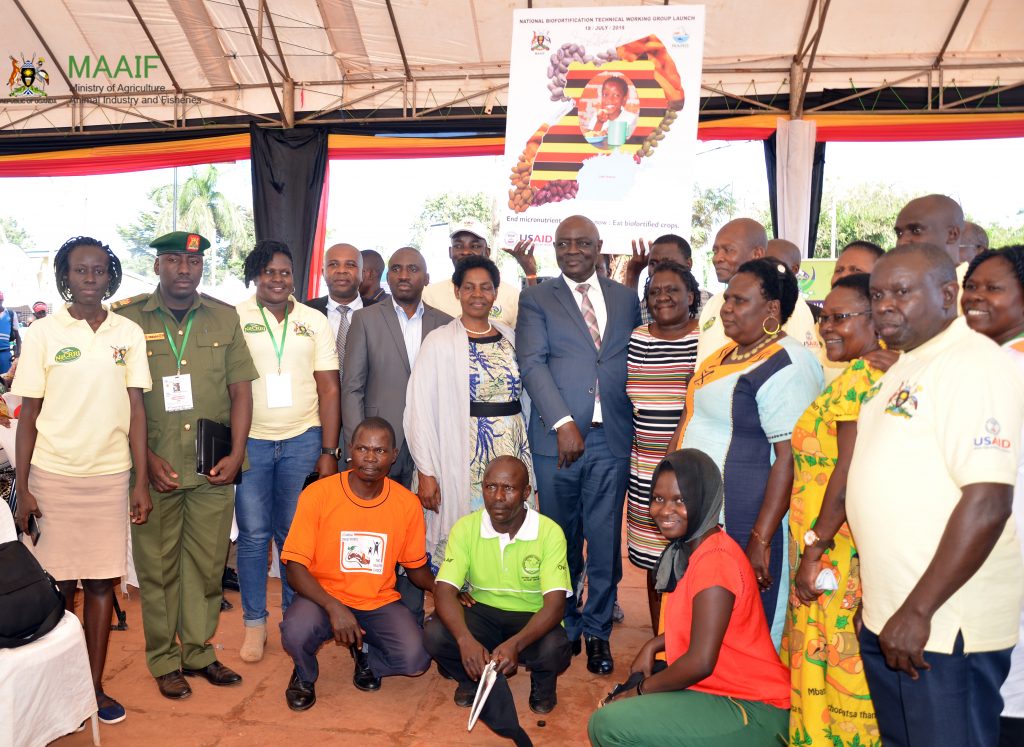 National Technical Working Group on Food Bio-fortification launched in Jinja
Jinja, 18th July 2019 The National Technical Working Group on Food Bio-fortification has been launched today by Hon. Vincent Bamulangaki Ssempijja the Minister for Agriculture, Animal Industry and Fisheries.
The launch took place at the Agricultural Show Grounds in Jinja District during the 27th edition of the Source of the Nile National Agricultural Show.
The formulation of the Technical Working Group is part of the process aimed at scaling up production and utilization of bio-fortified crop varieties in the country.
This campaign is being undertaken by the Ministry of Agriculture, Animal Industry and Fisheries with support of Harvest Plus which is the lead private sector partner in this endeavor.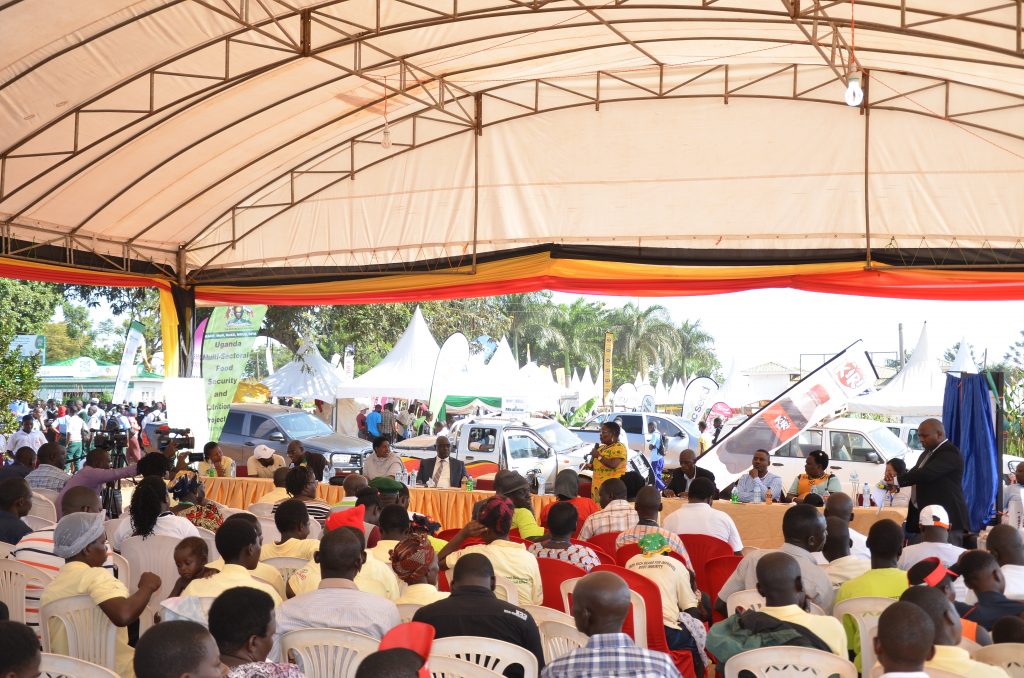 Steps taken to promote improved nutrition The National Agriculture Research Organization developed and released bio-fortified bean varieties that are rich in Iron and Zinc and Potato varieties that are rich in Vitamin A.
This is an affirmative action to respond to the high prevalence of Iron and Vitamin A in the country. In Uganda, evidence suggests that consumption of vitamin A rich Orange Fleshed Sweet Potatoes (OFSP) could potentially increase levels of vitamin A intake among under five year olds by 60%; with about 150g intake of OFSP meeting a child's daily need for vitamin A.
There also indications that Iron Rich Beans (IRB) can provide up to three quarters of the recommended daily requirement for iron among women of reproductive age.
These varieties (IRB & OFSP) have been aggressively promoted in the country. As at the end 2018, an estimated 779,000 smallholder farm households were growing OFSP with an estimated 3,900,000 people in these households eating OSP, while an estimated 425,000 households were growing iron beans, with 2,100,000 household members eating them.
Above: Hon. Vincent Bamulangaki Ssempijja the Minister for Agriculture, Animal Industry and Fisheries unveiling the launch card at the event in Jinja.
Research has also confirmed that vitamin A rich Orange fleshed sweet potatoes (OFSP) have the capacity to effectively substitute 50% wheat in baked and other products with minimum change on their eating qualities. This can reduce the cost of bread by as much as 20% and with benefits to both consumers and producers.
Additionally, this will help the country to solve the current high costs associated with fortifying wheat with vitamin A that was working as barrier for vitamin A fortification in the baking industry. Moreover, the ability to replace cane sugar in wheat products will have great positive implications in the prevention and control of Non Communicable Diseases (NCDs).
In this case bio-fortification is contributing to tackling the double burden of malnutrition (less and too much intake) that is increasingly becoming a public health and social economic challenge in our beautiful country. Similar product development can potentially be achieved with Iron Rich Beans. Other crops that my ministry is targeting under the bio-fortification program include cassava (vitamin A), banana (vitamin A), Sweet potato (Zinc), maize (vitamin A).
The main objective of the Technical Working Group is to scale-up Bio-fortification initiatives for improved food and nutrition security in Uganda. Specifically, the Technical Working Group was designed to give technical advice and support in
(i) Enhancing development and production of bio fortified crops
(ii) promoting access to and consumption of bio-fortified crops
(iii) developing policies and strategies for scaling-up Bio-fortification in Uganda and
(iv) Developing food bio-fortification management information systems.
The launch event officially kick-started the implementation of the National Bio-fortification Technical Working Group work-plan that will mainly seek to advocate for promotion of production and consumption of bio-fortified foods.
Notes for editors
About the Ministry of Agriculture, Animal Industry and Fisheries (MAAIF)
The Ministry of Agriculture, Animal Industry and Fisheries is a Ministry in the Government of Uganda charged with creating an enabling environment in the Agricultural Sector.
The Ministry formulates, reviews and implement national policies, plans, strategies, regulations and standards and enforce laws, regulations and standards along the value chain of crops, livestock and fisheries.
Vision: A competitive, profitable and sustainable agricultural sector.
Mission: To transform subsistence farming to commercial agriculture.
Strategic Objectives
To initiate the formulation and review of the policy and legal framework for the sector
To establish and implement systems for service provision in the sector
To strengthen and implement strategies, regulatory framework, standards, institutional structures and infrastructure for quality assurance and increased quantities of agricultural products to access and sustain local, regional and export markets
To design and implement sustainable capacity building programmes for stakeholders in the agricultural sector through training, re-tooling, infrastructure, provision of logistics and ICT
To develop strategies for sustainable food security
To develop appropriate agricultural technologies for improved agricultural production, productivity and value addition through research
To develop effective collaborative mechanisms with affiliated institutions and
To take lead and establish a system and institutional framework for agricultural data collection, analyses, storage and dissemination to stakeholders including Uganda Bureau of Statistics.
The Ministry of Agriculture, Animal Industry and Fisheries (MAAIF) is made up of four Directorates including the Directorate of Crop Resources, Directorate of Animal Resources, Directorate of Agricultural Extension Services and the Directorate of Fisheries Resources each with Departments, Divisions and Partnership Projects.
The Departments of the Ministry which do not fall directly in the above include the Department of Agricultural Planning and Development, the Human Resource Department, the Department of Finance and Administration and the Department of Agricultural Infrastructure, Mechanisation and Water for Agricultural Production.
The Ministry is also made up of seven Agencies including the National Agricultural Research Organisation (NARO), the National Agricultural Advisory Services (NAADS), Cotton Development Organisation (CDO), Dairy Development Authority (DDA), Uganda Coffee Development Authority (UCDA) and Coordinating Office for the Control of Trypanosomiasis in Uganda (COCTU) and the National Animal Genetic Resources Centre and Databank (NAGRC&DB).