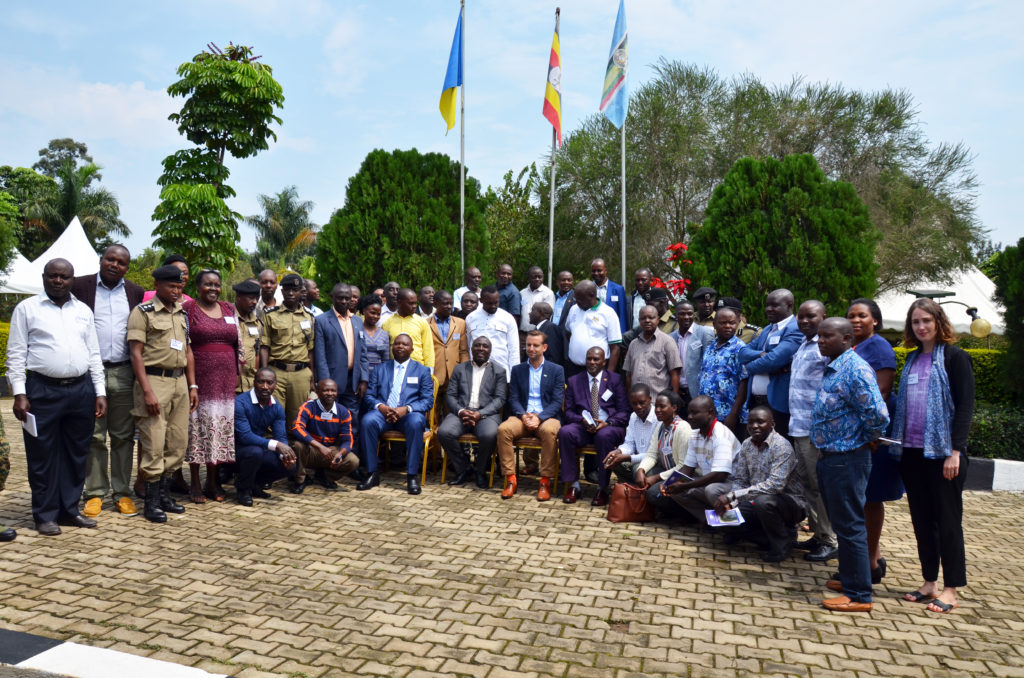 Uganda rolling out strict guidelines and ordinances to maintain profitability of Vanilla trade
Fort Portal, 26th June 2019. Follow-up regional engagements for Vanilla value chain players have been officially opened in Rwenzori sub-region by Hon. Christopher Kibanzanga the State Minister for Agriculture. The inaugural meetings and field tours were designed to further emphasize the guidelines for appropriate planting and harvesting of Vanilla to avoid reduction in profitability at farm level.
The engagements and field tours involved partners including Catholic Relief Services (CRS) which, according to Mr. Niek De Goeij the Country Representative is supporting farming communities to improve their livelihoods and enabling farmers to meet with the right stakeholders including exporters and buyers of Vanilla in such engagements.
One of the main issues being addressed by government through the Ministry of Agriculture Animal Industry and Fisheries is a trend where middlemen buy Vanilla that is not yet ripe and sell it elsewhere in a state of lower quality and force buyers to push for lower prices.
Government is supporting the growth of Vanilla-growing Cooperatives and groups and increasing mobility of Agricultural Extension Workers to support Vanilla growing.
The guidelines for Vanilla were announced at the Uganda Media Center by Hon. Kibanzanga on the 21st of May 2019.
Vanilla is one of the high value crops grown in 25 Districts of Uganda, mainly in Central, Eastern and Western parts of the country and is used to add flavor to drinks, dairy products, sweet food, cosmetic products and may also be applied in pharmaceutical industries.
The Dairy sector is the largest consumer of vanilla and here, it is used in ice cream, yoghurt, chocolate and other flavored dairy products.
Global consumption of vanilla ranges between 2,100MT to 2,400 MT per year over the last 10 years.
However, there is now increasing demand for all-natural and organic vanilla from major Global food companies.
In 2015 for instance, Nestle announced a major plan to go all-natural for all their products and eliminate artificial additives. This offers a major opportunity for Uganda which has the most conducive climate to increase the production of premium quality natural and organic vanilla.
In 2018, Uganda produced about 300,000Kg of Vanilla and exported 23,000Kg of cured vanilla worth USD 6.40 million.
In 2017 and 2018, the major importing countries for Ugandan vanilla included USA, France, United Kingdom, Germany, Japan, Canada, Denmark, Netherlands, Israel, South Africa, Turkey and Hungary. Madagascar is the largest producer (1500 to 1800 MT per year) while Uganda only accounts for about 5% of the Global Production.
Prices for vanilla have been rising over the last few years due to increased demand against very low supply of quality beans.
In Uganda, prices reached as high as UGX 250,000 per kilogram in July 2018 for green vanilla beans at the farm-gate. It is not surprising to hear that vanilla is now referred to as the "Green Gold".
This is because of the price fetched from cured vanilla which is higher than the value of one kilogram of silver.
As a country, Uganda has a window of opportunity to secure a growing long-term profitable vanilla sector. Vanilla has proved to be a sustainable and profitable crop for farmers in Uganda that has potential to deliver the country into the medium income status.
Notes for editors
About the Ministry of Agriculture, Animal Industry and Fisheries (MAAIF)
The Ministry of Agriculture, Animal Industry and Fisheries is a Ministry in the Government of Uganda charged with creating an enabling environment in the Agricultural Sector.
The Ministry formulates, reviews and implement national policies, plans, strategies, regulations and standards and enforce laws, regulations and standards along the value chain of crops, livestock and fisheries.
Vision: A competitive, profitable and sustainable agricultural sector.
Mission: To transform subsistence farming to commercial agriculture.
Strategic Objectives
To initiate the formulation and review of the policy and legal framework for the sector
To establish and implement systems for service provision in the sector
To strengthen and implement strategies, regulatory framework, standards, institutional structures and infrastructure for quality assurance and increased quantities of agricultural products to access and sustain local, regional and export markets
To design and implement sustainable capacity building programmes for stakeholders in the agricultural sector through training, re-tooling, infrastructure, provision of logistics and ICT
To develop strategies for sustainable food security
To develop appropriate agricultural technologies for improved agricultural production, productivity and value addition through research
To develop effective collaborative mechanisms with affiliated institutions and
To take lead and establish a system and institutional framework for agricultural data collection, analyses, storage and dissemination to stakeholders including Uganda Bureau of Statistics.
The Ministry of Agriculture, Animal Industry and Fisheries (MAAIF) is made up of four Directorates including the Directorate of Crop Resources, Directorate of Animal Resources, Directorate of Agricultural Extension Services and the Directorate of Fisheries Resources each with Departments, Divisions and Partnership Projects.
The Departments of the Ministry which do not fall directly in the above include the Department of Agricultural Planning and Development, the Human Resource Department, the Department of Finance and Administration and the Department of Agricultural Infrastructure, Mechanisation and Water for Agricultural Production.
The Ministry is also made up of seven Agencies including the National Agricultural Research Organisation (NARO), the National Agricultural Advisory Services (NAADS), Cotton Development Organisation (CDO), Dairy Development Authority (DDA), Uganda Coffee Development Authority (UCDA) and Coordinating Office for the Control of Trypanosomiasis in Uganda (COCTU) and the National Animal Genetic Resources Centre and Databank (NAGRC&DB).