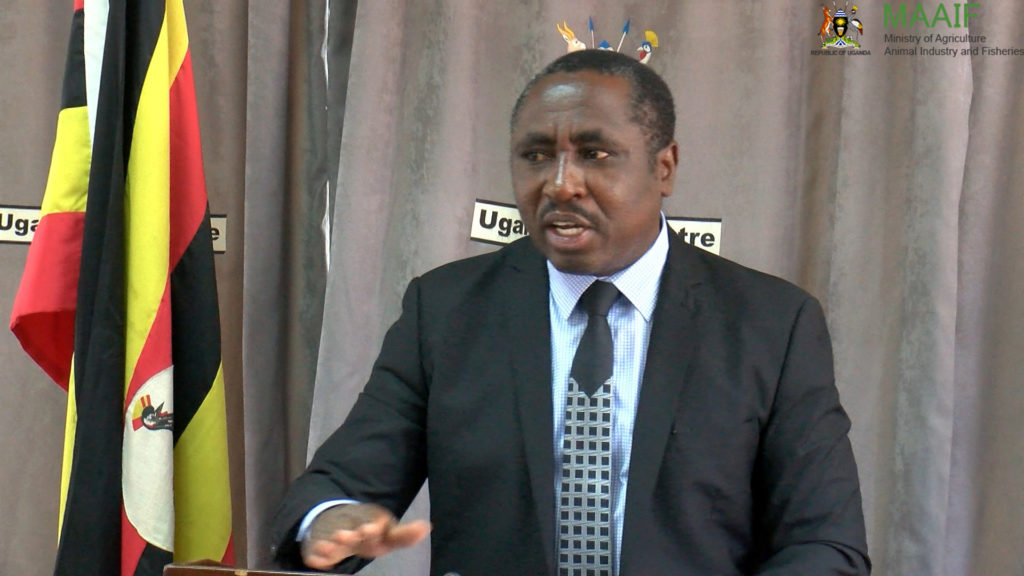 Government position on Vanilla growing and trade aimed at sustaining profitability
Below is an excerpt from the official statement presented at the Uganda Media Centre regarding the trends in Vanilla growing and trade, as presented by Hon. Christopher Kibanzanga the State Minister for Agriculture.
Vanilla is one of the high value crops grown in 25 Districts of Uganda, mainly in Central, Eastern and Western parts of the country.
Vanilla is used to add flavor to drinks, dairy products, sweet food, cosmetic products and may also be applied in pharmaceutical industries.
The Dairy sector is the largest consumer of vanilla. It is used in ice cream, yoghurt, chocolate and other flavored dairy products.
Global consumption of vanilla ranges between 2,100MT to 2,400 MT per year over the last 10 years. However, there is now increasing demand for all-natural and organic vanilla from major Global food companies. In 2015 for instance, Nestle announced a major plan to go all-natural for all their products and eliminate artificial additives. This offers a major opportunity for Uganda which has the most conducive climate to increase the production of premium quality natural and organic vanilla.
In 2018, Uganda produced about 300,000Kg of Vanilla and exported 23,000Kg of cured vanilla worth USD 6.40 million.
In 2017 and 2018, the major importing countries for Ugandan vanilla included USA, France, United Kingdom, Germany, Japan, Canada, Denmark, Netherlands, Israel, South Africa, Turkey and Hungary. Madagascar is the largest producer (1500 to 1800 MT per year) while Uganda only accounts for about 5% of the Global Production.
Prices for vanilla have been rising over the last few years due to increased demand against very low supply of quality beans. In Uganda, prices reached as high as UGX 250,000 in July 2018 for green vanilla beans at the farm-gate. It is not surprising to hear that vanilla is now referred to as the "Green Gold". This is because of the price fetched from cured vanilla which is higher than the value of one kilogram of silver.
Regrettably, however, we have observed that each time vanilla prices rise, we receive cases of theft, loss of lives, wide spread premature vanilla harvesting which ultimately compromises the quality of the Ugandan vanilla. Worse of all, the vanilla farmer is the most affected party. It is therefore our duty as Government to work with all vanilla actors to find lasting solutions to these challenges.
As a country, we have a window of opportunity to secure a growing long-term profitable vanilla sector. Vanilla has proved to be a sustainable and profitable crop for farmers in Uganda that has potential to deliver the country into the medium income status. Despite this immense potential, however, the international market for natural vanilla is currently threatened by the poor quality vanilla we put on the market which arises from extensive harvesting and processing of immature vanilla.
If we can work together to address practices that reduce the quality of vanilla, we will be in a stronger position to protect our farmers from the traditional peaks and troughs of the worldwide vanilla market. Uganda can certainly become number one supplier of the best quality vanilla in the World.
I understand that a consortium of the world's biggest vanilla buyers (Sustainable Vanilla Initiative) has already expressed its desire to partner with us and position Uganda as a pivot for stabilising the natural vanilla market in the World. This is good news for our farmers and exporters.
However, to justify a sustainable price for Ugandan vanilla in the context of the forth coming market mechanisms, urgent action is needed to improve the vanilla quality and secure the International market. This can be done through preventing early and immature bean harvesting.
We believe that Uganda can easily become the Global Leader in sustainable supply of Premium Quality Vanilla given our comparative and competitive advantages of the nation with a distinct climate of two harvesting seasons and the organic or traditional farming practices which entail limited or no usage of synthetic agro- chemicals.
Government, through the Ministry of Agriculture, Animal Industry and Fisheries (MAAIF), in collaboration with the Ministry of Local Government and Solicitor General's office, is drafting regulations to address the vanilla challenges in order to harness the available world market opportunities. Districts like Ntoroko and Buikwe have got approved Ordinance and Bylaw, respectively.
In the meantime, we have agreed with key vanilla stakeholders that we need to provide guidance on vanilla harvesting as the first season approaches.
I further reiterate the warning to anybody involved in vanilla malpractices such as theft, harvesting pre-mature vanilla beans and de-coloring vanilla green beans through roasting, of tougher penalties if arrested. This warning also goes to those who abate such illicit activities, especially the exporters who influence the buying of vanilla before the general harvesting period.
I hereby declare that the appropriate vanilla Harvest Dates shall be the 15th of June onwards for the first season and the 15th of December onwards for the second season. Government will take strong punitive action against anyone found harvesting, or in possession of green vanilla beans outside these dates. I am directing my Ministry staff to be vigilant on this especially the Agricultural Police in collaboration with Operation Wealth creation commanders, to work closely with the Private Sector to popularize these harvest dates, hunt down and expose all culprits. Only under exceptional circumstances, driven by weather uncertainties which lead to differences in plant growth in different regions, may these dates be brought forward or backward by two weeks in certain Districts. In this case, my Ministry staff will work with Local government staff, the private sector actors-especially farmers, local leaders and vanilla curers, to ascertain this need and make the necessary temporary harvest dates adjustment and announcement.
Notes for editors
About the Ministry of Agriculture, Animal Industry and Fisheries (MAAIF)
The Ministry of Agriculture, Animal Industry and Fisheries is a Ministry in the Government of Uganda charged with creating an enabling environment in the Agricultural Sector.
The Ministry formulates, reviews and implement national policies, plans, strategies, regulations and standards and enforce laws, regulations and standards along the value chain of crops, livestock and fisheries.
Vision: A competitive, profitable and sustainable agricultural sector.
Mission: To transform subsistence farming to commercial agriculture.
Strategic Objectives
To initiate the formulation and review of the policy and legal framework for the sector
To establish and implement systems for service provision in the sector
To strengthen and implement strategies, regulatory framework, standards, institutional structures and infrastructure for quality assurance and increased quantities of agricultural products to access and sustain local, regional and export markets
To design and implement sustainable capacity building programmes for stakeholders in the agricultural sector through training, re-tooling, infrastructure, provision of logistics and ICT
To develop strategies for sustainable food security
To develop appropriate agricultural technologies for improved agricultural production, productivity and value addition through research
To develop effective collaborative mechanisms with affiliated institutions and
To take lead and establish a system and institutional framework for agricultural data collection, analyses, storage and dissemination to stakeholders including Uganda Bureau of Statistics.
The Ministry of Agriculture, Animal Industry and Fisheries (MAAIF) is made up of four Directorates including the Directorate of Crop Resources, Directorate of Animal Resources, Directorate of Agricultural Extension Services and the Directorate of Fisheries Resources each with Departments, Divisions and Partnership Projects.
The Departments of the Ministry which do not fall directly in the above include the Department of Agricultural Planning and Development, the Human Resource Department, the Department of Finance and Administration and the Department of Agricultural Infrastructure, Mechanisation and Water for Agricultural Production.
The Ministry is also made up of seven Agencies including the National Agricultural Research Organisation (NARO), the National Agricultural Advisory Services (NAADS), Cotton Development Organisation (CDO), Dairy Development Authority (DDA), Uganda Coffee Development Authority (UCDA) and Coordinating Office for the Control of Trypanosomiasis in Uganda (COCTU) and the National Animal Genetic Resources Centre and Databank (NAGRC&DB).