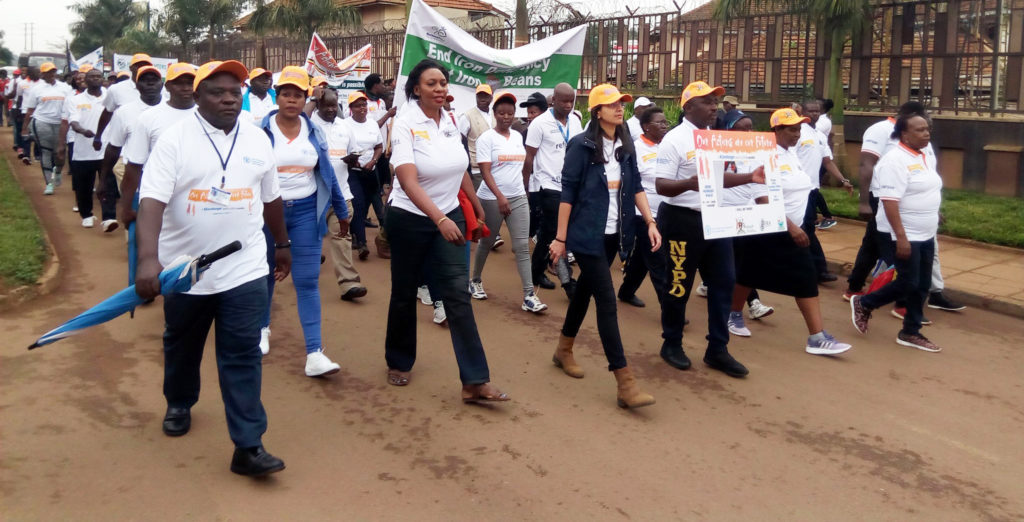 World Food Day call to action: Why eradication of hunger is a multi-stakeholder target
The Ministry of Agriculture, Animal Industry and Fisheries was joined by partners including the Food and Agriculture Organisation of the United Nations and the Food Rights Alliance to organise activities for the 2018 World Food Day in Uganda.
The official hosts of these activities were selected as Nabuin Zonal Agricultural Research and Development Institute which is under the National Agricultural Research Organisation (NARO) one of seven Agencies of the Ministry that hosts the activities annually.
To maximise outreach and popularise the 2018 theme which was set as "Our actions are our future. A Zero Hunger world by 2030 is possible" partners developed roles of different stakeholders in eradicating hunger to be shared in a buildup to the 16th October climax.
Above: Participants in the World Food Day walk that was organised in Kampala on the 12th of October 2018 and led by Hon. Christopher Kibanzanga the State Minister for Agriculture as part of the lineup of activities that were launched on the 3rd of October by Hon. Vincent Sempijja the Minister for Agriculture, Animal Industry and Fisheries.
What farmers and agribusinesses can do to help achieve Zero Hunger 
The women and men who work in agriculture play a vital role in achieving Zero Hunger. Whether they work on small family farms or in small food enterprises, their decisions will help shape the future of food and nutrition. Their knowledge and traditional practices are vital in a world where food production faces many challenges such as climate change and limited natural resources. These actions are a starting point for farmers and agribusinesses who want to build a Zero-Hunger world.
Promote equality 
Farmers and smallholders should promote gender equality and the empowerment of women, indigenous peoples and youth, because Zero Hunger can only succeed in a society that is fair and equal for all.
Pursue resource efficiency 
Farmers should manage natural resources sustainably and efficiently – this will help ensure their future availability, protect the environment, and increase profits by reducing waste.
Adapt to climate change 
Climate change is happening. Adopting a Climate-Smart Agriculture approach can help farmers face the challenges it poses, by helping them to use natural resources, such as soil and water in a sustainable way, to grow more food. Farmers should use seeds that are more resistant to drought and disease, breed livestock that is suited for warmer temperatures, create stormproof ponds and cages for fish, and plant trees that are heat- and drought-tolerant.
Diversify crops 
Growing pressure on the demand for land to grow crops for biofuel production and bio-fortified food will simultaneously increase the demand for agro-biodiversity. This pressure will affect the way in which farming will be carried out in the future. Farmers should diversify their crops as this can help to maintain healthy soils, regulate pests and diseases, improve pollination and decrease the impacts of climate change by decreasing carbon dioxide in the atmosphere.
Produce more with less 
With a growing population expected to reach in 9 billion in 2050, farmers should find new, more productive ways to farm food and diversify their crops. Using an integrated farming approach will not only help farmers increase their crops' yield, and thus their profits, but can also improve the quality of their farmland.
Make your voice heard 
Farmers and agribusinesses should participate in policy, programme, and monitoring processes at all levels, to contribute their knowledge and expertise, and make their voices heard.
Unite in cooperatives 
Vulnerable rural populations need to empower themselves by uniting and forming local cooperatives to ensure that their views and opinions are taken into account, and be in a better position to realise their right to adequate food and decent employment.
Educate the farmers of the future 
By providing the young with the right tools and knowledge, farms and agribusinesses can educate a new generation of farmers, increase their workforce and produce more food to be sold on the market, or shared with others. FAO's Junior Farmers Field Schools are available to help those starting out.
Cut post-harvest losses 
Post-harvest losses can be significantly reduced or prevented by using adequate storage facilities, keeping up to date with the latest developments in technology and undergoing relevant training.
Leverage the power of technology 
Modern digital technology and software, such as mobile device apps, can help farmers mitigate and fight the effects of extreme weather events, by allowing them to share information rapidly, access up-to-the-minute data and discover innovative farming solutions.
Adopt sustainable livestock farming practices 
Livestock farming plays a major role in climate change, management of land and water, and biodiversity. Livestock farmers should adopt sustainable farming practices, for instance by improving animals' diets to reduce enteric fermentation and methane emissions, and setting up biogas plant initiatives to recycle manure.
Keep fish populations afloat 
Fish farmers should fish responsibly, to ensure the effective conservation, management and development of living aquatic resources, with due respect for the ecosystem and biodiversity. Oceans also store a large amount of carbon dioxide in their depths and are home to over half of all life on earth. To prevent illegal unreported and unregulated fishing (IUU) countries have adhered to the Port State Measures Agreement (PSMA), the first-ever binding international agreement specifically targeting IUU fishing.
Above: The official poster of the 2018 World Food Day activities.
What the private sector can do to help achieve Zero Hunger 
Companies and private enterprises are key allies in achieving #ZeroHunger. You can make a difference, regardless of the size of your business – start with these actions.
Eliminate food loss/waste
One-third of all food produced globally is currently wasted or lost. If your business works in the food and beverage sector, or provides food to its employees, commit to developing better storage, processing, transport and retailing processes. To join the thousands of businesses who are already doing so, start by visiting the SAVE FOOD initiative.
Source locally 
Your company can source materials and services locally. By doing so, you could curb costs while empowering vulnerable communities by increasing their purchasing power.
Source responsibly 
When sourcing your product, ensure you do it from partners who follow humane, environmentally friendly practices. Companies who source their product from the planet's natural resources should be mindful of their impact and adopt a sustainable approach. Seafood businesses, for example, can follow the Code of Conduct for Responsible Fisheries.
Share your knowledge 
Companies who have developed effective solutions and practices that can contribute to reducing waste, protecting our natural resources or fighting hunger and malnutrition should make their knowledge available to other public and private entities. Tech giants like Google, for example, are sharing their expertise to help tackle the threats posed by climate change and developing digital tools such as mobile apps, to mitigate the damages of extreme weather conditions and crop pests.
Promote Financial Inclusion 
If your company operates within the financial sector, you can support local economies and put financial tools in the hands of economically marginalized communities, by exploring ways to provide credit or money to households for purchases of basic needs and farming inputs on local markets, like MasterCard is doing in Kenya and elsewhere.
Empower Women 
Ensuring women enjoy the same employment opportunities as men is a crucial step in lifting vulnerable communities out of poverty. By doing so, you can help families achieve financial stability and an income stream that isn't dependent on a male family member's ability to work.
Partner with Academia 
Academia are incubators of knowledge and innovation that can be channelled towards efforts to achieve Zero Hunger. They are home to the world's future change makers. Academia have a responsibility to use their knowledge to reconnect youth and students with food and what it stands for, ultimately promoting a sustainable way of life. Strategic partnerships with academia and research institutions can generate significant and relevant information to assist businesses in addressing the challenges posed by hunger and malnutrition.
Be resource-efficient 
Curbing water and energy consumption in your company helps safeguard the environment, shows respect for the natural resources needed to produce our food and cuts running costs. Reducing the temperature in heated office spaces by just 1 degree, for example, can cut energy bills by up to 8% each year.
Magnify the Zero Hunger Message 
Media companies, or any business with a communication network, can leverage their reach to educate the public about a Zero Hunger lifestyle, while helping raise awareness about issues related to hunger and malnutrition, following the example of Thomson Reuters and others media giants.
Champion Food Safety 
Food businesses and manufacturers must strive to achieve better food safety and quality along the food chains, especially in developing countries. Global food companies like Mars are already promoting international standards to ensure safer, healthier food.
Establish Zero Hunger Partnerships 
The depth and ambition of Zero Hunger call for a coordinated effort of the private, civil and public sectors. No single entity can achieve global food security on its own. Businesses can reach out to other partners to share knowledge and resources, develop innovative strategies and discover new opportunities.
What the general public can do to help achieve Zero Hunger 
Wasting less, eating better and adopting a sustainable lifestyle are key to building a world free of hunger. The choices we make today are vital for a secure future of food. Here's a list of simple actions to help you make #ZeroHunger way of life, to help re-connect to food and what it stands for.
Love your leftovers
If you have leftovers, freeze them for later, or use them as an ingredient in another meal. When you eat at a restaurant, ask for half a portion if you're not feeling too hungry, or take your leftovers home.
Adopt a healthier and sustainable diet
Life is fast-paced and trying to fit in preparing healthy and nutritious meals can be a challenge if you don't know how. Healthy meals don't have to be elaborate. In reality, healthy food can be cooked in a quick and easy way while using only a few ingredients. Share your quick healthy recipes with your family, friends, colleagues and online. Follow sustainable chefs and bloggers online to learn new recipes or talk to your local farmer to see how they cook their produce at home.
Sharing is caring
Donate food that would otherwise be wasted, according to your local food regulations. For example, OLIO, a new App connects neighbours with each other and with local businesses so surplus food can be shared, not thrown away. Learn about existing initiatives in your cafeterias, stores, or in your general area to give a boost to food aid associations.
Buy only what you need
Plan your meals, make a shopping list and stick to it, and avoid impulse buys. Not only will you waste less food, you'll also save money!
Store food wisely
Don't let your food go to waste: move older products to the front of your cupboard or fridge and new ones to the back. Once open, use airtight containers to keep food fresh in the fridge and ensure packets are closed to stop insects from getting in.
Put your food waste to use
Instead of throwing away your food scraps why not compost them instead? This way you are giving nutrients back to the soil and reducing your carbon footprint.
Have a conversation with the people around you about respect for food
Food connects us all. Help people re-connect with food for a #ZeroHunger lifestyle and what it stands for by sharing your knowledge and passion with the people around you; at home with your family, with friends and at work. For example, grow your own food at home or participate in a community garden, organize dinners or share recipes. Also, support local charities that work with the homeless and the hungry, and get your families and friends involved.
Keep our soils and water clean
Some household waste is potentially hazardous and should never be thrown in a regular rubbish bin. Items such as batteries, paints, mobile phones, medicine, chemicals, fertilizers, tires, ink cartridges, etc. can seep into our soils and water supply, damaging the natural resources that produce our food.
Use less water
Water is the basic ingredient of life and we can't produce our food without it. While it's important that farmers learn to use less water to grow food, you can also preserve water by reducing food waste. When you throw away your food, you are wasting the water resources that went into producing it. For example, it takes 50 litres of water to produce one orange! You can also waste less water by taking a shower instead of a bath, turning off the water while brushing your teeth and fixing leaks!
Know where your food comes from
Respect for food is also about knowing where our food comes from and what it is made of. Get to know what you're eating by checking the labels. Find out what are the unhealthy ingredients and opt for healthier options. Set up a vegetable garden at home or participate in a community garden to not only have access to nutritious and healthy food but also learn about how much goes into producing the food we have available.
Support local food producers
By buying local produce, you support family farmers and small businesses in your community. You also help fight pollution, by reducing delivery distances for trucks and other vehicles.
Be a conscientious consumer
Once a week, try eating an all-veggie meal (including pulses like lentils, beans, peas and chickpeas) instead of a meat one. More natural resources are used to produce meat, especially water and millions of acres of rainforest are slashed and burned to turn land into grass pastures for livestock. Discover some tasty pulse recipes and try 'ancient' grains like quinoa. When making a purchase, do a bit of research to make sure you only buy from companies that follow sustainable practices and don't harm the environment. Remember: cheap prices often mean high human or environmental costs.
Understand food labelling
There's a big difference between "best before" and "use-by" dates. Sometimes food is still safe to eat after the "best before" date, whereas it's the "use-by" date, which tells you when it's no longer safe to eat. Learn also how to identify unhealthy ingredients such as trans fats and preservatives on food labels and avoid foods with added sugar.
Buy organic
Organic farming helps soil to stay healthy and retain its ability to store carbon, contributing to the fight against climate change. Look out for organic and fair-trade products available in your local supermarkets or farmers' markets and support small-scale farmers by avoiding intensively farmed meat, eggs and dairy.
Keep fish populations afloat
Convince your friends and family to eat fish species that are more abundant, such as mackerel or herring, rather than those that are at risk of being overfished, like cod or tuna. Buy fish that has been caught or farmed sustainably, such as eco-labelled or certified fish.
Become a #ZeroHunger advocate
If you see an interesting social media post about hunger, climate change or sustainable living, share it and make yourself heard! Find out more about your local and national authorities and think of ways they could help re-establish respect and connection to food and contribute to the fight against hunger. If you can, take advantage of your right to vote for leaders in your country and local community, or become a candidate yourself. A Zero Hunger world starts with you.
Notes for editors
Below are additional details for editors.
About the Ministry of Agriculture, Animal Industry and Fisheries (MAAIF)
The Ministry of Agriculture, Animal Industry and Fisheries is a Ministry in the Government of Uganda charged with creating an enabling environment in the Agricultural Sector.
The Ministry formulates, reviews and implement national policies, plans, strategies, regulations and standards and enforce laws, regulations and standards along the value chain of crops, livestock and fisheries.
Vision: A competitive, profitable and sustainable agricultural sector.
Mission: To transform subsistence farming to commercial agriculture.
See strategic objectives here.
See Agriculture Sector Strategic Plan here.
The Ministry of Agriculture, Animal Industry and Fisheries (MAAIF) is made up of four Directorates including the Directorate of Crop Resources, Directorate of Animal Resources, Directorate of Agricultural Extension Services and the Directorate of Fisheries Resources each with Departments, Divisions and Partnership Projects.
The Departments of the Ministry which do not fall directly in the above include the Department of Agricultural Planning and Development, the Human Resource Department, the Department of Finance and Administration and the Department of Agricultural Infrastructure, Mechanisation and Water for Agricultural Production.
The Ministry is also made up of seven Agencies including the National Agricultural Research Organisation (NARO), the National Agricultural Advisory Services (NAADS), Cotton Development Organisation (CDO), Dairy Development Authority (DDA), Uganda Coffee Development Authority (UCDA) and Coordinating Office for the Control of Trypanosomiasis in Uganda (COCTU) and the National Animal Genetic Resources Centre and Databank (NAGRC&DB).
About the National Agricultural Research Organisation 
The National Agricultural Research Organisation (NARO) is the apex body for guidance and coordination of all agricultural research activities in the national agricultural research system in Uganda. NARO is a Public Institution established by an act of Parliament, which was enacted on 21st November 2005.
NARO is a body corporate with perpetual succession and a common seal. NARO comprises of the council as its governing body, committees of the council as its specialised organs, a secretariat for its day-to-day operations with the semi-autonomous public agricultural research institutes under its policy guidance.
Headquarters: Entebbe, Uganda
Website: https://www.naro.go.ug/
About the Food and Agriculture Organisation of the United Nations 
The Food and Agriculture Organization  of the United Nations (FAO) is s specialized agency of the United Nations with over 194 member states and working in over 130 countries worldwide, that leads international efforts to eradicate hunger. The FAO's goal is to achieve food security for all and make sure that people have regular access to enough high-quality food to lead active, healthy lives.
Headquarters: Rome, Italy
Website: www.fao.org/home/en/
About the Food Rights Alliance 
The Food Rights Alliance is an agricultural sector coalition that was constituted in 1999 to bring together Civil Social Organisations working in the field of sustainable agriculture and food security in Uganda.
Headquarters: Kampala, Uganda
Website: http://fra.ug/