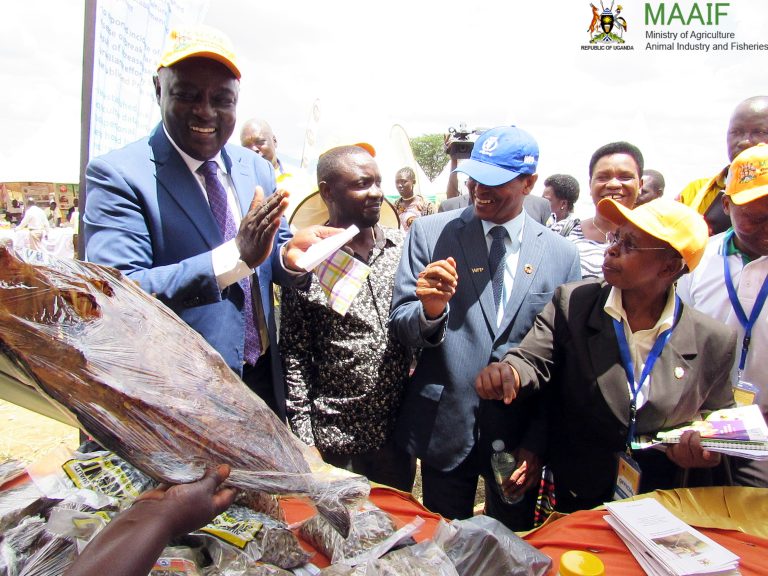 World Food Day Activities: New frontiers for Karamoja sub-region
On the 16th of October 2018, the Nabuin Zonal Agricultural Research and Development Institute which is an institute of the National Agriculture Research Organisation (NARO) located in Nabilatuk district hosted the national activities of the 39th National World Food Day celebrations.
The activities were organised by the Agriculture Ministry through the Extension Directorate and NARO in partnership with the Food and Agriculture Organisation of the United Nations and World Food Programme.
The theme for the 2018 World Food Day was, "A zero hunger world by 2030 is possible."
Above: Hon. Vincent Bamulangaki Sempijja the Minister for Agriculture, Animal Industry and Fisheries (Extreme Left) touring the stall of the Directorate of Fisheries Resources at the World Food Day exhibition.
Increasing food production and productivity
As stated by the Honorable Minister for Agriculture, Animal Industry and Fisheries during the celebrations, the Ministry continues to pursue pursue policies and interventions that promote increased value addition and exports.
For example through NAADS/Operation Wealth Creation (OWC), the focus is on increasing coffee production from the current 3,531,200 bags, of which 5,237,924 bags were exported generating US$ 410.064m to 20 million bags by 2020, valued at about USD 2.4 billion.
This will be made possible by promoting elite varieties resistant to wilt and distribution of 100 million coffee seedlings per annum, expanding area under coffee production by 5% in traditional areas and 25% in new areas and enhancing extension services.
Revamping Production of Tea and Palm Oil
The tea industry has made tremendous progress in the last 10 years with production at 61,376 MT, of which 60,504 MT were exported generating US$ 84.7m. The Ministry's target is to produce 135,308 MT by 2020, valued at about USD190m with Government supporting the production and distribution of 34,965,000 quality tea plantlets per annum through the Operation Wealth Creation programme.
Government has made big strides in the development of the Vegetable oil industry with a total of over 10,000 hectares of palm trees having been established, 33 traditional oil mills developed and about 80,000 households benefiting from this intervention through increased incomes and employment opportunities in Kalangala and Buvuma as well as districts in Eastern and Northern Uganda.
Livestock sub-sector development
Milk production has increased continually and now stands at approximately 2.2 billion litres annually. The sub-sector target is 3.35 billion litres annually by 2020 through enhanced availability of improved dairy cattle genetics, access to water and livestock feeds and increased processing capacity.
In beef, our target is 360,000MT by 2020. This FY 2016/17, Uganda under the Egypt- Uganda Food Security project is working to export beef from 1200 cattle per month. This will be achieved through increased support for animal breeding infrastructure, provision of water and meat export support services.
Commitments towards eradication of hunger
The drop in worldwide levels of hunger to 21.8% (2017) from 27% in 2015, there is progress in the fight against extreme hunger with reductions in prevalence of under nutrition, child stunting, child wasting and child mortality.
The Food security analysis for Uganda also indicates that generally, 83.6% of the total population were classified in phase one as being food secure (Minimal Food Insecure).
With the 2017 Global Hunger Index showing positive developments such as these, Government is committed to implementation of more interventions to step up hunger eradication in Uganda.
In a speech from His Excellency President Yoweri Kaguta Museveni that was presented by the Agriculture Minister, Government plans to roll out the following.
Government is implementing two major programs; the Multi-sector Food Security and Nutrition Project and the Pastoralist Livelihood Resilience Projects promoting Agricultural Nutrition friendly interventions which include:
Enterprise mix of vegetable gardens, rearing small livestock, fish ponds and agro-forestry projects in schools and communities.
Nutrition Education to provide adequate nutrition knowledge and skills in food preparation.
Home sanitation and
Hygienic handling of food and meal preparation.
Support for agricultural research
Under Research through the National Agricultural Research Organisation (NARO), Government is at the forefront of bio-fortification aimed at enhancing nutrient quality of staple foods by processing of protein-rich maize, iron-rich beans, zinc-rich bananas, Vitamin A orange-fleshed sweet potatoes among others.
These high-yielding crop varieties are being promoted in many communities.
Government has invested in research for development of high-yielding, pest and disease-resistant seed, planting materials and animal breeds to increase productivity.
Increasing availability and access to water for agricultural production
To increase resilience to climate change and promote increased availability and access to water for agricultural production Government is promoting development of irrigation and labour-saving technologies especially for smallholder farmers.
Government has earmarked funds this financial year to work on 15 irrigation schemes around the country and these include Doho phase II (butaleja), Mubuku paseII (Kasese), Wadelai (Nebbi), Tochi and Ngenge (oyam), Atari (bulambuli and Kween), Katete (Kanungu) and kawumu (Luwero) others are Amagoro (Tororo), Nabigaga (Kamuli), Rwimi (Kasese and Bunyangabu), Nyimur (Lamwo), Musamya (Kayunga), Kabuyanda and Matanda (Isingiro), and Igonero-Naigombwa (Iganga and Bugiri).
Meeting needs for relief food
Government has also committed Shs 25 billion for relief food and is procuring 1,600 metric tons of maize flour and 1,400 metric tons of beans for 1.3 million refugees in various parts of the country.
Funding worth UGX 14 billion has been allocated for more interventions for Karamoja with support from World Bank through NUFAS 3 under the Disaster Risk Financing programs that transfer cash or food to households that participate in the public-works interventions.
The NAADS/ Operation Wealth Creation (OWC) program that provides technologies to farming household countrywide to prevent future food crises is also in place to support these interventions.
Promotion of industrialisation in agriculture
Agriculture industrialization driven by Public- Private Sector Partnership or joint ventures under ASSP and NDP11 2015/16 -2019/20 is addressing growth of the sector and socio-economic transformation of the country.These include the following.
The Vegetable Oil Palm Development project which processes bio-fortified cooking oil and it has expanded to the Islands of Buvuma and Northern Uganda.
The Soroti fruit factory is yet to open to produce fruit pulp from the oranges, mangoes and packed juice for both the local market and export.
Coffee, milk and beef processing for exports, revival of fish processing facilities all contributing to putting a diverse range of food products on the market and changing consumer patterns and demand for safe foods.
The National Resistance Movement Government has continued to prioritize agriculture as stipulated in the Prosperity for All (PFA), Vision 2020,Vision 2040 and the National Development Plan (NDP2).
Notes for editors
Below are additional details for editors.
History of the World Food Day
The UN Governing Council November 1979 declared 16th October of every year to be the day to celebrate World Food Day. It is also the same day that the Food and Agriculture Organization of the United Nation (FAO) was founded In Quebec, Canada in 1945. All governments, national and international organizations in the world take time to reflect on the status of food security, hunger, malnutrition, poverty and agricultural development issues.
The Objectives World Food Day are to:
Heighten awareness on hunger and food security issues
Promote yield enhancing technologies to increase productivity
Support technical cooperation among countries
Encourage participation of women, youth and marginalized groups in production and agricultural sector decision making
Strengthen National and International efforts in the struggle against hunger, malnutrition and poverty.
About the Ministry of Agriculture, Animal Industry and Fisheries (MAAIF)
The Ministry of Agriculture, Animal Industry and Fisheries is a Ministry in the Government of Uganda charged with creating an enabling environment in the Agricultural Sector.
The Ministry formulates, reviews and implement national policies, plans, strategies, regulations and standards and enforce laws, regulations and standards along the value chain of crops, livestock and fisheries.
Vision: A competitive, profitable and sustainable agricultural sector.
Mission: To transform subsistence farming to commercial agriculture.
See strategic objectives here.
See Agriculture Sector Strategic Plan here.
The Ministry of Agriculture, Animal Industry and Fisheries (MAAIF) is made up of four Directorates including the Directorate of Crop Resources, Directorate of Animal Resources, Directorate of Agricultural Extension Services and the Directorate of Fisheries Resources each with Departments, Divisions and Partnership Projects.
The Departments of the Ministry which do not fall directly in the above include the Department of Agricultural Planning and Development, the Human Resource Department, the Department of Finance and Administration and the Department of Agricultural Infrastructure, Mechanisation and Water for Agricultural Production.
The Ministry is also made up of seven Agencies including the National Agricultural Research Organisation (NARO), the National Agricultural Advisory Services (NAADS), Cotton Development Organisation (CDO), Dairy Development Authority (DDA), Uganda Coffee Development Authority (UCDA) and Coordinating Office for the Control of Trypanosomiasis in Uganda (COCTU) and the National Animal Genetic Resources Centre and Databank (NAGRC&DB).
About the National Agricultural Research Organisation
The National Agricultural Research Organisation (NARO) is the apex body for guidance and coordination of all agricultural research activities in the national agricultural research system in Uganda. NARO is a Public Institution established by an act of Parliament, which was enacted on 21st November 2005.
NARO is a body corporate with perpetual succession and a common seal. NARO comprises of the council as its governing body, committees of the council as its specialised organs, a secretariat for its day-to-day operations with the semi-autonomous public agricultural research institutes under its policy guidance.
Headquarters: Entebbe, Uganda
Website: https://www.naro.go.ug/
About the Nabuin Zonal Agricultural Research and Development Institute
Nabuin Zonal Agricultural Research and Development Institute is one of the sixteen Public Agricultural Research Institutes under the National Agricultural Research Organization established by the NAR ACT (2005). The institute is mandated to conduct and manage applied and adaptive agricultural research and facilitate the development and dissemination of appropriate agricultural technologies that address the specific needs of the North Eastern dry land Agro-ecological zone of Teso and Karamoja. The zone comprises of 15 districts of Serere, Soroti, Kaberamaido, Ngora, Kumi, Bukedea,Amuria, Katakwi, Napak, Moroto, Nakapiripirit, Kotido, Abim, Kaabong, andAmudat. Nabuin ZARDI is located in Nakapiripirit district.
Following various reforms in Agricultural research, the National Agricultural Research Act 2005 re-established Nabuin as a semi-autonomous Zonal Agricultural Research and Development Institute(ZARDI) catering for the North-Eastern agro-ecological zone of Karamoja and Teso.
About the Food and Agriculture Organisation of the United Nations
The Food and Agriculture Organization of the United Nations (FAO) is s specialized agency of the United Nations with over 194 member states and working in over 130 countries worldwide, that leads international efforts to eradicate hunger. The FAO's goal is to achieve food security for all and make sure that people have regular access to enough high-quality food to lead active, healthy lives.
Headquarters: Rome, Italy
Website: www.fao.org/home/en/