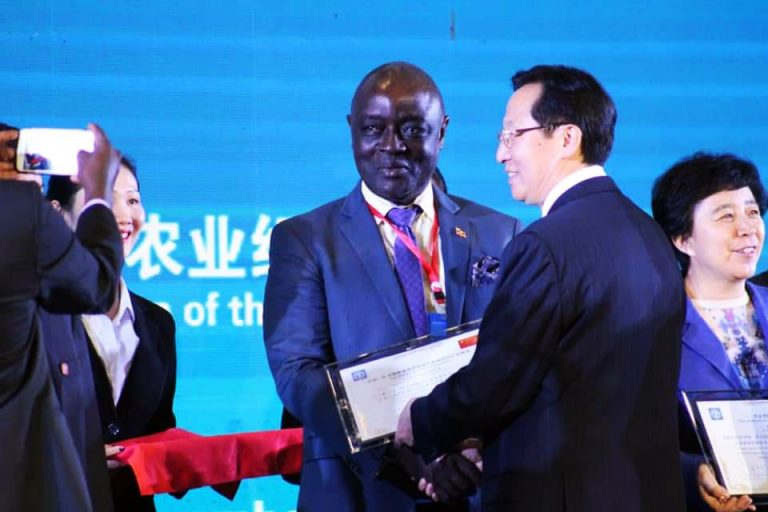 Private: Uganda Honored for Excellent Contribution to China South-South Cooperation Success
Uganda has been recognized and applauded for excelling in its contribution to the success of the FAO-China South -South Cooperation (SSC), a programme designed to improve food security through knowledge sharing. This was during the Ministerial Forum for Global South to South Cooperation held on 2nd November 2018 in Changsha city, Hunan Province of China. Hon. Vincent Sempijja, Minister of Agriculture, Animal Industry and Fisheries received the award from H.E. Hu Chunhua, Vice Premier of the People's Republic of China.
The Vice Premier informed representatives of governments and partners that for five years in a row now, China has produced 600 million tons of food with 50% of the land accounting for agricultural activities. He further mentioned that China has been able to lift its people out of poverty through agriculture, which he described as fundamental to the country's overall development.
In his opening remarks, the Chinese Minister of Agriculture & Rural Affairs, H.E. Han Changfu noted that over the years, China has been at the forefront of fighting food insecurity working with different agencies across the globe such as the Food and Agriculture Organization that was represented by their Director General, Jose Graziano De Silva.
Special recognition was given to Uganda's President, Yoweri Kaguta Museveni for his efforts to bridge household income gaps through agriculture and taking advantage of the South to South cooperation for the betterment of agriculture in the country; also citing contribution of 450 agricultural technologies across Africa among many others. It is worth noting that agricultural trade between China and Africa exceeded US$ 6billion in 2017, and Chinese enterprises had invested in 117 large-scale agricultural projects.
Looking ahead, China expects to underwrite the next chapter of the China South to South Cooperation by: promoting diverse partnerships with UN agencies to better utilize the South-South opportunities, human resource capacity development, creating an enabling environment through better governance among other initiatives. In his key note address, Hon Vincent Ssempijja, identified with the forum theme of "The 2030 Agenda for Sustainable Development: New Opportunities for Global South-South Cooperation in Agriculture" highlighting a chronology of partnerships between the People's Republic of China and Government of Uganda.
Among the achievements ensuing from these partnerships is: introduction of high yielding Chinese hybrid rice (10tons/ha), fox tail millet that are both high yielding, improved apple and mushroom agronomic practices for increased production and productivity, establishment of rice-fish culture for optimal utilization of water and land resources and enhanced mechanized livestock feed processing. This is in addition to the human capacity development that has become the norm in the partnership with 3,000 farmers trained and 80 technical staff trained.
"This cooperation has helped our farmers to produce and sell apples, mushrooms, Chinese hybrid rice, fish and milk which has contributed to ensuring food security and increased farmer incomes."
Food and Agriculture Organization Director General Jose Graziano da Silva, in his address observed that, "South-South Cooperation is an effective instrument for sharing knowledge and expertise; for exchanging experiences; and for engaging in policy dialogues. It offers horizontal cooperation between countries based on the concept of solidarity that breaks the traditional dichotomy between donors and recipient countries."
The Director General commended the Chinese government for the commitment to support sustainable agriculture and rural development in many countries through establishing Phase III of the FAO-China South-South Programme. Since 1996, FAO has been acting as a major facilitator of SSC, working with over 90 countries and mobilizing over USD 370m. The organization proposes to establish a new office at the headquarters in Rome to strengthen internal capacity and deepen focus on South-South and Triangular cooperation.
FAO and Uganda have a long history of cooperation. Under the SSC, FAO has encouraged knowledge sharing to improve productivity. Over 47 Chinese agricultural experts and technicians have extended support to Uganda's agricultural sector in addressing the skills gaps along specific crop, livestock and fisheries value chains. The recognition of Uganda for its significant contribution to the successful design and implementation of the SSC programme provides new impetus in the efforts to achieve food security and promote sustainable agricultural development in the country.
Notes for editors
Below are additional details for editors.
About the Ministry of Agriculture, Animal Industry and Fisheries (MAAIF)
The Ministry of Agriculture, Animal Industry and Fisheries is a Ministry in the Government of Uganda charged with creating an enabling environment in the Agricultural Sector.
The Ministry formulates, reviews and implement national policies, plans, strategies, regulations and standards and enforce laws, regulations and standards along the value chain of crops, livestock and fisheries.
Vision: A competitive, profitable and sustainable agricultural sector.
Mission: To transform subsistence farming to commercial agriculture.
See strategic objectives here.
See Agriculture Sector Strategic Plan here.
The Ministry of Agriculture, Animal Industry and Fisheries (MAAIF) is made up of four Directorates including the Directorate of Crop Resources, Directorate of Animal Resources, Directorate of Agricultural Extension Services and the Directorate of Fisheries Resources each with Departments, Divisions and Partnership Projects.
The Departments of the Ministry which do not fall directly in the above include the Department of Agricultural Planning and Development, the Human Resource Department, the Department of Finance and Administration and the Department of Agricultural Infrastructure, Mechanisation and Water for Agricultural Production.
The Ministry is also made up of seven Agencies including the National Agricultural Research Organisation (NARO), the National Agricultural Advisory Services (NAADS), Cotton Development Organisation (CDO), Dairy Development Authority (DDA), Uganda Coffee Development Authority (UCDA) and Coordinating Office for the Control of Trypanosomiasis in Uganda (COCTU) and the National Animal Genetic Resources Centre and Databank (NAGRC&DB).
About the South to South Cooperation projects and Partnership with the People's Republic of China 
China has made significant contributions to Uganda's Agricultural sector development including provision of project aid to Uganda in form of interest-free loans and grants. Notable ones include the Kibimba and Doho rice schemes, Wakawaka Fish landing site, Kajjansi Aquaculture Training Centre, Hydropower Stations and Road Construction. Trade has included leather, coffee, fish and food products among others.
The Ministry of Agriculture Animal Industry and Fisheries has received partnership support and continues to closely with mainly two provinces of the People's Republic of China namely Sichuan and the Hunan Provinces.
The Government of the Republic of Uganda signed a Tripartite Agreement between the Food and Agriculture Organization (FAO) of the United Nations and the Sichuan Province of the Government of the Peoples Republic of China on 8th December 2011. This partnership resulted into a project entitled "Technical Assistance under the South-South Cooperation (SSC). The project which started in 2012 and ended in 2014 focussed on capacity-building, technology transfer, and promotion of trade and investment between the two countries. The project made tremendous achievements that included improved production of apples, hybrid rice, foxtail millet, mushrooms, livestock feeds, and Fish farming.
In order to up-scale the achievements attained during the first phase, the project has been extended to Phase 2. The second phase of this project intends to promote technologies in the 5 key areas of Horticulture, Cereals, Livestock, Fish and Cross-cutting issues such as agribusiness, value addition, renewable energy and agro-machinery. This will be achieved through 5 technology hubs that are to be established throughout the country.
The Government of the Republic of Uganda has also initiated another economic cooperation with the Hunan Province of the People's Republic of China on recommendation by His Excellency the President of the Republic of Uganda. The Ugandan Embassy in Beijing and Department of Commerce of Hunan Province, on September, 23 2018 held a partnership building workshop and signed Agreed Minutes for developing Economic and Trade Cooperation.
This Cooperation shall focus on investments to boost commercial production, processing and marketing of Coffee, Cassava, Rice, Soy bean, Sesame, Honey, Beef, Tropical fruits, Dairy Products, Fish, Cotton, Chia and Macadamia. An agreement to support agricultural research to boost provision of quality and highly-productive seed and planting materials as well as the production of vaccines, pesticides and acaricides has been arrived at.
A number of exploratory missions and workshops have been conducted in Uganda and China. Resulting from these engagements, both countries have agreed to focus investment on boosting commercial production, processing and marketing of Coffee, Cassava, Rice, Soy bean, Sesame, Honey, Beef, Tropical fruits, Dairy Products, Fish, Cotton, Chia, Macadamia. The two countries also agreed to support agricultural research with the aim of boosting provision of quality and highly-productive seed and planting materials as well as production of vaccines and pesticides including acaricides.
Since the beginning of this partnership, Uganda has also hosted more than 20 high level delegations from China and Food and Agriculture Organization (FAO) focusing on the South-South Cooperation including Agricultural Trade and Investment.
In June this year, the Governor of Hunan Province visited Uganda and met with the Right Honourable Prime Minister on recommendation by His Excellency the President to explore areas of collaboration and a Memorandum of Understanding to support agriculture sector was signed.