Desert Locust Control Boosted with 50,000 Litres of Pesticide from Bayer
Entebbe, 7th August 2020. The Inter-Ministerial Task Force for Desert Locust Control has been represented by MAAIF Permanent Secretary Mr. Pius Wakabi Kasajja and Mr. Stephen Byantwale the Commissioner for Crop Protection in receiving 50,000 litres of pesticide for Desert Locust Control from Bayer Crop Science.
The pesticide which was received at the Entebbe International Airport is Deltamethrin 12.5 Ultra Low Volume which will reinforce aerial and terrestrial spraying. An official handover and dispatch of these consignments for control of Desert Locusts will take place later this month.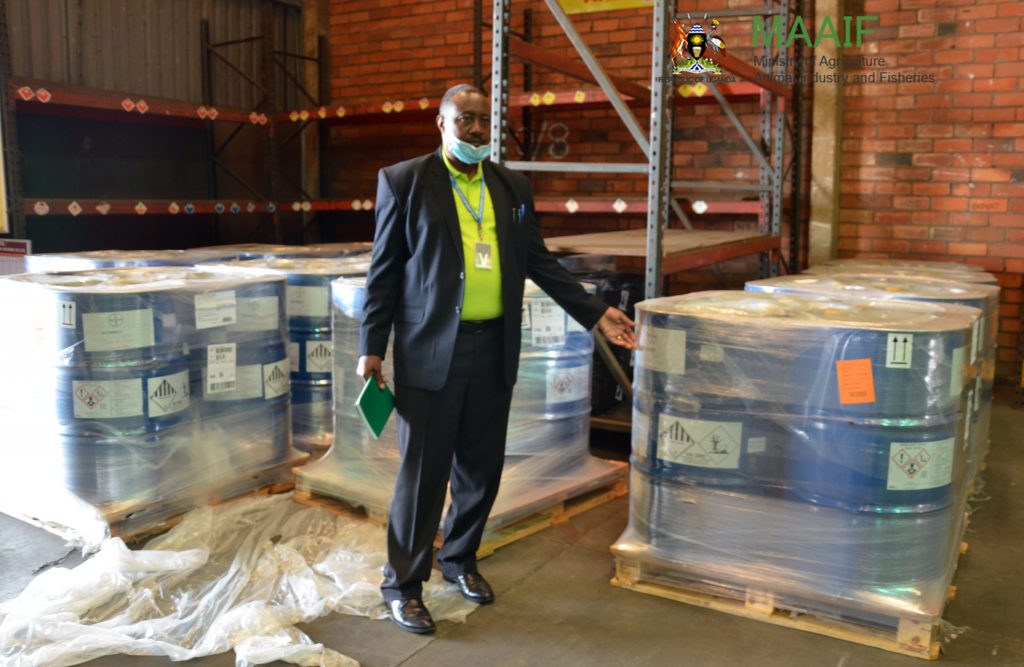 Bayer Locust Control Support for East Africa
In a bid to support Kenya and Uganda in the control of Desert Locust Invasions, Bayer International is providing a total of 170,000 liters of Deltamethrin Ultra Low Volume Pesticide to the two countries.
From the 170,000 liters , Uganda is receiving 50,000 litres and Kenya, 120,000 litres.
Delivery of the Consignment and Unique Qualities of the Pesticide
Spread of Previous Desert Locust Invasions in Uganda
From the onset of the waves of Desert Locust Invasions, the Task Force which is coordinated by the Office of the Prime Minister and led by the Ministry of Agriculture, Animal Industry and Fisheries instituted a Surveillance team.
The Surveillance Team is made up of Crop Protection Experts from the Ministry, Officers from the Uganda People"s Defence Forces (UPDF), Entomologists from the National Agricultural Research Organisation, Researchers from the FAO and Sector Officials from Districts including Extension Officers.
The team develops these maps with support from Geo-Information System Specialists from the Ministry of Agriculture, Animal Industry and Fisheries to highlight invasions and their spread.
As the Commissioner for Crop Protection explains in the clip below the maps, Uganda has received 4 major invasions since January 2020.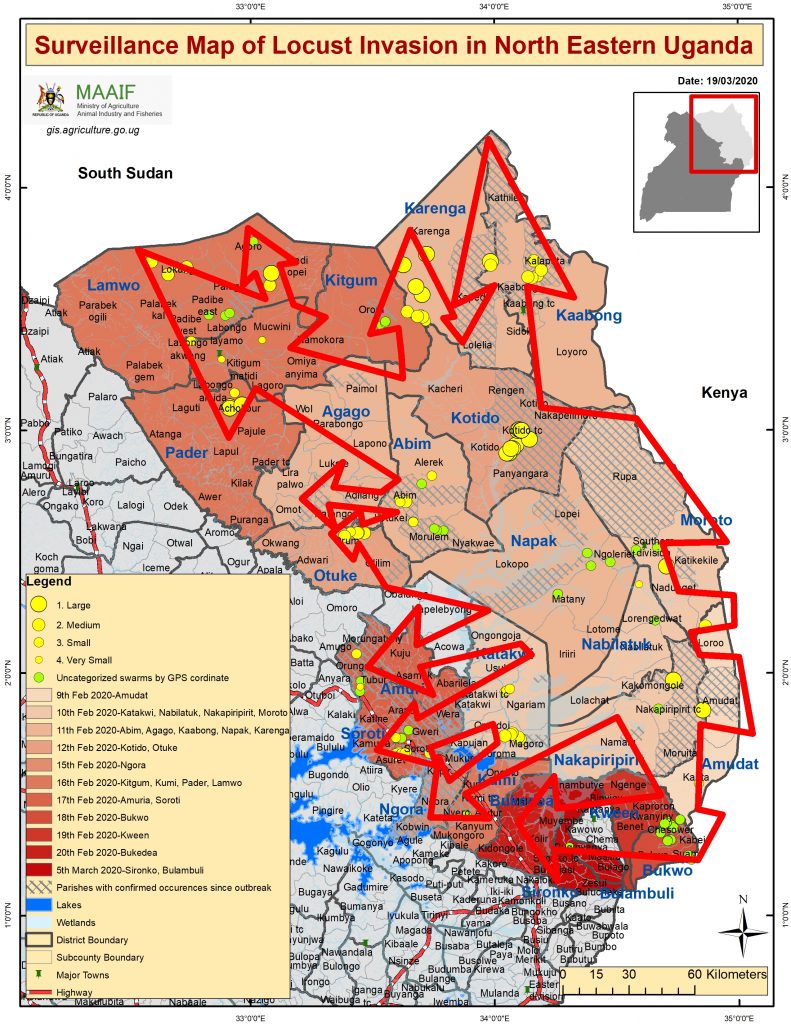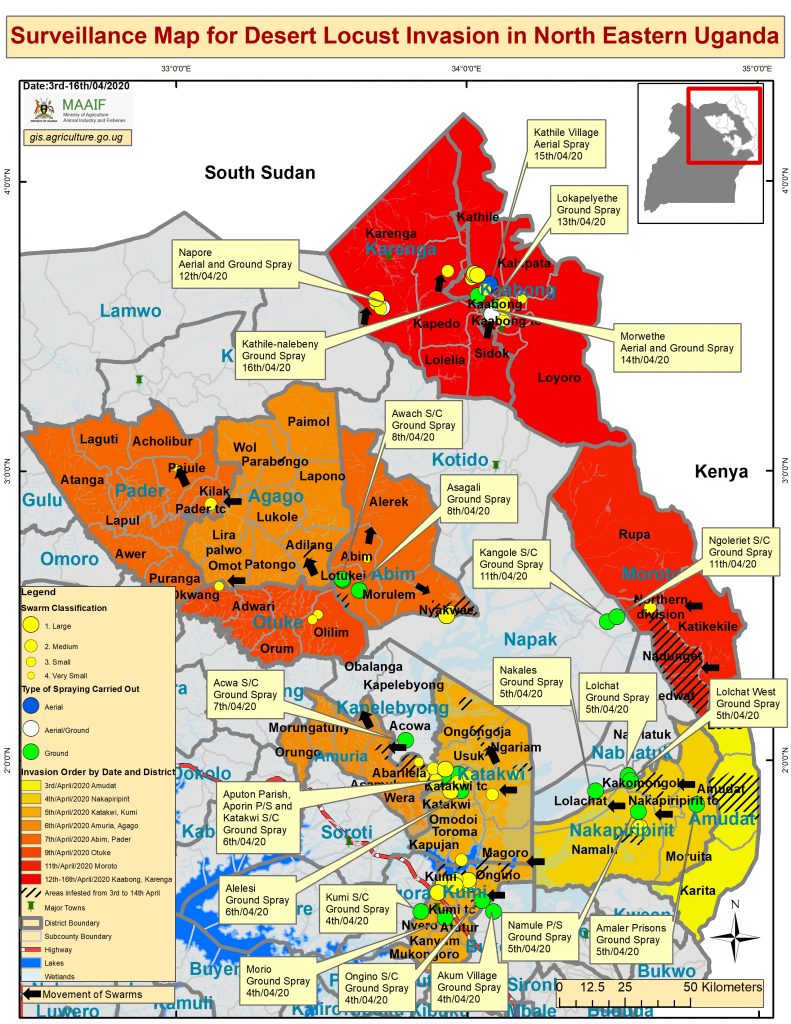 The Pesticide
As described by Cornel Research, Deltamethrin is a pyrethroid insecticide that kills insects, including Desert Locusts, on contact and through digestion. It is used to control apple and pear suckers, plum fruit moth, caterpillars on brassicas, pea moth, aphids (apples, plums, hops), winter moth (apples and plums), codling and tortrix moths (apples).
It is also effective in the control of aphids, mealy bugs, scale insects, and whitefly on glasshouse cucumbers, tomatoes, peppers, potted plants, and ornamentals.
It also controls numerous insect pests of field crops. Formulations include emulsifiable concentrates, wettable powders, ULV and flowable formulations and granules. There are no known incompatibilities with other common insecticides and fungicides.
Deltamethrin is a synthetic insecticide based structurally on natural pyrethrins, which rapidly paralyze the insect nervous system giving a quick knockdown effect. Deltamethrin has a rapidly disabling effect on feeding insects and for this reason there is hope that it may be useful to control the vectors of "non-persistent" viruses (viruses that can be passed on by the vector within a few minutes of starting to feed on the plant). Deltamethrin's mode of action is thought to be mainly central in action, or at least originate in higher nerve centers of the brain. Death of insects seems to be due to irreversible damage to the nervous system occurring when poisoning lasts more than a few hours. Deltamethrin poisoning occurs through cuticular penetration or oral uptake. The susceptibility of insects is dependent on a variety of factors and can vary, as with many insecticides, according to the environmental conditions. Flies are most susceptible to pyrethroid poisoning shortly before dawn.
The LD50 drops by the factor of 2 as compared to full daylight activity.
Many pyrethroids are not very active against cattle ticks, but some alpha cyano compounds (of which deltamethrin is one) have higher activity than organophosphates or amidines, the former standard compounds for this purpose. Deltamethrin has very good residual activity for outdoor uses (field crops, cattle dip, tsetse) and for indoor uses (mosquitoes, stable flies, horsefiles, fleas, cockroaches, stored product insects). Deltamethrin has very broad spectrum control. It is considered the most powerful of the synthetic pyrethroids. It is up to three orders more active than some pyrethroids
Notes for editors
About the Ministry of Agriculture, Animal Industry and Fisheries (MAAIF)
The Ministry of Agriculture, Animal Industry and Fisheries is a Ministry in the Government of Uganda charged with creating an enabling environment in the Agricultural Sector.
The Ministry formulates, reviews and implement national policies, plans, strategies, regulations and standards and enforce laws, regulations and standards along the value chain of crops, livestock and fisheries.
Vision: A competitive, profitable and sustainable agricultural sector.
Mission: To transform subsistence farming to commercial agriculture.
Strategic Objectives
To initiate the formulation and review of the policy and legal framework for the sector
To establish and implement systems for service provision in the sector
To strengthen and implement strategies, regulatory framework, standards, institutional structures and infrastructure for quality assurance and increased quantities of agricultural products to access and sustain local, regional and export markets
To design and implement sustainable capacity building programmes for stakeholders in the agricultural sector through training, re-tooling, infrastructure, provision of logistics and ICT
To develop strategies for sustainable food security
To develop appropriate agricultural technologies for improved agricultural production, productivity and value addition through research
To develop effective collaborative mechanisms with affiliated institutions and
To take lead and establish a system and institutional framework for agricultural data collection, analyses, storage and dissemination to stakeholders including Uganda Bureau of Statistics.
The Ministry of Agriculture, Animal Industry and Fisheries (MAAIF) is made up of four Directorates including the Directorate of Crop Resources, Directorate of Animal Resources, Directorate of Agricultural Extension Services and the Directorate of Fisheries Resources each with Departments, Divisions and Partnership Projects.
The Departments of the Ministry which do not fall directly in the above include the Department of Agricultural Planning and Development, the Human Resource Department, the Department of Finance and Administration and the Department of Agricultural Infrastructure, Mechanisation and Water for Agricultural Production.
The Ministry is also made up of seven Agencies including the National Agricultural Research Organisation (NARO), the National Agricultural Advisory Services (NAADS), Cotton Development Organisation (CDO), Dairy Development Authority (DDA), Uganda Coffee Development Authority (UCDA) and Coordinating Office for the Control of Trypanosomiasis in Uganda (COCTU) and the National Animal Genetic Resources Centre and Databank (NAGRC&DB).
About Desert Locust Control in Uganda