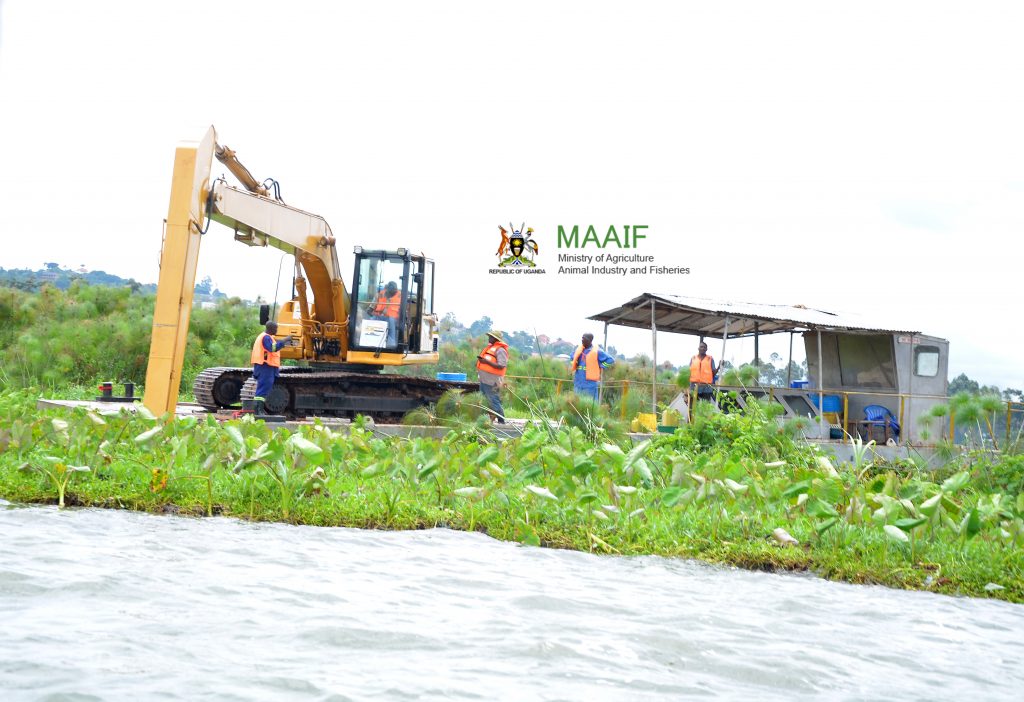 Brief on Ongoing Weed/Floating Island Control Measures on Lake Victoria
Port Bell, 27th April 2020. In the wake of weed/floating island occurrences on Lake Victoria and Lake Kyoga, a Committee was constituted by Top Policy Management of the Ministry of Agriculture Animal Industry and Fisheries.
The sub-committee on surveillance and reporting, as constituted by Mr. Pius Wakabi Kasajja the MAAIF Permanent Secretary.
Below is the inaugural report of the committee:
The rise in water levels has increased the magnitude of floating weeds some of them in floating island form commonly called suds affecting hydropower dams, bridges and landing site infrastructure including houses and this is an emergency.
Through a multi-sectoral approach by Government Ministries, Departments and Agencies led by Ministry of Works and Transport and including, Ministry of Water and Environment, Uganda Peoples Defence Force, MAAIF, NEMA, Ministry of Energy and Mineral Development and others, the problem at the Nalubale dam is solved. However, a bigger problem still remains as many floating islands are roaming in weed hot spot areas of Murchison Bay (Gaba and Portbel areas), Bunjako Bay (Mpigi/Kalungu), Sango Bay and River Kagera (Kyotera), Fielding and Thruston Bays (Jinja/Mayuga). This pauses a threat of reinfection.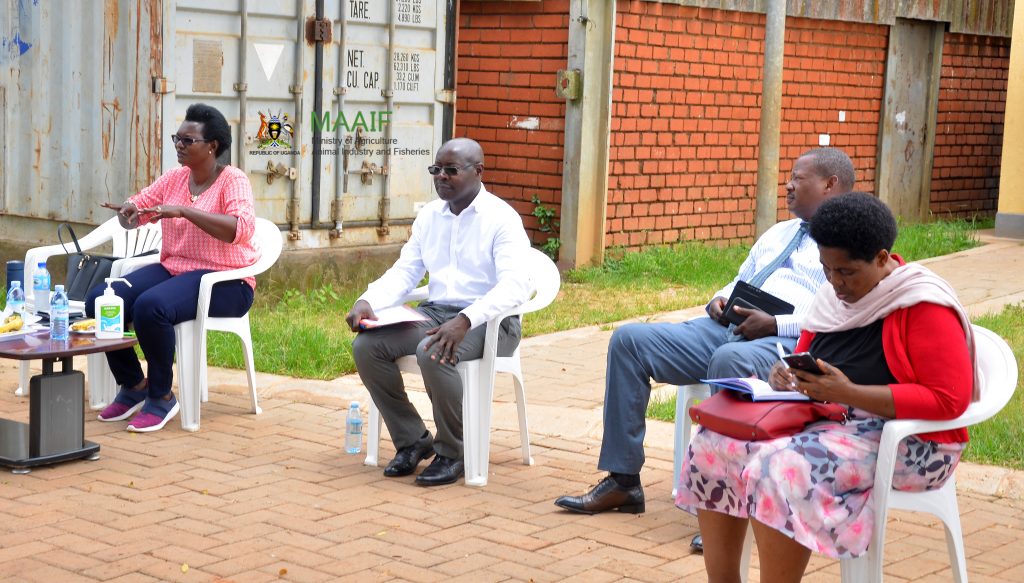 In order to sustainably avert the weed/suds problem, MAAIF has designed an operational plan linked to the national intervention plans and with the following control strategies in place:
The equipment that had been deployed at the Nalubale Dam (Two Long Arm Excavator – 17 m long, three – two Tons Dump Trucks, two self-loading trucks, one Barge and one Fisheries Research Vessel have been maintained at site assisted by one ferry from Ministry of Works and Transport for emergency as they also harvest any remains or those weeds that may flow towards the dam;
Equipment has been deployed at Port bell (Two barges, one harvester, one ferry, one excavator and two self-loading trucks) to harvest existing weed masses at Port bell landing site and breaking the floating weeds into small masses that are not a threat in case of escape to the dam or moving to landing sites. Operation at this site is to be beefed up with one more ferry from Ministry of Works and Transport and hence one more excavator and more self-loading and dump trucks
Three drone based aerial surveys have been conducted in Murchison Bay to keep a close watch on the floating islands movements and guide machine deployment to right targets;
Partnership has been initiated for UPDF Marines to deploy small teams at strategic points along the route from Portbell/Gaba to Jinja for purposes of surveillance and also protecting staff and machines during operations and surveillance/monitoring. More stakeholders to be engaged.
The challenge ahead lies upstream the dam, with Lake Kyoga already affected with many heavy floating weed mats on top of Kariba weed. The following interventions are required.
MAAIF working with other stakeholders will undertake surveillance and monitoring on Lake Kyoga to ascertain the current abundance and distribution of the weed mats with a view of unblocking the blockage and dredging the lake in future.
The equipment on Lake Kyoga (Kokooge and Moone landing sites) is to be fully maintained and operationalized to harvest the suds as was the case in the 1998-2000 blockage.
Multi-sectoral teams/sub-committees in place to be strengthened to synergise and develop a comprehensive strategy for Lake Kyoga Aquatic weed management.
The long term solution lies with dredging Lake Kyoga and removing the floating weeds to levels that do not pause any negative environmental and socioeconomic impacts.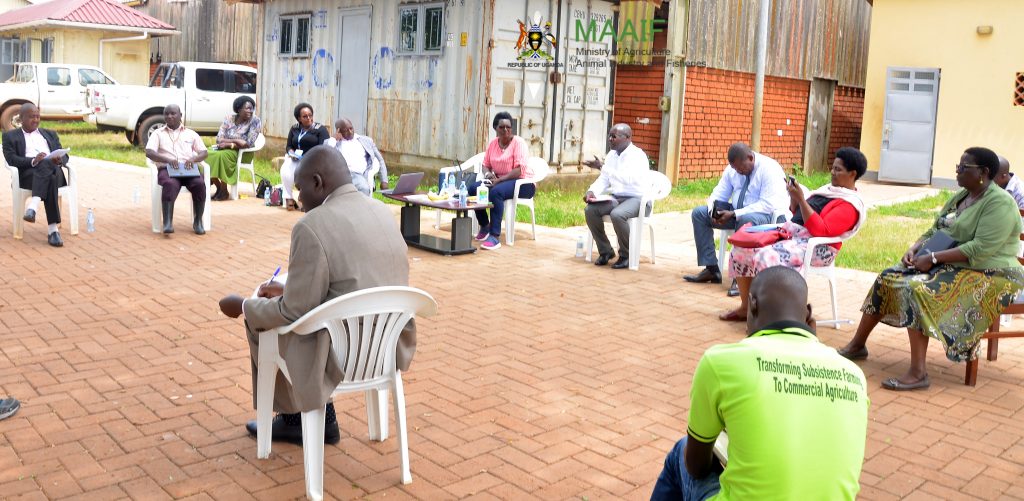 Notes for editors
About the Ministry of Agriculture, Animal Industry and Fisheries (MAAIF)
The Ministry of Agriculture, Animal Industry and Fisheries is a Ministry in the Government of Uganda charged with creating an enabling environment in the Agricultural Sector.
The Ministry formulates, reviews and implement national policies, plans, strategies, regulations and standards and enforce laws, regulations and standards along the value chain of crops, livestock and fisheries.
Vision: A competitive, profitable and sustainable agricultural sector.
Mission: To transform subsistence farming to commercial agriculture.
Strategic Objectives
To initiate the formulation and review of the policy and legal framework for the sector
To establish and implement systems for service provision in the sector
To strengthen and implement strategies, regulatory framework, standards, institutional structures and infrastructure for quality assurance and increased quantities of agricultural products to access and sustain local, regional and export markets
To design and implement sustainable capacity building programmes for stakeholders in the agricultural sector through training, re-tooling, infrastructure, provision of logistics and ICT
To develop strategies for sustainable food security
To develop appropriate agricultural technologies for improved agricultural production, productivity and value addition through research
To develop effective collaborative mechanisms with affiliated institutions and
To take lead and establish a system and institutional framework for agricultural data collection, analyses, storage and dissemination to stakeholders including Uganda Bureau of Statistics.
The Ministry of Agriculture, Animal Industry and Fisheries (MAAIF) is made up of four Directorates including the Directorate of Crop Resources, Directorate of Animal Resources, Directorate of Agricultural Extension Services and the Directorate of Fisheries Resources each with Departments, Divisions and Partnership Projects.
The Departments of the Ministry which do not fall directly in the above include the Department of Agricultural Planning and Development, the Human Resource Department, the Department of Finance and Administration and the Department of Agricultural Infrastructure, Mechanisation and Water for Agricultural Production.
The Ministry is also made up of seven Agencies including the National Agricultural Research Organisation (NARO), the National Agricultural Advisory Services (NAADS), Cotton Development Organisation (CDO), Dairy Development Authority (DDA), Uganda Coffee Development Authority (UCDA) and Coordinating Office for the Control of Trypanosomiasis in Uganda (COCTU) and the National Animal Genetic Resources Centre and Databank (NAGRC&DB).