Oil Palm Pathway To Buvuma Transformation-MP Migadde
First of all, we want to thank the Government of Uganda because it reached an agreement and acquired a loan for oil palm development. Despite the fact that this will be paid back by Ugandans, the most important issue is that our Government took a risk to invest in transforming the livelihoods of the people of Buvuma. We should agree, we have come from far but today we are able to see the oil palm seedlings that were raised at the nursery. We have seen those oil palm seedlings being planted in the nucleus estate. We have hope that our people who had lost jobs from the lake are going to get employed; although many have already gotten jobs. It has been a long time and actually many thought this project will not kick off. Many projects fail because of political interference and likewise for Buvuma in the early stages we had the same. Fortunately elections are gone and we must help our people earn income.
It should be noted that any leader who does not help his/her people to earn an income, is not a good leader and is a bigger problem to the society than poverty its self. So for us as area political leaders, this project is welcomed with open arms and will be supported at all costs. Oil Palm Project in Buvuma has many benefits; our people are going to get jobs because the lake is depleted and actually many are stranded in the islands. I have been receiving calls from residents asking if they could get some jobs in the plantations. Even when the plantations are not yet ready, many have also asked if they can work in the nursery. This is already employing hundreds of our people. So, this project brings hope of good life because people are unemployed, because the lake is too depleted. We don't have any single sector where 5000 people are employed in Buvuma; so the direction we are taking we expect to have over 5000 people earning an income and a monthly salary. If someone is earning a monthly income then your children cannot fail to go school because you know how much you earn determines which school you take your child so at the end of the day salary will come. So even those who never went to school are going to earn salary, which is not the case in the lake. In the lake, it's a matter of chance . You just use probabilities of a good catch; tomorrow your nets are stolen, the other day other related problems, which is not the case with oil palm crop. Oil Palm cannot be stolen so this is better income and there are multiplier effects such as roads, a new ferry, electricity, banks and so on that come with oil palm planting. So, I think we are moving in the right direction and I request the people of Buvuma to embrace this project. Politics shouldn't interfere. We want everyone to benefit, even those who are not working at the plantation to benefit, those who have land will have to produce food and it will be quite expensive because it will not be a lot because others surrendered their land to the project but by the end of the day everyone will have benefitted. So we welcome the project and we don't want political interference in implementation of this project.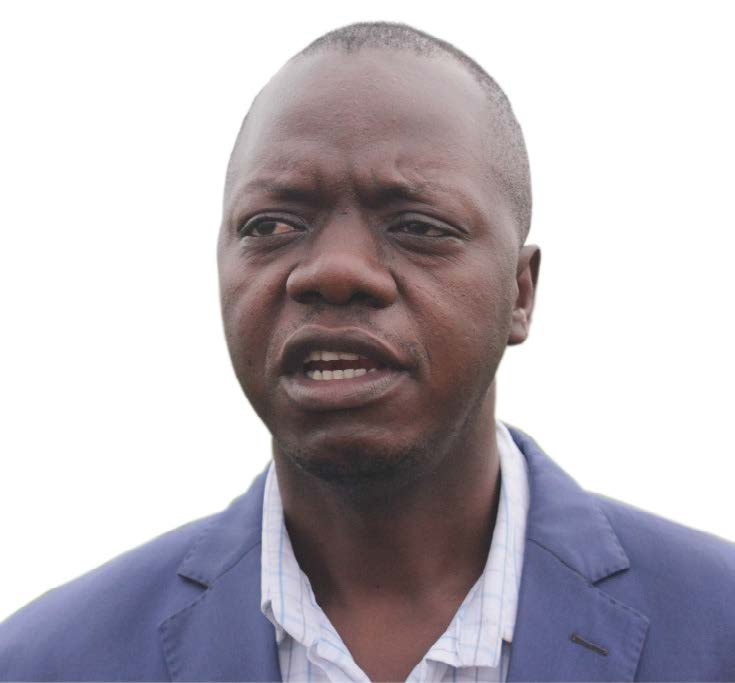 However, it should be noted that this project has already been embraced by the people of Buvuma. Where you see oil palm on the nucleus estate, it is not established by force. You can not find people unhappy. Previously people were complaining of their land but the fact is that land acquisition was not forceful. We used the principle of willing buyer willing seller. Many people have expressed the desire to give out land for the nucleus estate oil palm plantations. However, we are now encouraging and calling upon them to become smallholders. In that, if you have 10acres, there is what we call five acre model. You get a loan from Government (Government already acquired a the loan) and with this loan, you are able to obtain oil palm seedling, fertilizers, cash for maintaining the oil palm gardens then technical assistance upon harvest, smallholder oil palm farmers will start paying back using income from their monthly sales.
What we want to ask people is that if you remained with over 10 acres, five acres can be used to grow oil palm and five acres can be used to grow other food crops. But the money you get from the oil palm does not hinder you to get land else where because land is not finished. For instance if you are able to get 400,000 UGX per acre per month and you over five acres that means that you will have gotten over 2 million. Get somewhere and buy a piece of land. You have a benefit out of the project. That is what we tell people that we don't have the same problem as that in the sugar cane sector where most people use the money they benefited from sugarcane plantations to marry other women. We are also asking the people that as soon as you have started harvesting you shouldn't be over excited. Foristance some people who have 10cares are only supposed to give out only five but instead they rush to register the other five acres in the different names so that they sell off and get money. This is excitement. So we are calling upon the people not be excited and also remain with land that can be used to grow other food crops because will also be needed.
I am glad that the smallholders haven't started but we want to harvest at the same period but we don't want to have the burden of cultivating the small holders' gardens put on BIDCO. We have the Mechanization department at the Ministry of Agriculture and they can give us a bulldozer. This project brings great hope. People call us from other islands like the Lubya islands. Others have also come up to request jobs of being small holders. That means people have embraced it and have put politics aside, and I want to thank the people of Buvuma .Where politics is, projects fail We've heard about Atiak. But in Buvuma, people have to come together as one for the project to thrive successfully. Some of the other benefits we expect is another ferry, the one we have is old and at times people are not able to travel. We expect roads and electricity, but the most important is that most of our people don't get salary, many are going to start getting salary. Any one that gets salary is able to plan for it and also be able to educate a child. "Oil Palm Project in Buvuma has many benefits, our people are going to get opportunities because the lake is depleted and actually many are stranded in the islands." Miggade