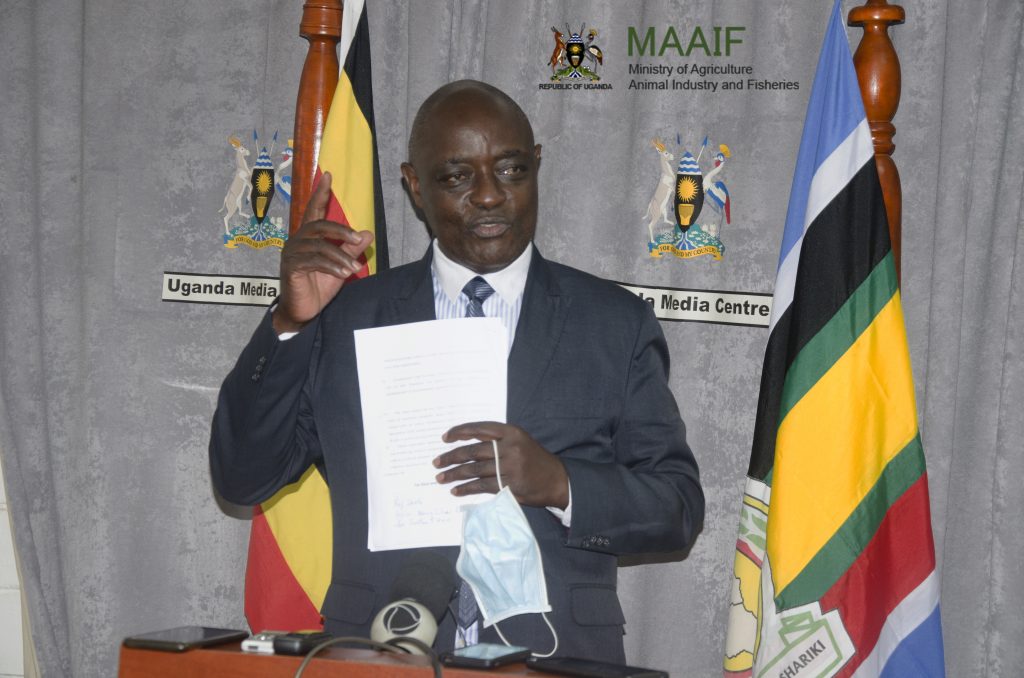 Kampala, 4th December 2020. The Honourable Vincent Bamulangaki Ssempijja the Minister for Agriculture, Animal Industry and Fisheries presented an official World Soil Day message at the Uganda Media Center.
Below is an excerpt of the official statement.
Today, the 5th of December 2020, Uganda will join the rest of the world to commemorate the World Soil Day.
Soil is a critical component of the natural system which is a vital asset for human livelihood. It is a principal medium for plant and crop growth through provision of support to roots, essential nutrients, moisture, gaseous exchange between roots and atmosphere and protection of crops from destructive physical, biological and chemical activity. It also offers other ecological functions which include: Habitat for a wide range of organisms, Filtration system for surface water, Carbon storage and maintenance of atmospheric gases. However, despite its fundamental importance, the soil resource is threatened by widespread degradation through misuse. Productive soil has living and non- living elements which reduce the quality of the resource if mishandled.
Recognizing the serious dangers on the soil resources in the World, the International Union of Soil Sciences (IUSS) and the United Nations Food and Agricultural Organization (FAO) initiated awareness raising campaigns against soil degradation at Global, Regional, National and Local levels in 2002.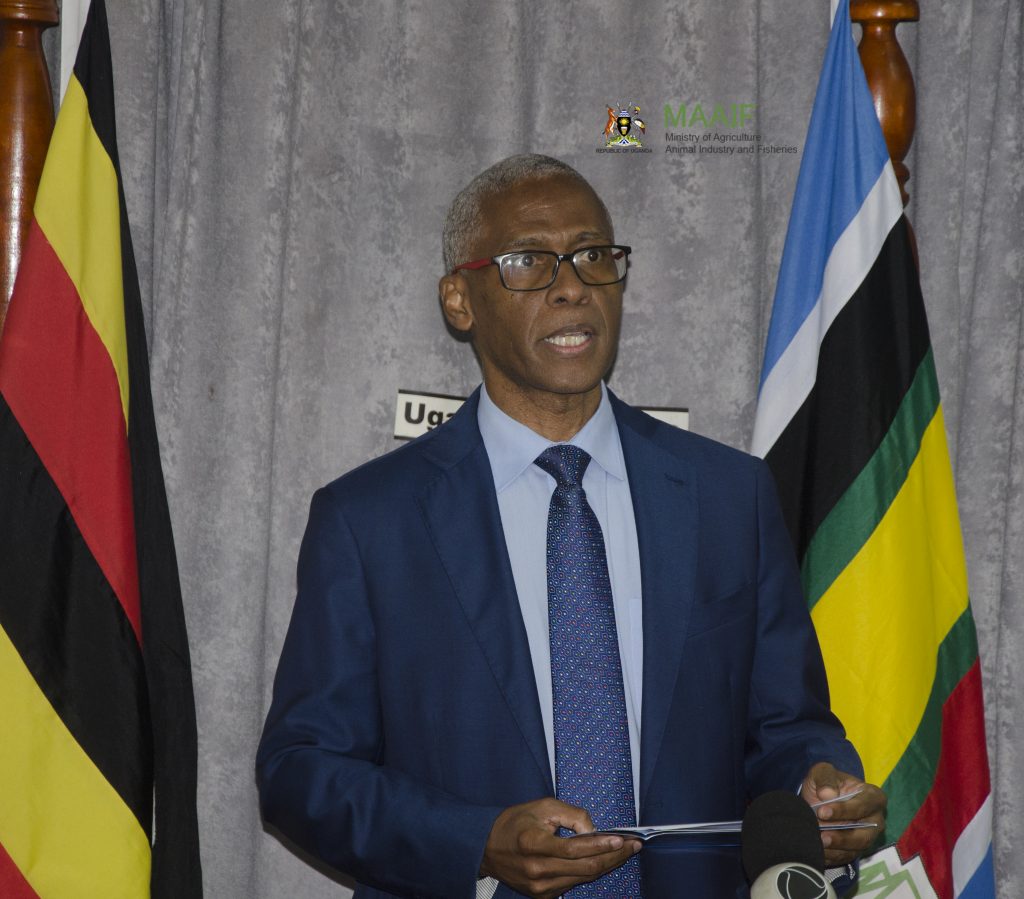 Subsequently, the IUSS adopted a resolution proposing the 5th of December as World Soil Day to celebrate the importance of soil in human life. The Food and Agricultural organization (FAO) of the United Nations supported the formal establishment of World Soil Day primarily as a global awareness raising platform.
In June 2013, FAO conference unanimously endorsed World Soil Day and advocated for its official adoption by United Nations (UN). In December 2013, the 68th UN General Assembly declared 5th December as the World Soil Day.
Since 2014, the World Soil Day has been commemorated with a different theme each year. In 2015, the theme was "Healthy Soils for Healthy Life ". In 2016, it was "Soils and Pulses: Symbiosis for Life". In 2017, it was "Caring for the Planet starts from the Ground". In 2018, it was "Be the Solution to Soil Pollution". In 2019 it was "Stop Soil Erosion, Save our Future."
Despite the capacity of soils to provide these services, however, the resource is being severely eroded due to rampant degradation. It is estimated that over 33% of the soils are degraded globally. Consequently, over 820 million people are food insecure and 2 billion (26% of the world population) are affected by malnutrition.
Africa is endowed with vast arable land compared to other continents. However, due to diminishing soil productivity, her Agricultural Domestic Product lies between 2% to 3% only. Such a scenario compelled African Heads of State to ascend to the Abuja Declaration in 2006. The Abuja summit called on individual countries to increase fertilizer use from 8 to 50kg per hectare per year.
Uganda's soils have always been taken for granted, yet the country has some of the oldest and highly weathered soils whose productivity is low. Farmers' yields are far below potential compared to research stations. Areas like Rakai, Kayunga, Iganga, Bugiri, Tororo, kumi have been observed to be producing with Negative Nutrient Balances. Continued cultivation of such soils without fertility enhancing technologies does not guarantee sustainability of agricultural production.
Some Districts in Eastern Uganda are infested by Striga (Kayongo in Lusoga). This notorious invasive weed is an indicator of low soil fertility. Besides fertility decline, Soil degradation in Uganda is also being experienced through Soil Erosion, Excessive Compaction, Acidification and Salinization.
This year, the World Soil Day is being commemorated with a theme: ''keep soil alive, protect soil biodiversity''.
It aims at raising awareness of the importance of maintaining healthy ecosystems and human well-being by addressing the growing challenges in soil management. This theme comes at a time when soil pollution in Uganda is getting severe in many parts of the country. Use of Plastics in Uganda ranging between 300-1000 gauge polypots and polysheet, nylon fiber nets, plastic bottles and carrybags is a problem with no proper and well organized disposal mechanisms all end up in soil and water bodies as a sink.
Agro chemicals on especially floriculture and horticulture industry is critical especially those grown in wetland thus polluting water bodies and soil
Fertiliser use although estimated to be low has increased of late.
This year's theme reminds us of our noble responsibility to protect the soil from the major causes of degradation-Soil pollution. Remember ''soil is wealth and therefore a need to judicious protect it''
Government is committed to reversing soil degradation in order to achieve sustainable agricultural production. Through my Ministry, Government approved the National Fertilizer Policy (2016) and the National Organic Policy (2019) to provide direction to Agricultural productivity improvement through use of fertility enhancing technologies from both Inorganic and organic sources, as well as soil management.
Government has also attracted many investments in fertilizer manufacturing and blending such as Guanzhou Dongsong Energy Group at Sukuru in Tororo and Grain Pulse at Rwanyonyi in Mukono. I appeal to all farmers and users of soil to take advantage of the enabling environment established by government to manage and utilize our soils for posterity.
My Ministry has also strengthened the Soil and Water Conservation Division in the Department of Agricultural Infrastructure, Mechanisation and Water for Agricultural Production (DAIMWAP) by recruiting staff to handle soil and water issues at National and Local levels.
Collaborative efforts with our partners have delivered on proven sustainable land management practices and Climate Smart Agricultural Practices. Plans are underway to scale up the identified best practices in soil and water conservation and fertility management. More awareness programs on the proper use of our soils are required from both Government and Non-Government actors.
Government appreciates the work of Soil Scientists at Makerere University and other Universities for inventing a soil testing kit which can be used to rapidly determine the fertility status of a given soil. Such Innovations need to be scaled up and popularized among farmers.
There has also been general improvement in fertilizer use in the country from 1 to 3kg per hectare per year, on average. This is still abysmally small and it cannot enable us to realize our target of attaining 20 million- 60kg bags of coffee by the year-2020.
The stakeholders in Uganda of a Global ended Project Conservation and Sustainable Management of Below Ground Biodiversity (CSM-BGBD) founded by CIAT-TSBF, hosted by Makerere University recommended for the establishment of a Uganda Soil Institute.
I take this opportunity to thank Busitema University that has offered to host the Uganda Soils Institute.
Once the institute is fully established, it will serve as a one stop center for adaptive soil research, skilling of especially the women and youths through tailor-made capacity building programs, outreach programs to practically disseminate improved soil management technologies, soil information and innovations and lobby and advocate so that soil the ''motherboard of human livelihoods'' is Accorded the Prominence and Importance it Deserves. The institute will also implement the National Soil Policy which is under development by my Ministry and other stakeholders.
Government calls for more initiatives towards sustainable use of soils. Therefore, my Ministry strongly supports the establishment of the proposed Uganda Soils Institute.
Notes for editors
About the Ministry of Agriculture, Animal Industry and Fisheries (MAAIF)
The Ministry of Agriculture, Animal Industry and Fisheries is a Ministry in the Government of Uganda charged with creating an enabling environment in the Agricultural Sector.
The Ministry formulates, reviews and implement national policies, plans, strategies, regulations and standards and enforce laws, regulations and standards along the value chain of crops, livestock and fisheries.
Vision: A competitive, profitable and sustainable agricultural sector.
Mission: To transform subsistence farming to commercial agriculture.
Strategic Objectives
To initiate the formulation and review of the policy and legal framework for the sector
To establish and implement systems for service provision in the sector
To strengthen and implement strategies, regulatory framework, standards, institutional structures and infrastructure for quality assurance and increased quantities of agricultural products to access and sustain local, regional and export markets
To design and implement sustainable capacity building programmes for stakeholders in the agricultural sector through training, re-tooling, infrastructure, provision of logistics and ICT
To develop strategies for sustainable food security
To develop appropriate agricultural technologies for improved agricultural production, productivity and value addition through research
To develop effective collaborative mechanisms with affiliated institutions and
To take lead and establish a system and institutional framework for agricultural data collection, analyses, storage and dissemination to stakeholders including Uganda Bureau of Statistics.
The Ministry of Agriculture, Animal Industry and Fisheries (MAAIF) is made up of four Directorates including the Directorate of Crop Resources, Directorate of Animal Resources, Directorate of Agricultural Extension Services and the Directorate of Fisheries Resources each with Departments, Divisions and Partnership Projects.
The Departments of the Ministry which do not fall directly in the above include the Department of Agricultural Planning and Development, the Human Resource Department, the Department of Finance and Administration and the Department of Agricultural Infrastructure, Mechanisation and Water for Agricultural Production.
The Ministry is also made up of seven Agencies including the National Agricultural Research Organisation (NARO), the National Agricultural Advisory Services (NAADS), Cotton Development Organisation (CDO), Dairy Development Authority (DDA), Uganda Coffee Development Authority (UCDA) and Coordinating Office for the Control of Trypanosomiasis in Uganda (COCTU) and the National Animal Genetic Resources Centre and Databank (NAGRC&DB).
The main events for this Year's celebrations have been held at Busitema University, Busia District. The celebrations stated with an online conference which took place on 3rd December 2020, where imminent soil scientists discussed issues of soils, in particular soil pollution and sustainable use of soils.
Fellow Ugandans, National Resistance Movement (NRM) has made big stride in modernizing Agriculture and protecting soils as a critical element let's join hands and strive to stop Soil Pollution and Save Life.
I thank you all.