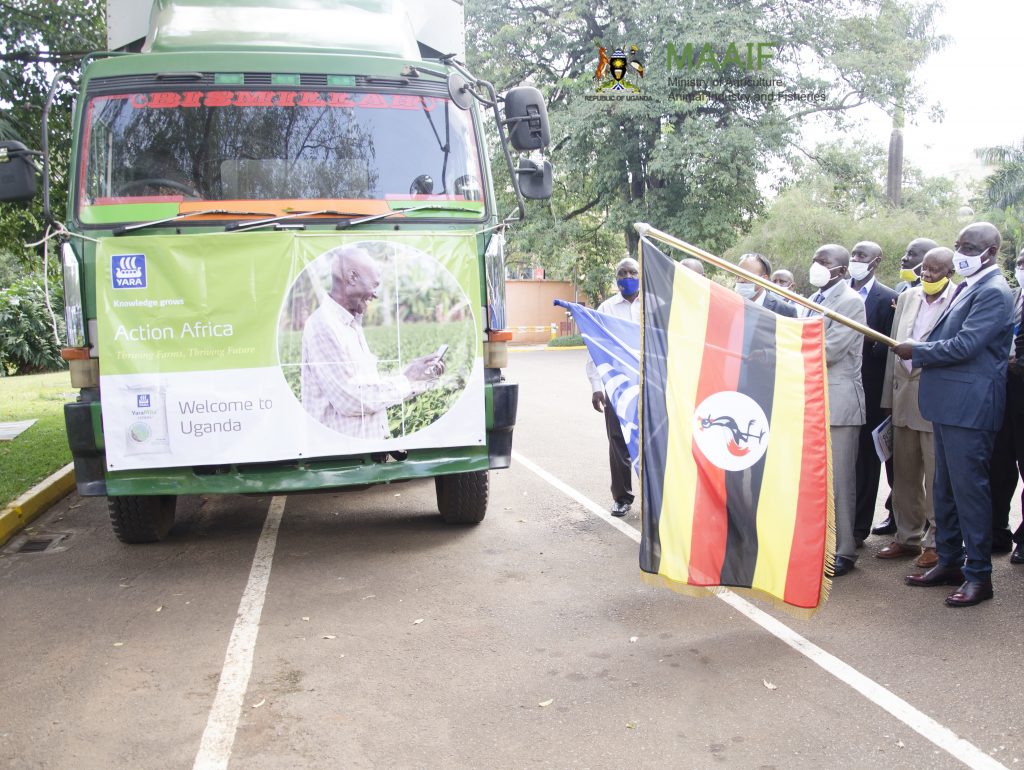 Yara Fertiliser Support for 23,000 Maize farmers in 40 districts Flagged off in Kampala
Kampala, 24th October 2020. Hon. Vincent Bamulangaki Ssempijja the Minister for Agriculture, Animal Industry and Fisheries has flagged off consignments of 2,700 metric tonnes of fertiliser for distribution to 23,000 Maize farmers in 40 districts in Uganda.
Hon. Vincent Ssempijja flagged off the Yara Fertiliser consignments alongside Mr. Vitalis Wafula from Yara and Hon. Hellen Adoa the Minister of State for Fisheries at a ceremony held in Kampala today.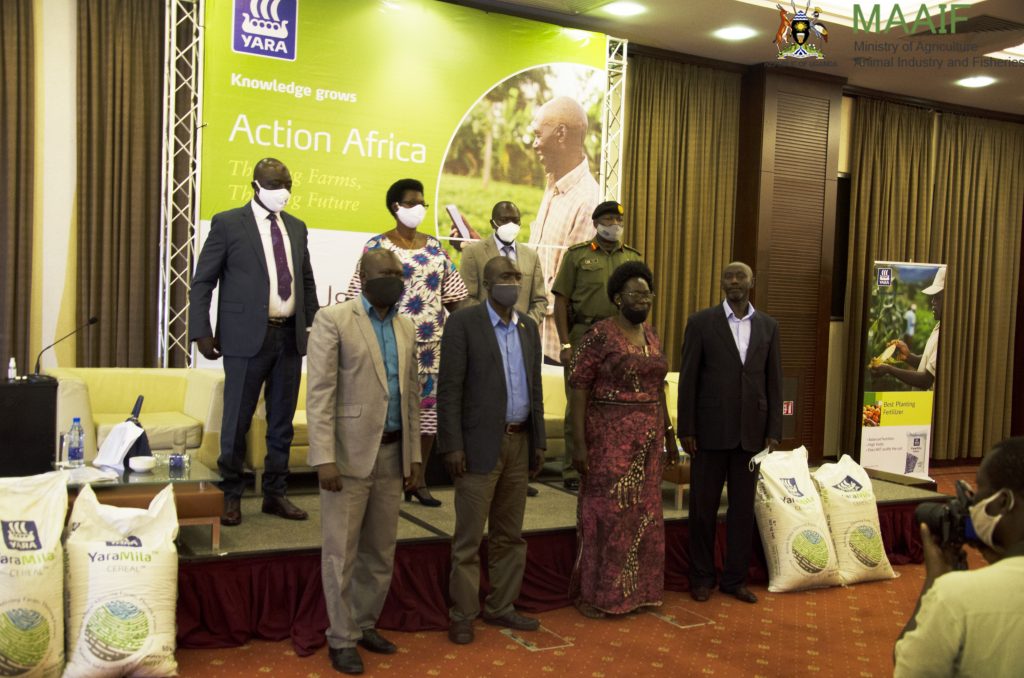 The 23,000 farmers in Uganda who will benefit are part of 250,000 smallholder Maize farmers in 7 countries across Southern and Eastern Africa benefiting from this initiative dubbed Action Africa: Thriving Farms, Thriving Future. The other 6 countries benefiting from this initiative include Kenya, Rwanda, Tanzania, Zambia, Malawi and Mozambique.
Through this initiative, supported by the United Nations, the Norwegian government and African Governments, Yara's contribution, combined with agronomic support is expected to triple maize production to feed more than 1 million people in the 7 countries.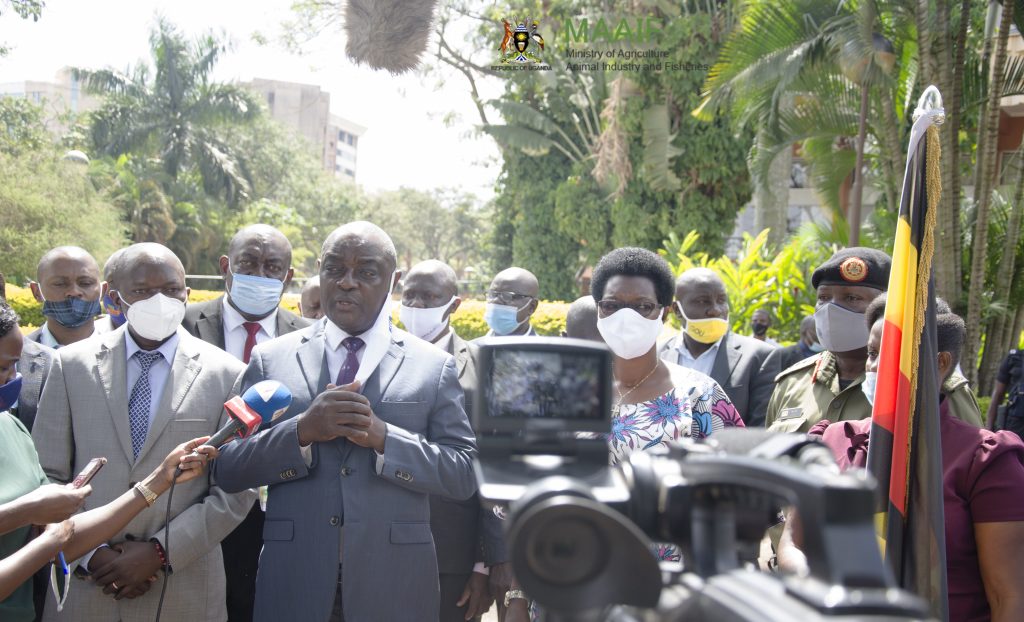 The fertilisers from Yara belong to a category known as "compound fertilisers" with blends customised for specific crops depending on the need, allowing farmers to undertake targeted application of fertiliser as opposed to general application.As highlighted Hon. Ssempijja the fertiliser support will supplement Government efforts aimed at increasing production and productivity.
Why this is a timely contribution
In the wake of the COVID-19 pandemic, the number of people facing acute hunger could double. Therefore, this initiative seeks to provide an avenue to enhance food production and in turn boost food security.
"Vulnerable communities may face the most devastating food crisis in decades. If we don't act now, millions of people will be pushed into deep poverty and hunger. This is especially worrying in Africa where lives and livelihoods are at risk. As a critical part of the food value chain, we have a responsibility to support vulnerable farming communities and help avert a hunger crisis,"

Svein Tore Holsether, President and CEO of Yara International.
Action Africa: Thriving Farms, Thriving Future will include support for the African Green Revolution Forum, Generation Africa and the Farm to Market Alliance. The initiative will work in coordination with WFP, AGRA, AFAP and other regional and local organizations to strengthen operational support, manage on-the-ground operations and to provide digital enablement and personalized agronomic advice.
In Uganda, Yara East Africa will be working in partnership with key partners to deliver this fertilizer, including the Ministry of Agriculture, the Operation Wealth Creation (OWC ), AGRA, AFAP and IBERO Uganda. The fertilizer will be delivered directly to the farmer co-operatives and groups and then to the individual farmers.
Notes for editors
About the Ministry of Agriculture, Animal Industry and Fisheries (MAAIF)
The Ministry of Agriculture, Animal Industry and Fisheries is a Ministry in the Government of Uganda charged with creating an enabling environment in the Agricultural Sector.
The Ministry formulates, reviews and implement national policies, plans, strategies, regulations and standards and enforce laws, regulations and standards along the value chain of crops, livestock and fisheries.
Vision: A competitive, profitable and sustainable agricultural sector.
Mission: To transform subsistence farming to commercial agriculture.
Strategic Objectives
To initiate the formulation and review of the policy and legal framework for the sector
To establish and implement systems for service provision in the sector
To strengthen and implement strategies, regulatory framework, standards, institutional structures and infrastructure for quality assurance and increased quantities of agricultural products to access and sustain local, regional and export markets
To design and implement sustainable capacity building programmes for stakeholders in the agricultural sector through training, re-tooling, infrastructure, provision of logistics and ICT
To develop strategies for sustainable food security
To develop appropriate agricultural technologies for improved agricultural production, productivity and value addition through research
To develop effective collaborative mechanisms with affiliated institutions and
To take lead and establish a system and institutional framework for agricultural data collection, analyses, storage and dissemination to stakeholders including Uganda Bureau of Statistics.
The Ministry of Agriculture, Animal Industry and Fisheries (MAAIF) is made up of four Directorates including the Directorate of Crop Resources, Directorate of Animal Resources, Directorate of Agricultural Extension Services and the Directorate of Fisheries Resources each with Departments, Divisions and Partnership Projects.
The Departments of the Ministry which do not fall directly in the above include the Department of Agricultural Planning and Development, the Human Resource Department, the Department of Finance and Administration and the Department of Agricultural Infrastructure, Mechanisation and Water for Agricultural Production.
The Ministry is also made up of seven Agencies including the National Agricultural Research Organisation (NARO), the National Agricultural Advisory Services (NAADS), Cotton Development Organisation (CDO), Dairy Development Authority (DDA), Uganda Coffee Development Authority (UCDA) and Coordinating Office for the Control of Trypanosomiasis in Uganda (COCTU) and the National Animal Genetic Resources Centre and Databank (NAGRC&DB).