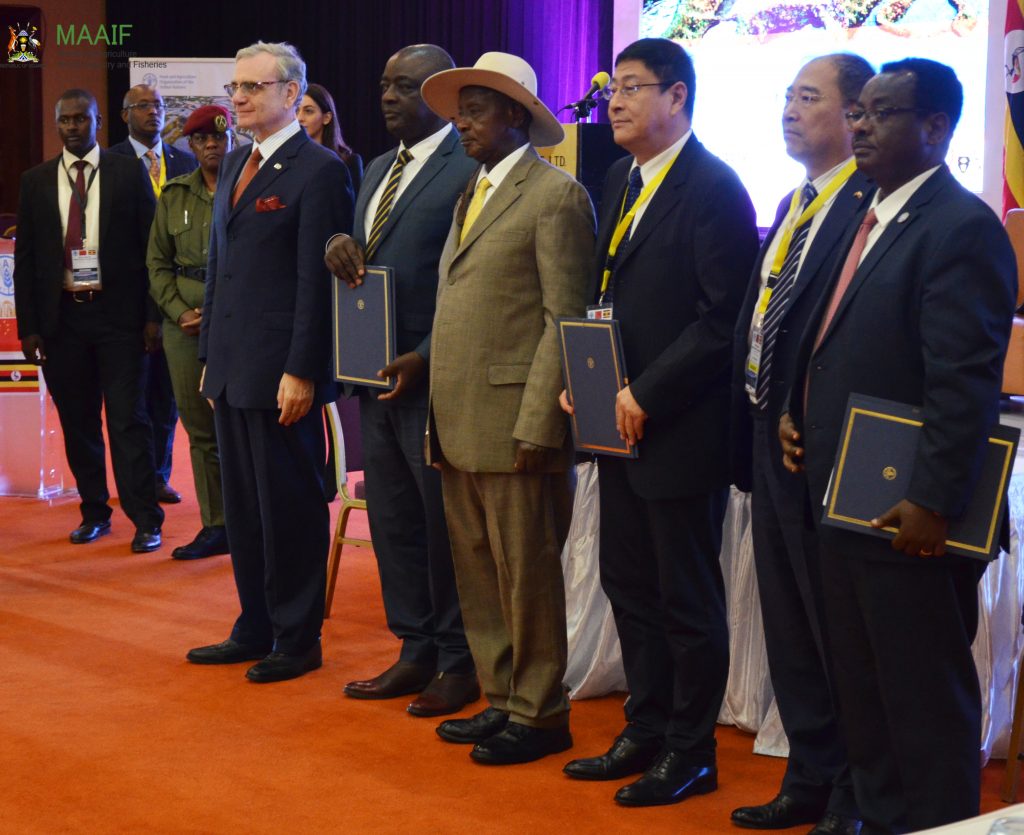 Activities of the 10th Anniversary of the FAO China South-South Cooperation and Triangular Cooperation officially opened by President Museveni, New Agreement Signed
Kampala, 26th November 2019. The activities of the 10th Anniversary of the FAO-China South-South Cooperation Program and Triangular Cooperation where delegates from over 40 countries are participating have been opened today by HE Yoweri Museveni the President of the Republic of Uganda who was welcomed by a delegation led by Hon. Vincent Bamulangaki Sempijja the Minister for Agriculture Animal Industry and Fisheries and Mr. Pius Wakabi Kasajja the Permanent Secretary.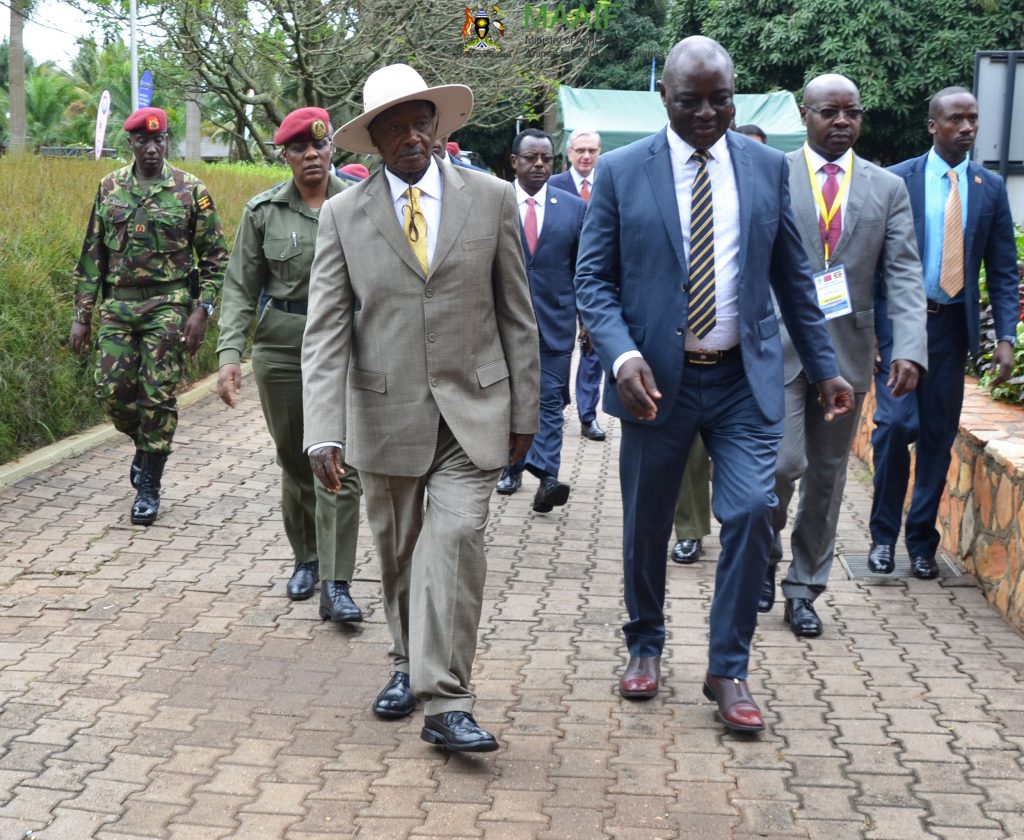 Progress to date
As highlighted by Hon. Vincent Ssempijja in his remarks during the opening of the anniversary under the theme "Inspiration, Inclusion, and Innovation" the following progress has been achieved by Uganda as one of the SSC countries.
During implementation of the 1st and 2nd SSC project phases, the project was successful in introducing, demonstrating and adapting Improved Chinese Agricultural Technologies with tremendous achievements including:
(a) Establishment of the China Uganda Agricultural Cooperation Industrial Park (CUACIP) worth USD 220 million in Luwero and Kalungu districts under Kehong Investors. The Park in Luwero was launched by H.E Yoweri Kaguta Museveni in April 2016 and is providing employment to over 1,500 Ugandans.
(b) The Project supported large scale production of a Chinese hybrid rice variety that yields 3 times (10 tons per hectare) compared to improved and local varieties which yield 3.5 and 2.5 tons per hectare respectively. In an effort to address import substitution for rice in Uganda, the project has been supporting rice production on over 7,000 acres in Luwero, Kalungu and Mityana districts.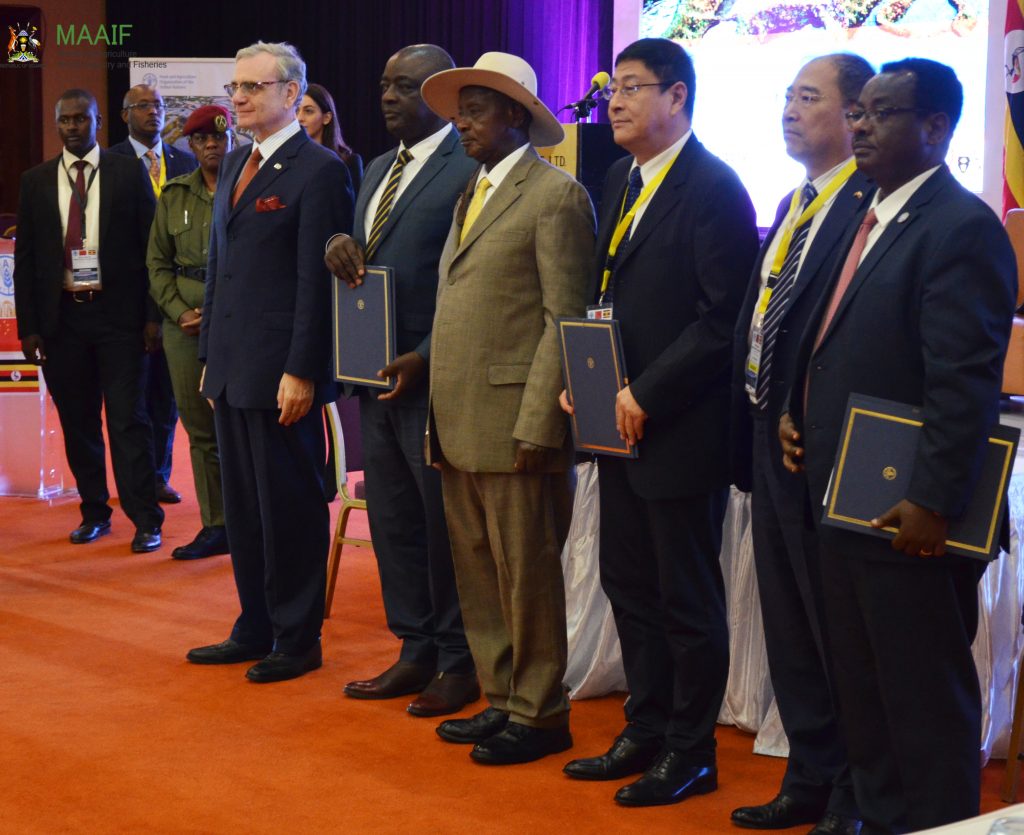 (c) The project further supported introduction and production of a highly nutritious and high yielding Chinese foxtail millet variety in the country. This important variety yields 5 tons per hectare as compared to improved and local finger millet varieties grown in Uganda which yield 2.5 and 1 ton per hectare respectively. In an effort to address food and nutrition security, the Chinese foxtail millet variety has been under production on over 1,000 acres in Oyam, Lira, Amuria, Budaka, Butaleja and Luwero districts.
Notes for editors
About the Ministry of Agriculture, Animal Industry and Fisheries (MAAIF)
The Ministry of Agriculture, Animal Industry and Fisheries is a Ministry in the Government of Uganda charged with creating an enabling environment in the Agricultural Sector.
The Ministry formulates, reviews and implement national policies, plans, strategies, regulations and standards and enforce laws, regulations and standards along the value chain of crops, livestock and fisheries.
Vision: A competitive, profitable and sustainable agricultural sector.
Mission: To transform subsistence farming to commercial agriculture.
Strategic Objectives
To initiate the formulation and review of the policy and legal framework for the sector
To establish and implement systems for service provision in the sector
To strengthen and implement strategies, regulatory framework, standards, institutional structures and infrastructure for quality assurance and increased quantities of agricultural products to access and sustain local, regional and export markets
To design and implement sustainable capacity building programmes for stakeholders in the agricultural sector through training, re-tooling, infrastructure, provision of logistics and ICT
To develop strategies for sustainable food security
To develop appropriate agricultural technologies for improved agricultural production, productivity and value addition through research
To develop effective collaborative mechanisms with affiliated institutions and
To take lead and establish a system and institutional framework for agricultural data collection, analyses, storage and dissemination to stakeholders including Uganda Bureau of Statistics.
The Ministry of Agriculture, Animal Industry and Fisheries (MAAIF) is made up of four Directorates including the Directorate of Crop Resources, Directorate of Animal Resources, Directorate of Agricultural Extension Services and the Directorate of Fisheries Resources each with Departments, Divisions and Partnership Projects.
The Departments of the Ministry which do not fall directly in the above include the Department of Agricultural Planning and Development, the Human Resource Department, the Department of Finance and Administration and the Department of Agricultural Infrastructure, Mechanisation and Water for Agricultural Production.
The Ministry is also made up of seven Agencies including the National Agricultural Research Organisation (NARO), the National Agricultural Advisory Services (NAADS), Cotton Development Organisation (CDO), Dairy Development Authority (DDA), Uganda Coffee Development Authority (UCDA) and Coordinating Office for the Control of Trypanosomiasis in Uganda (COCTU) and the National Animal Genetic Resources Centre and Databank (NAGRC&DB).
For media-related inquiries and accreditation contact Solomon Kalema Musisi, Senior Communications Officer-Ministry of Agriculture Animal Industry and Fisheries using the email below: