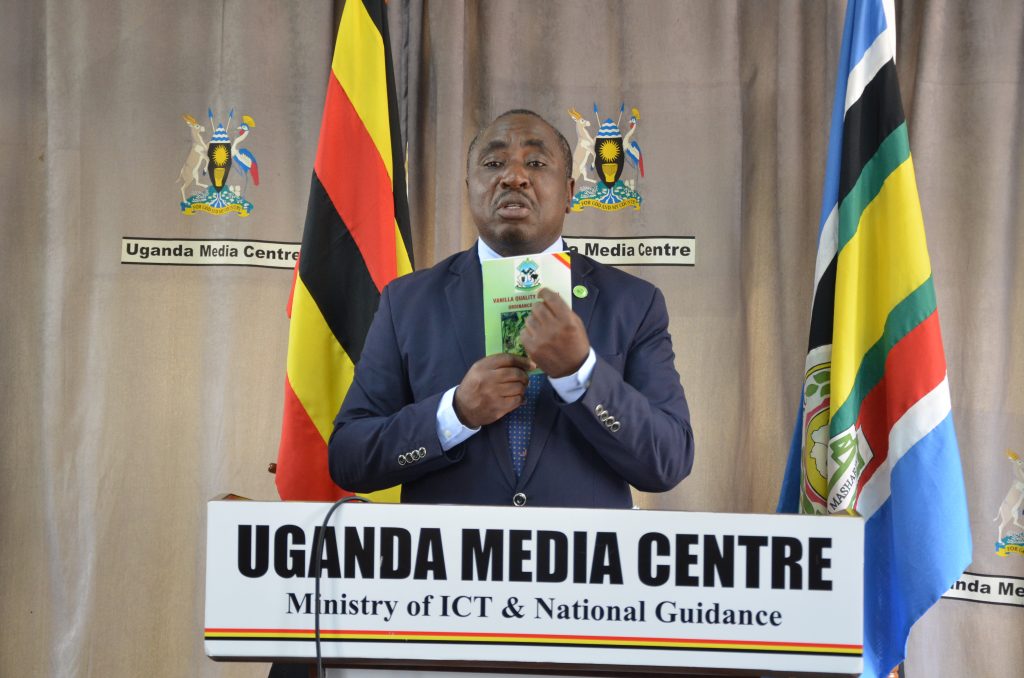 Vanilla Farmer Group Guidelines and Declaration presented at Uganda Media Centre: District Ordinances Delivering Results
Kampala, 14th November 2019. The Ministry of Agriculture Animal Industry and Fisheries has been represented at the Uganda Media Centre today by Hon. Christopher Kibanzanga the State Minister for Agriculture in releasing the official Declaration of Harvest dates for Vanilla for season 2.
This is the second seasonal declaration released by the Ministry to match international demand with output from organised farmers.
With an allowance of 14 days to and after the date, the season 2 date has been declared as 15th January 2020.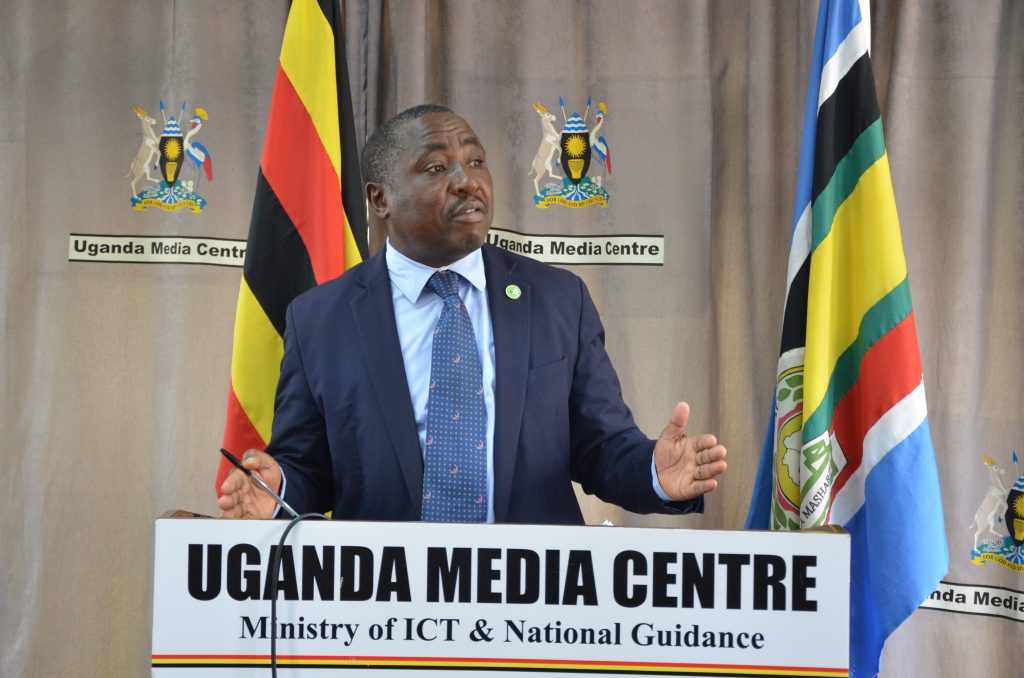 One of major guidelines for Vanilla growers is to only harvest Vanilla within 9 months from pollination. This, according to experts led today by Mr. Alex Lwakuba the Commissioner for Crop Production is good enough time for the Vanilla to achieve the flavour that is preferred by buyers in the international market.
As presented by the State Minister, there is an increasing demand for all-natural and organic vanilla from major Global food companies especially in Europe and North America. For instance, in 2015, Nestle announced a major plan to go all-natural for all their products and eliminate artificial additives. Global consumption of vanilla has averaged between 2,100MT to 2,400 MT per year over the last 10 years. However, the most recent market trends indicate that supply from the key producing countries including Madagascar, Indonesia, Uganda and others is now picking, which, in effect, means that prices will continue to fall in the near future. This is evidenced by the reduced farm-gate prices which averaged UGX 210,000 in the June/July 2019 compared to UGX 250,000 in December 2018. This calls for urgent attention to vanilla quality enhancing measures that will ensure that farmers fetch a fairly good price.
In addition to the district level ordinances, the Agriculture Police is stepping up surveillance and enforcement to protect Vanilla growers against theft of their produce.
Organised Vanilla farmers who are linked to the production department are provided with this kind of guidelines on planting and harvesting so as to ensure that they earn dependable profits from their investments in Vanilla.
Notes for editors
About the Ministry of Agriculture, Animal Industry and Fisheries (MAAIF)
The Ministry of Agriculture, Animal Industry and Fisheries is a Ministry in the Government of Uganda charged with creating an enabling environment in the Agricultural Sector.
The Ministry formulates, reviews and implement national policies, plans, strategies, regulations and standards and enforce laws, regulations and standards along the value chain of crops, livestock and fisheries.
Vision: A competitive, profitable and sustainable agricultural sector.
Mission: To transform subsistence farming to commercial agriculture.
Strategic Objectives
To initiate the formulation and review of the policy and legal framework for the sector
To establish and implement systems for service provision in the sector
To strengthen and implement strategies, regulatory framework, standards, institutional structures and infrastructure for quality assurance and increased quantities of agricultural products to access and sustain local, regional and export markets
To design and implement sustainable capacity building programmes for stakeholders in the agricultural sector through training, re-tooling, infrastructure, provision of logistics and ICT
To develop strategies for sustainable food security
To develop appropriate agricultural technologies for improved agricultural production, productivity and value addition through research
To develop effective collaborative mechanisms with affiliated institutions and
To take lead and establish a system and institutional framework for agricultural data collection, analyses, storage and dissemination to stakeholders including Uganda Bureau of Statistics.
The Ministry of Agriculture, Animal Industry and Fisheries (MAAIF) is made up of four Directorates including the Directorate of Crop Resources, Directorate of Animal Resources, Directorate of Agricultural Extension Services and the Directorate of Fisheries Resources each with Departments, Divisions and Partnership Projects.
The Departments of the Ministry which do not fall directly in the above include the Department of Agricultural Planning and Development, the Human Resource Department, the Department of Finance and Administration and the Department of Agricultural Infrastructure, Mechanisation and Water for Agricultural Production.
The Ministry is also made up of seven Agencies including the National Agricultural Research Organisation (NARO), the National Agricultural Advisory Services (NAADS), Cotton Development Organisation (CDO), Dairy Development Authority (DDA), Uganda Coffee Development Authority (UCDA) and Coordinating Office for the Control of Trypanosomiasis in Uganda (COCTU) and the National Animal Genetic Resources Centre and Databank (NAGRC&DB).
For media-related inquiries and accreditation contact Solomon Kalema Musisi, Senior Communications Officer-Ministry of Agriculture Animal Industry and Fisheries using the email below: