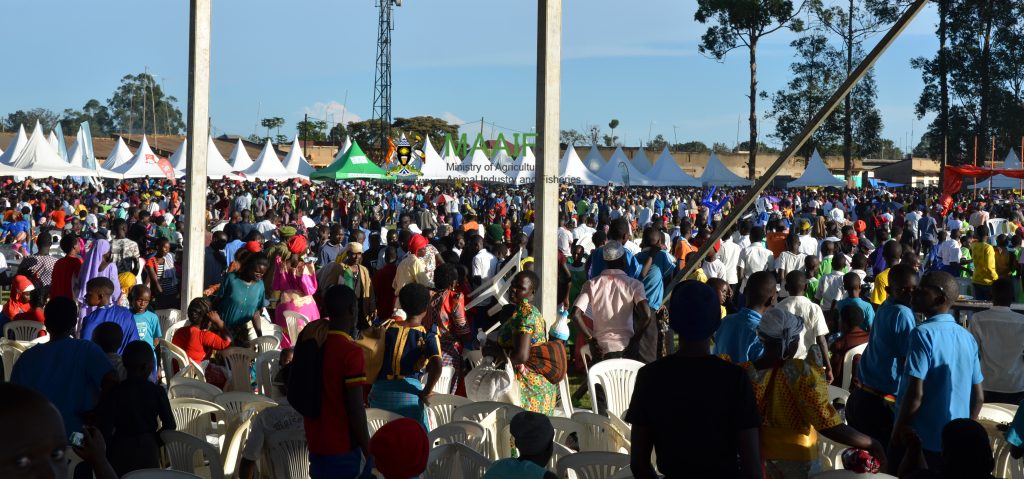 Agricultural Sector Progress for Financial Year 2018/19 on Track at 77.6%
Kampala, 25th October 2019
With the guidance of the Mission "To Transform Subsistence Farming to Commercial Agriculture" and Vision of "A Competitive, Profitable and Sustainable Agricultural Sector" the Ministry of Agriculture Animal Industry and Fisheries has delivered on 2018/19 objectives as evaluated by the Ministry of Finance Planning and Economic Development.
Below is an excerpt of progress as published by the Budget Monitoring and Accountability Unit in the Agriculture Sector Annual Budget Monitoring Report for Financial Year 2018/19 according to which the overall performance of the agricultural sector during 2018/19 was good, rated at 77.6%.
The theme for the Financial Year 2018/19 was "Industrialization for Job Creation and Shared Prosperity".
Basing on the year's theme, Government mainly focused on investments that would spur Agriculture, Industrialisation, and Private Sector development, with an aim of propelling Uganda into Middle Income Status. Ministries, Agencies and Local Governments have implemented several interventions targeted at inclusive growth and socio-economic transformation.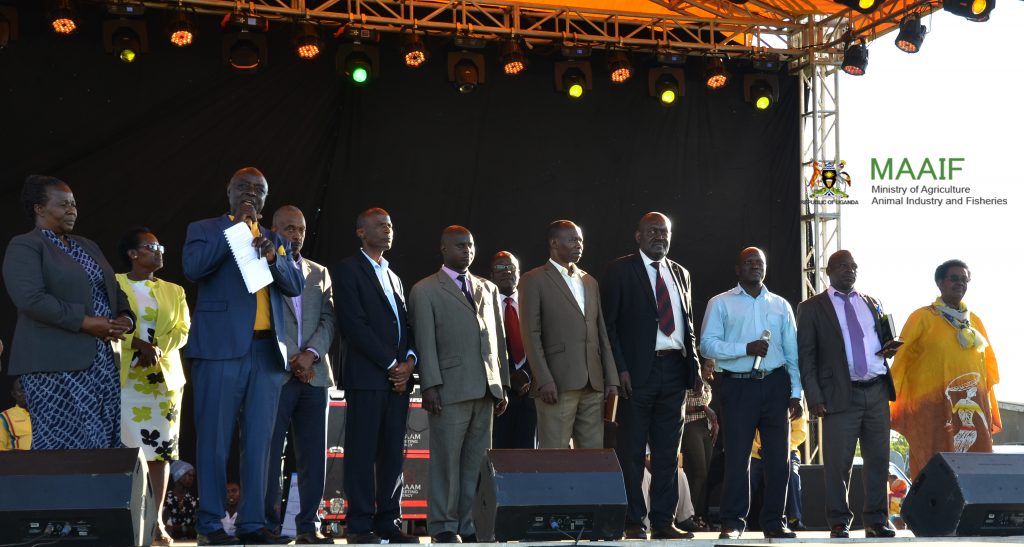 Agricultural Advisory Services Programme
The overall performance of the Agricultural Advisory Services Programme was good at 79.2%. Strategic commodities were distributed to farmers and farmers' groups including: maize (523 mt), bean seed (392.626mt), sorghum (86.250mt), banana suckers (475,895), Irish seed potato (4,381 bags), groundnuts (27.923mt), cassava cuttings (176,004 bags), pineapple suckers (4,586,708), mango seedlings (2,675,892), citrus seedlings (1,773,453), apple seedlings (224,260), passion fruits seedlings (861,908), tea seedlings (28,909,008), heifers (3.969), improved pigs (9,770), goats (3,135), day old layer chicks (202,000), Kuroilers (5,000), tractors (110) and poultry feeds (756,000kgs).
Farmers received the inputs but in lesser volumes than planned which limited impact in terms of food security and household incomes. The persistent challenges included: loss of materials and low production, low productivity of animals due to the poor quality of breeds distributed, inequitable access to inputs by farmers, late procurement and delivery of inputs, lack good of quality seeds in the country and low capacity of suppliers.
Agricultural Mechanisation Programme
The performance of the Improving Access and Use of Agricultural Equipment and Mechanisation during FY 2018/19 was good rated at 86.8%. The Ministry of Agriculture, Animal Industry and Fisheries (MAAIF) excavated 298 community valley tanks, dams and ponds country wide, cleared 24,916 acres of bush, opened and improved 1,151km of farm access roads, ploughed and planted 17,500 acres of farm land and trained 40 operators and technicians to sustain the intervention.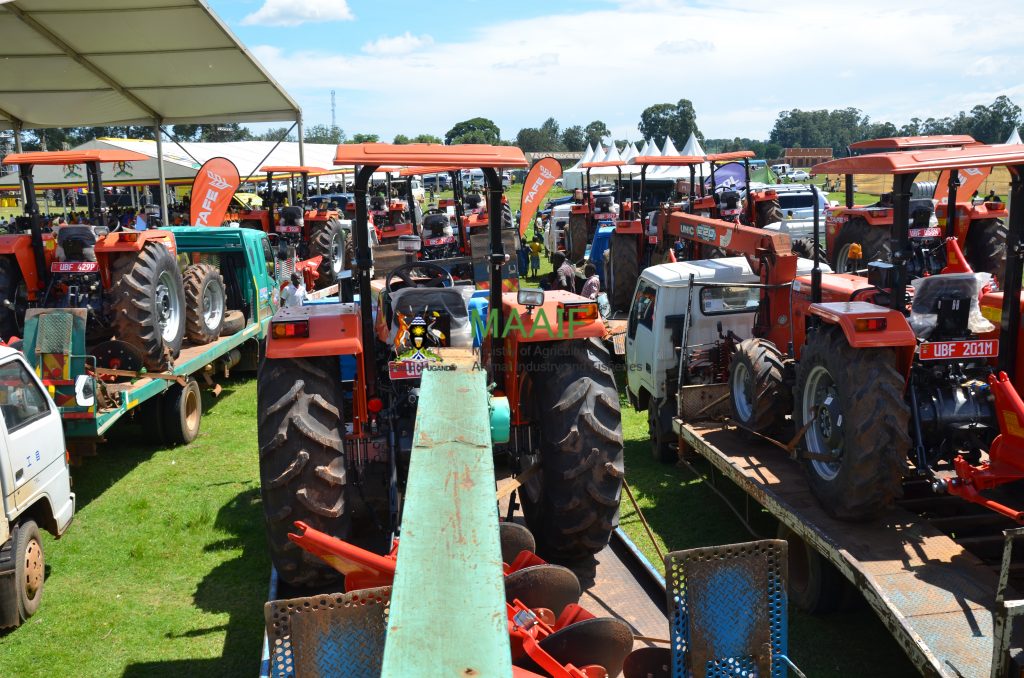 There was increased access by farmers to water for production and extension services.
Agricultural Credit Facility
The performance of the Agriculture Credit Facility (ACF) by 30th June 2019 was good (85.9%). Cumulatively, since FY 2009/10 to FY 2018/19, the Government has remitted Ug shs 142.114 billion to the Bank of Uganda accounts for ACF, and a total of 631 projects along the value chain were funded.
The bulk of funding (38.1%) was channelled to agro-processing and value addition followed by on-farm activities (22.6%).
Agricultural Research Programme
The National Agricultural Research Organisation procured assorted equipment, furniture and vehicles and constructed/rehabilitated various infrastructures at the Institutes and Zonal Agricultural Research and Development Institutes. Land surveying was also undertaken at Maruzi Ranch and conference facilities were provided for various events.
Breeding and Genetic Development Programme
The overall performance of the Breeding and Genetic Development Programme by 30th June 2019 was good (74%).
Breeding and Genetic development continued on the National Animal Genetic Resources Centre and Data Bank (NAGRC&DB) stations involving conservation and multiplication of beef and dairy cattle, goats, pigs and poultry.
The NAGRC&DB realised positive growth in animal herds on most stations associated improved breeding infrastructure and transport means for enhanced supervision.
Breeding work was constrained due to aging poor quality breeds, and their delayed disposal, lack of paddocking and other animal husbandry infrastructure, lack of water for production, delayed delivery of artificial insemination materials and hormones, land wrangles and encroachment.
Coffee Development Programme
The overall performance of the Coffee Development Programme during FY 2018/19 was good (82.10%). The Uganda Coffee Development Authority (UCDA) distributed 38,475kgs of clean coffee planting seeds, 327,555,806 coffee seedlings and assorted chemicals and equipment to farmers countrywide.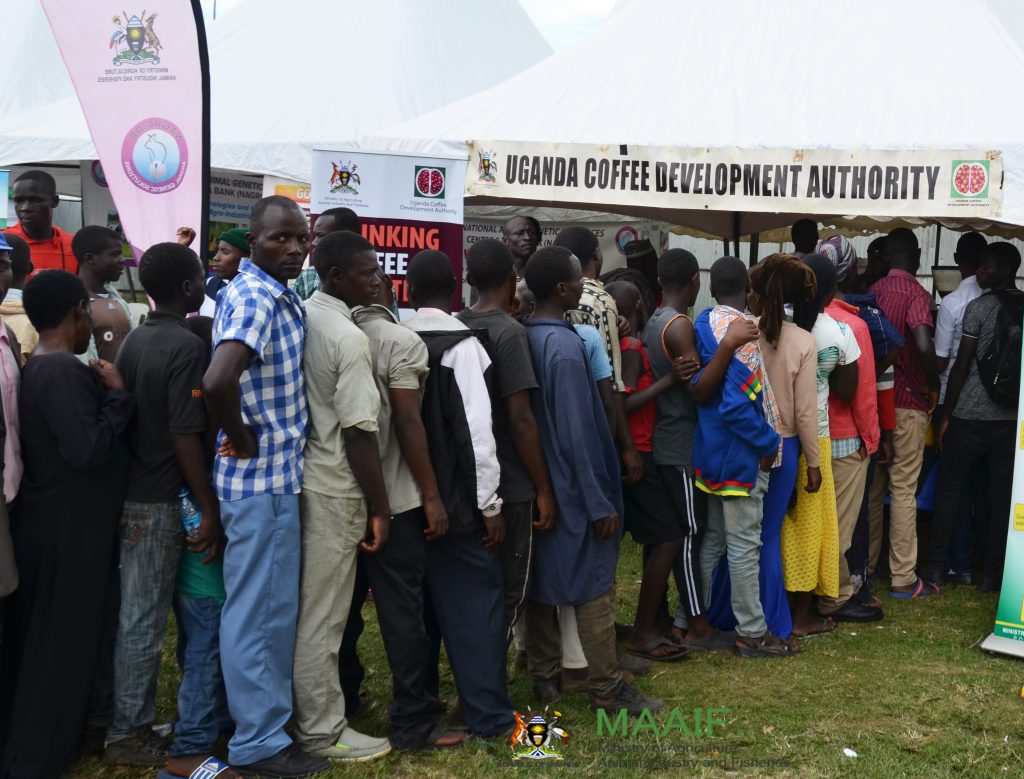 A total of 1,442,498 coffee wilt disease resistant (CWDr) plantlets were distributed to nursery operators and seedlings were procured from private nursery operators for the farmers. All the monitored regions had received the inputs and farmers expressed satisfaction with the quality of seedlings from the private nurseries.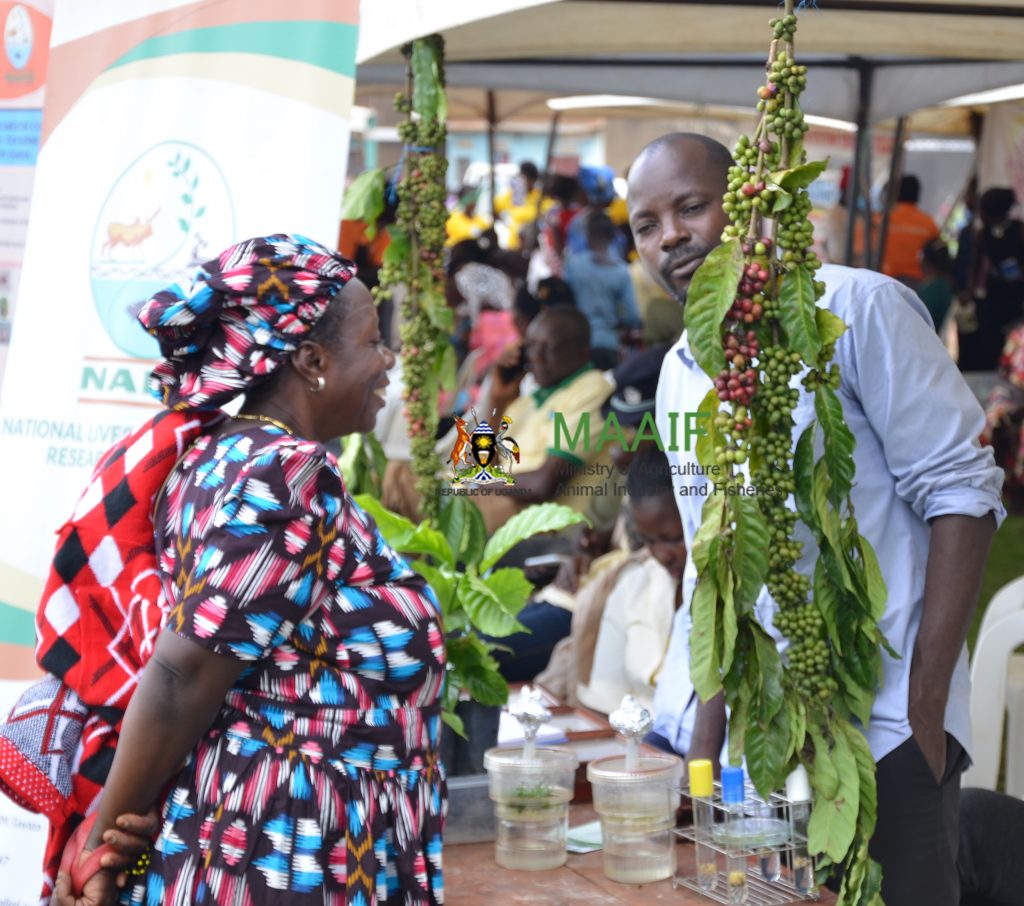 Cotton Development Programme
The overall performance of the Cotton Development Programme during FY 2018/19 was good (73.70%). In the 65 cotton growing areas, the Cotton Development Organisation (CDO) supplied 2,648 Mt of seed, established 4,182 one-acre demonstration sites, provided technical support to 38 prison farms, established about 6,500 acres under seed multiplication, provided assorted input and mechanization services and trained the farmers.
The phase 2 works for the Cotton Seed Dressing Plant in Pader District were completed and the plant is also operational.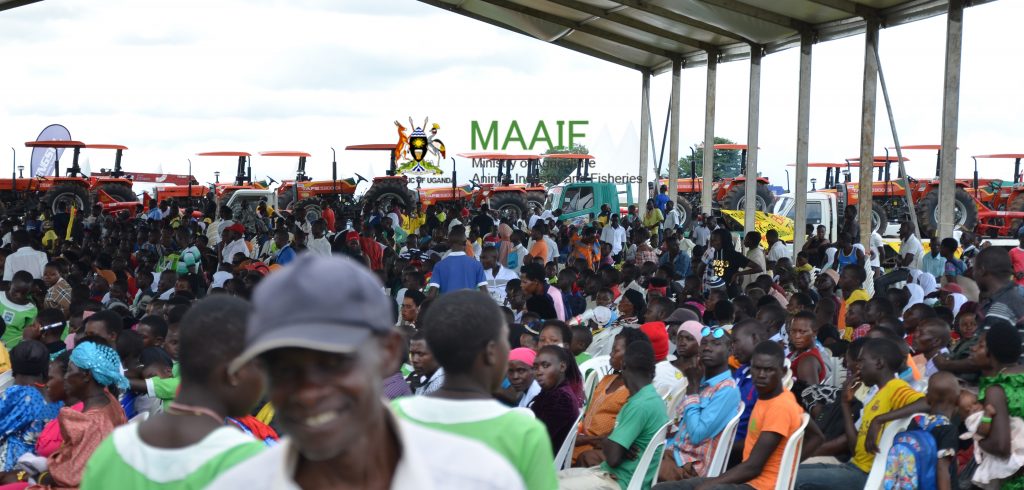 District Production Services Programme
The Local Government Vote performance was good (86%%). Farmers were trained in improved agronomic practices, crop, animal, fisheries and apiary demonstration sites were set up to enhance farmer learning, key agricultural infrastructure such as slaughter slabs and plant clinics were established, animal vaccinations were done and extension services were delivered.
Farmers had increased access to extension services which led to improved adoption of good farming practices and production.
Sector Objectives
The overall agriculture sector objective in the National Development Plan (NDPII)1 is to enhance rural incomes, household food and nutrition security, exports and employment.
The overall goal of the sector is to achieve an average growth rate of 6% per year over the period 2015/16 to 2019/202 by focusing on four strategic objectives namely: increasing production and productivity of agricultural commodities and enterprises, increasing access to critical farm inputs, improving access to markets and value addition and strengthening the quality of agricultural commodities, and strengthening the agricultural services institutions.
Notes for editors
About the Ministry of Agriculture, Animal Industry and Fisheries (MAAIF)
The Ministry of Agriculture, Animal Industry and Fisheries is a Ministry in the Government of Uganda charged with creating an enabling environment in the Agricultural Sector.
The Ministry formulates, reviews and implement national policies, plans, strategies, regulations and standards and enforce laws, regulations and standards along the value chain of crops, livestock and fisheries.
Vision: A competitive, profitable and sustainable agricultural sector.
Mission: To transform subsistence farming to commercial agriculture.
Strategic Objectives
To initiate the formulation and review of the policy and legal framework for the sector
To establish and implement systems for service provision in the sector
To strengthen and implement strategies, regulatory framework, standards, institutional structures and infrastructure for quality assurance and increased quantities of agricultural products to access and sustain local, regional and export markets
To design and implement sustainable capacity building programmes for stakeholders in the agricultural sector through training, re-tooling, infrastructure, provision of logistics and ICT
To develop strategies for sustainable food security
To develop appropriate agricultural technologies for improved agricultural production, productivity and value addition through research
To develop effective collaborative mechanisms with affiliated institutions and
To take lead and establish a system and institutional framework for agricultural data collection, analyses, storage and dissemination to stakeholders including Uganda Bureau of Statistics.
The Ministry of Agriculture, Animal Industry and Fisheries (MAAIF) is made up of four Directorates including the Directorate of Crop Resources, Directorate of Animal Resources, Directorate of Agricultural Extension Services and the Directorate of Fisheries Resources each with Departments, Divisions and Partnership Projects.
The Departments of the Ministry which do not fall directly in the above include the Department of Agricultural Planning and Development, the Human Resource Department, the Department of Finance and Administration and the Department of Agricultural Infrastructure, Mechanisation and Water for Agricultural Production.
The Ministry is also made up of seven Agencies including the National Agricultural Research Organisation (NARO), the National Agricultural Advisory Services (NAADS), Cotton Development Organisation (CDO), Dairy Development Authority (DDA), Uganda Coffee Development Authority (UCDA) and Coordinating Office for the Control of Trypanosomiasis in Uganda (COCTU) and the National Animal Genetic Resources Centre and Databank (NAGRC&DB).
For related inquiries contact Solomon Kalema Musisi, Senior Communications Officer-Ministry of Agriculture Animal Industry and Fisheries using the details below:
Email: solomon.kalema@agriculture.go.ug
Twitter Handle: https://twitter.com/solomonkalema1?lang=en
About the Budget Monitoring and Accountability Unit (BMAU)
The Budget Monitoring and Accountability Unit (BMAU) was established in FY2008/09 in MFPED to provide comprehensive information for removing key implementation bottlenecks. The BMAU is charged with tracking implementation of selected government programmes or projects and observing how values of different financial and physical indicators change over time against stated goals and targets.
This is achieved through semi-annual and annual field monitoring exercises to verify receipt and application of funds by the user entities. Where applicable, beneficiaries are sampled to establish their level of satisfaction with the public service.
The BMAU prepares semi-annual and annual monitoring reports of selected government programmes and projects. The monitoring is confined to levels of inputs, outputs and intermediate outcomes in the following areas: Accountability, Agriculture, Infrastructure (Energy and Roads), Industrialization, Information and Communication Technology, Science, Technology and Innovation, Social services (Education, Health, and Water and Environment), and Public Sector Management.