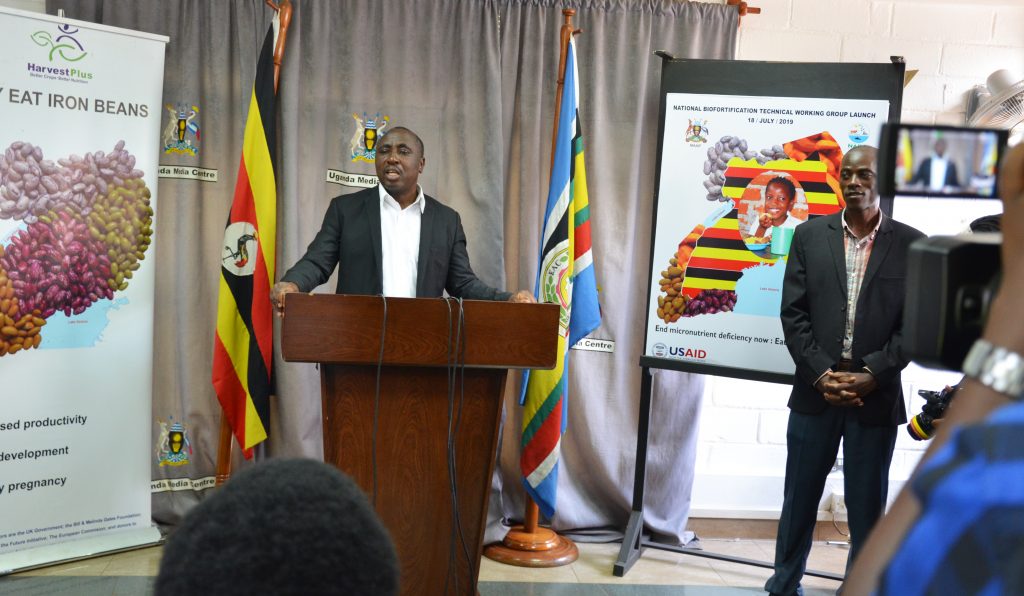 National Technical Working Group on Food Bio-fortification to be launched in Jinja
Kampala, 17th July 2019 In an official press statement presented at the Uganda Media Centre in Kampala, Hon. Christopher Kibanzanga the State Minister for Agriculture has announced the launch of a National Technical Working Group on Food Bio-fortification that will be launched at the Source of the Nile National Agricultural Show tomorrow.
The Minister was accompanied by a team from the Ministry of Agriculture, Animal Industry and Fisheries, Harvest Plus which is a lead private sector partner on nutrition, the National Agricultural Research Organisation and the Uganda National Farmers' Federation.
The importance of bio-fortification
Biofortification is one of the proven strategies to achieve food and nutrition security for populations across the world. It has been recommended in policy frame works at global, regional and national levels. Notably, theSustainable Development Goal 2 (ending hunger, achieving food security, improved nutrition and promote sustainable agriculture), the Comprehensive Africa Agriculture Development Compact (CAADP), the East Africa (EAC) Rural Development Strategy and EAC Food and Nutrition Security Policy (2014) all call upon signatory countries including Uganda to strengthen nutrition synergies in agriculture development policies and programs.
Uganda Vision 2040 and the National Development Plan (NDPII, 2015/16-2019/20) have emphasized the potential for nutrition to improve human capital development and socio-economic transformation. In addition, the Uganda Nutrition Action Plan (UNAP 2011-2016) and the Uganda Food & Nutrition Policy of 2003 emphasized improving nutrition through the promotion of the production and consumption of diversified nutritious diets.
The Ministry of Agriculture, Animal Industry and Fisheries has a core mandate to undertake interventions that enhance production and consumption of diverse nutrient dense diets and protect households from the impact of food security shocks and other vulnerabilities.
This is underscored in the National Agriculture Policy whose overall objective is to achieve food and nutrition security and improve household incomes through sustainable agriculture and value addition through coordinated interventions.
Why the Technical Working Group is key
Despite the enabling policy environment at all levels and the various interventions in place at national levels to reduce micronutrient deficiencies notably: Industrial food fortification, Home based fortification and food supplementation among others, the solution to micro-nutrient deficiency reduction in the population is still far from reality. Particularly, the Uganda Demographic and Health Survey (UDHS) of 2016 reported an increase in the prevalence of anaemia among children under 5 years from 49% in 2011 to 53% in 2016.
In the same period the prevalence of anaemia among women of reproductive age (15-49 years) increased from 24% to 32%. Vitamin A deficiency is also still a problem and by 2011 it was affecting 33% of children below 5 years (UBOS & ICF, 2012). In spite of the limited data on the prevalence of other micro-nutrient deficiencies in the country, the levels of anaemia and vitamin A deficiencies are indicative of a high burden of micronutrient deficiencies. There is therefore a need to refocus the strategies if we are to sustainably reduce the prevalence of micronutrient deficiencies in Uganda.
A multi-pronged approach using the food-based and the traditional health approach has potentially more impacts. Investing more into food based systems through bio-fortification of major staple crops grown by rural communities provides a sustainable and feasible approach in the prevention and control of micronutrient deficiencies.
Bio-fortification also has potential to mitigate food insecurity, and other forms of malnutrition through income generation and provision of needed micronutrients. This is more applicable in the Ugandan situation where majority of the population depend on subsistence agriculture for their food and nutrition security.
The value in improving nutrition
In Uganda, evidence suggests that consumption of vitamin A rich Orange Fleshed Sweet Potatoes could potentially increase levels of vitamin A intake among under five year olds by 60%; with about 150g meeting a child's daily need for vitamin A.
Studies by sector researchers indicated that bio-fortified beans could provide up to three quarters of the recommended daily requirement for Iron among women.
There is therefore a need to scale up production and utilization of bio-fortified crop varieties in the country as a means of sustainable reduction of malnutrition. In this regard, the Ministry of Agriculture, Animal Industry and Fisheries (MAAIF) in collaboration with partners, has constituted a National Biofortification Technical Working (NBTWG) to promote biofortification interventions in the country for improved food and nutrition security and overall human capital development. 
Notes for editors
About the Ministry of Agriculture, Animal Industry and Fisheries (MAAIF)
The Ministry of Agriculture, Animal Industry and Fisheries is a Ministry in the Government of Uganda charged with creating an enabling environment in the Agricultural Sector.
The Ministry formulates, reviews and implement national policies, plans, strategies, regulations and standards and enforce laws, regulations and standards along the value chain of crops, livestock and fisheries.
Vision: A competitive, profitable and sustainable agricultural sector.
Mission: To transform subsistence farming to commercial agriculture.
Strategic Objectives
To initiate the formulation and review of the policy and legal framework for the sector
To establish and implement systems for service provision in the sector
To strengthen and implement strategies, regulatory framework, standards, institutional structures and infrastructure for quality assurance and increased quantities of agricultural products to access and sustain local, regional and export markets
To design and implement sustainable capacity building programmes for stakeholders in the agricultural sector through training, re-tooling, infrastructure, provision of logistics and ICT
To develop strategies for sustainable food security
To develop appropriate agricultural technologies for improved agricultural production, productivity and value addition through research
To develop effective collaborative mechanisms with affiliated institutions and
To take lead and establish a system and institutional framework for agricultural data collection, analyses, storage and dissemination to stakeholders including Uganda Bureau of Statistics.
The Ministry of Agriculture, Animal Industry and Fisheries (MAAIF) is made up of four Directorates including the Directorate of Crop Resources, Directorate of Animal Resources, Directorate of Agricultural Extension Services and the Directorate of Fisheries Resources each with Departments, Divisions and Partnership Projects.
The Departments of the Ministry which do not fall directly in the above include the Department of Agricultural Planning and Development, the Human Resource Department, the Department of Finance and Administration and the Department of Agricultural Infrastructure, Mechanisation and Water for Agricultural Production.
The Ministry is also made up of seven Agencies including the National Agricultural Research Organisation (NARO), the National Agricultural Advisory Services (NAADS), Cotton Development Organisation (CDO), Dairy Development Authority (DDA), Uganda Coffee Development Authority (UCDA) and Coordinating Office for the Control of Trypanosomiasis in Uganda (COCTU) and the National Animal Genetic Resources Centre and Databank (NAGRC&DB).
About Harvest Plus
HarvestPlus is an organisation that works to improve nutrition and public health by developing and promoting biofortified food crops that are rich in vitamins and minerals, and providing global leadership on biofortification evidence and technology.
Read more about Harvest Plus here